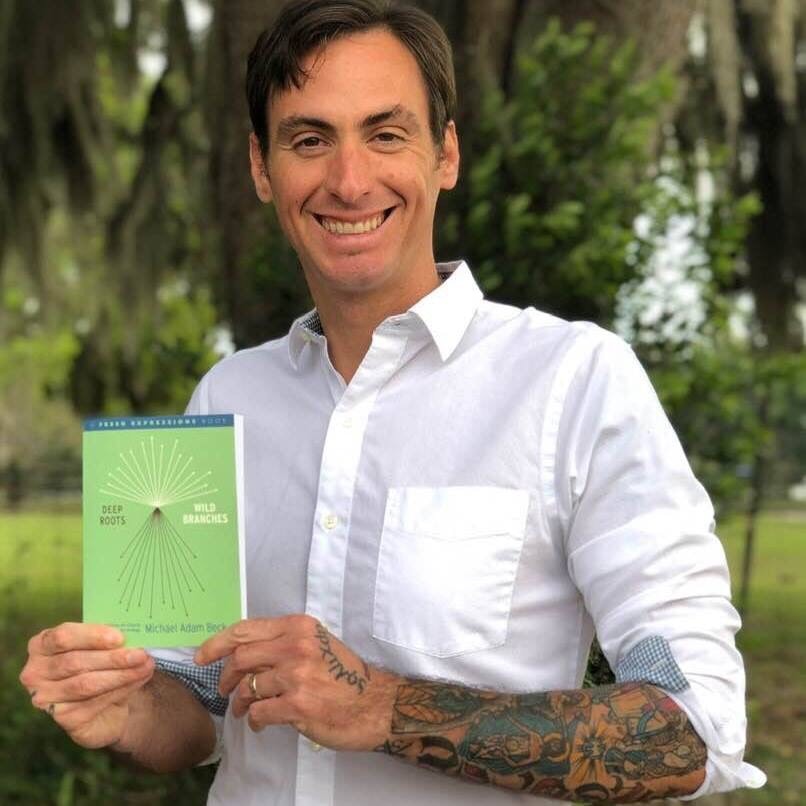 I am the question mark.
At the simplest level, this symbol (?) is a punctuation mark that indicates a question. It can also be used to express doubt or uncertainty about something, or as in my case… someone. A question mark symbolizes mystery.
Several weeks ago, I travelled through the U.S. talking about Fresh Expressions at three different United Methodist annual conferences. I spend a great deal of time in prayer and preparation for these opportunities to spread the word about the international movement of missionary disciples cultivating new kinds of church alongside existing congregations to more effectively engage our growing post-Christian society.
This year was also a year when annual conferences voted on who would represent them at the upcoming 2020 General Conference.
When I arrived back at my own home conference in Florida, I was greeted by friends sporting black "UMC Next Florida" T-shirts displaying rainbow-colored United Methodist baptismal vows. "We will resist evil, injustice, and oppression, in whatever forms they present themselves," the rainbow writing said. Most of my centrist friends seemed to have found a home in this group. Also, lists of "approved progressive candidates" with their corresponding identification numbers to "help" the voting process were provided.
Then there were my other friends. They didn't have T-shirts or rainbow stickers, but they had lists. These lists named the "approved traditional candidates," also associated with "easing along" the voting process.
Some generous person or group even took the time to create a "master list" of all the candidates. On the master list, beside each name was an "association" with organizations like Wesley Covenant Association or Reconciling Ministries Network.
Beside my name, there was a question mark.
This felt to me like two groups embroiled in a battle. Some of my friends feel that their opponent weaponizes the Scriptures to exclude persons based on their sexual orientation. The other group felt their opponent weaponized the baptismal vows of The United Methodist Church.
Some of my traditionalist friends felt like the very baptismal vows through which they entered the church were now highlighting them as the evil oppressors of others. Some of my progressive and centrist friends felt like they were only returning the favor for the oppressive stance of traditionalists that has marginalized and labeled LGBTQ people for decades.
When voting began, I was struck by the irony that in one session I had a progressive friend on one side, voting for the approved progressive candidates. On the other side, a traditionalist friend was voting for those on the traditionalist list.
One by one, progressive candidates were elected in a clean sweep of delegates elected to General Conference 2020.
Sometimes in annual conferences, I have felt as if I entered into the domain of another's Lordship. It's as if we are leaving the Lordship of Jesus and entering the Lordship of Robert — Roberts Rules of Order, that is. An annual conference can feel more like a political rally than a gathering of the Body of Christ.
One annual conference actually threw me out of the gathering as I livestreamed the day's opening worship with my phone. I do look kind of sketchy. My arms are covered in tattoos, and I probably don't fit the typical stereotypical image of a clergyperson. I didn't have my colored nametag, so the security folks in red vests escorted me out. I returned later as one of the speakers.
Are we fundamentally missing something when any gathering of people in Jesus' name becomes exclusionary? If we are so entrenched in political camps and getting the right people voting for our agenda that we forget what witness we may be to a not-yet-Christian, we have lost our way.
What does this mean for The United Methodist Church? What have we come to when people vote for candidates based on their affiliations, rather than their character and effectiveness in ministry? Is "leadership" about voting the way a list created by behind-the-scenes organizations tells us to?
What I see is a church that is actually "united" in very few things.
There are a multitude of question-mark people out there, who sense this "battle" is founded in a false dichotomy. Being the question-mark people is not about neutrality; it's about having the humility to live in the mystery. It's about embodying the change we want to see in real local communities. It's about standing with Jesus. Jesus is our "position." Jesus is our "camp," our "association" and the lens through which we view reality.
Conservatives are right to value Scripture, and to see it as authoritative.
Progressives are also right that all people should be fully included in the life of the church — and those two things are not mutually exclusive. Each position contains a part of the truth of Jesus —
but only a part of the "way, truth, and life" that is Jesus.
The future of the church has very little to do with traditionalists, centrists or progressives. There is a "UMC Next," but it's not being convened in boardrooms with hand-selected candidates.
The new Methodism is springing up where the first Methodism did — from the ground, out in the fields, with people who don't go to church.
The Fresh Expressions movement is one way this is happening. We are finding ways to be church with people outside the church, returning to the heart of our radical tradition.
Remember, we don't need denominational permission to be a radically missional church. It is in our Wesleyan DNA to disobey unjust rules and improvise to meet the missional imperative. That's part of what it means to be Methodist. To challenge the status quo. To take it to the fields where the people are. To release the whole people of God. To spread Scriptural holiness. To reform the nation and the church.
United Methodists are question-mark people, whose theology was born from a missional imperative — not a doctrinal distinction.
The people of the question mark out there, who feel like perhaps the church is embroiled in a battle founded in a false dichotomy, who see Jesus at work in all the various tribes, should remember that Jesus was the question mark in his day. In, but not of, excluded from the theological camps of the religious leaders. He was not of the Pharisees or Sadducees, nor did he retreat to the desert with the Essenes. Even Jesus didn't have all the answers (Matthew 24:36). He was comfortable living in the mystery.
Christians are question-mark people. We put question marks where others have put periods. We walk by faith, not by sight. Not in the arrogance of certitude but in the humility of mystery. We confess we don't have all the answers, but we know the one who does. Have faith, my question-mark friends. Keep loving every person you encounter, until more is revealed.
Beck is co-pastor of Wildwood United Methodist Church in Wildwood, Florida, with his wife Jill, Director of Re-missioning for Fresh Expressions US, and cultivator of Fresh Expressions for the Florida United Methodist Church.
---
Like what you're reading? Support the ministry of UM News! Your support ensures the latest denominational news, dynamic stories and informative articles will continue to connect our global community. Make a tax-deductible donation at ResourceUMC.org/GiveUMCom.