Key Points:
The United Methodist Church's splintering has left many churchgoers feeling wounded.
Churchgoers, pastors and even seminary professors are finding different ways to mend after bruising battles over church exits.
As the founders of one recently chartered United Methodist congregation discovered, sometimes the best way to renew is to build something new.
---
After their church voted to disaffiliate last fall, Ed Cunningham and his wife, Jackie, tried visiting other United Methodist churches near their East Texas community.
However, he said none of those other congregations really comprehended their sense of loss.
"Unless it happens to you, you don't understand," he said. "You don't have the same feeling."
When a congregation votes to break up with The United Methodist Church, often left behind are people with broken hearts.
Across the U.S. are United Methodists who, like Cunningham, need healing after bruising battles over whether their churches should leave the denomination. The resulting polarization in the pews has strained family ties, fractured friendships and left many people feeling their faith impugned.
Cunningham and his wife had almost given up on church altogether. But then they learned of a new faith community being started by people like them — United Methodists who felt evicted from their longtime church homes.
"This just felt like a natural fit," he said. "I mean, a lot of people in pain coming together."
The roughly 30 people who came together on that chilly December night included grieving members of First United Methodist churches in the East Texas towns of Mabank and Athens, both then in the process of disaffiliating. But in recounting their experiences, the churchgoers' hurt soon gave way to hope for a new faith community.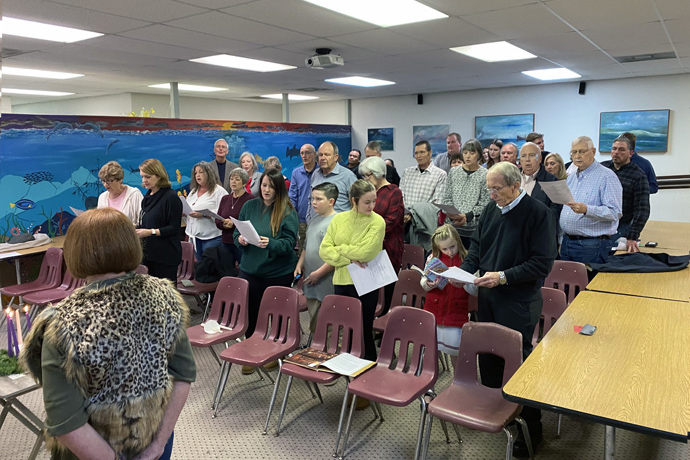 The group has now formed Market Street United Methodist Church, which is currently meeting in Eustace, Texas. The North Texas Conference chartered the congregation on March 26.
The church is named for Market Street in Mabank, where the fellowship held that first December meeting in a music studio. Even then, it was clear the burgeoning faith community would need more space.
Market Street is already outgrowing its current space — a formerly vacant church building in Eustace. The new church is now averaging well over 80 in attendance each week and is still adding newcomers. More than 100 attended on Easter Sunday.
The congregation has plans to move back to Mabank, a growing community on scenic Cedar Creek Lake that draws some Dallas commuters. But the Eustace location has already proven crucial to the new church's development.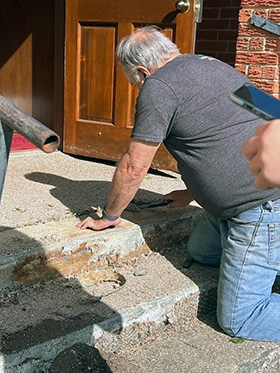 A member of Market Street United Methodist Church fixes the stairs of the building of the former Eustace United Methodist Church in Eustace, Texas. Getting the building into shape after it was vacant for three years has taken a lot of work. The new Market Street congregation is currently worshipping in the Eustace building with permission of the neighboring Texas Conference but has plans to be in nearby Mabank, a growing community where the fellowship first got together. Photo courtesy of the Rev. Eston Williams.
The Eustace building had been vacant since the start of the COVID-19 pandemic and required multiple repairs, including new flooring and plumbing. For the Cunninghams and the dozens of Market Street charter members, getting the building in shape for a new congregation proved a good start to the healing process.
"We did a lot of work on it," Cunningham said. "I think that's one way we got away from the experience of hate, anger and pain. We took positive actions."
But many hearts are still in need of mending and faith communities in need of restoration.
After decades of increasingly rancorous debate about LGBTQ inclusion at the denominational level, the 2019 special General Conference added a church law that allows U.S. congregations to leave the denomination with property if they meet certain financial and procedural conditions.
As a result, what largely had been a debate among denominational leaders has seeped into local congregations as well as false accusations that The United Methodist Church is abandoning core Christian doctrines.
Church exits have accelerated since last year's launch of the Global Methodist Church, a conservative, breakaway denomination that aims to maintain bans on same-sex marriage and noncelibate gay clergy.
As of this week, more than 5,800 congregations — or about 19% of U.S. churches — have cleared the necessary hurdles to withdraw from the denomination since the church law took effect. United Methodists expect more departures before the church law expires at the end of the year.
The church law requires that at least a two-thirds majority of the church's professing members present vote for disaffiliation. However, not every congregational vote on disaffiliation crosses that required two-thirds threshold. Even the votes that do can still leave a sizable number of congregants who want to remain United Methodist.
"No matter what, it splits the church," said Cheryl Nekuza, a former administrative board member at First Methodist in Mabank and one of the founders of Market Street United Methodist Church.
At the Mabank church, 58 people voted against disaffiliation, including Nekuza. After the vote, she shared her grief with her friend, the Rev. Eston Williams. The retired North Texas Conference pastor committed at that moment to help the continuing United Methodists get a new church off the ground.
"Many new churches have started with fewer than 58 members," he said.
United Methodist conferences, the denomination's regional bodies, are reaching out to people who want to stay United Methodist and helping them find a place to land and belong.
Multiple conferences have designated "Lighthouse Congregations" — churches committed to remaining United Methodist and providing a beacon of hope for churchgoers whose previous congregations disaffiliated. Some United Methodist churches are already growing by welcoming people looking to stay part of the denomination.
In many ways, The United Methodist Church is seeing a realignment as committed church members find ways to renew existing ministries or start new ones like the Market Street congregation. Ultimately, church leaders expect to see a reinvigorated, inclusive and more mission-focused denomination moving forward.
The North Texas Conference worked with the lay people of Market Street to ensure they had the pastoral care and resources to get started. The Rev. Vic Casad, a retired district superintendent, served as the church's interim pastor. The Rev. Wayne Walters, a father of four who aims to be a collaborative leader, will become the church's pastor on July 1.
The Rev. Owen Ross, the conference's director of church development, was at the faith community's launch in December. He asked those in the room how many had held a leadership role in their previous church, and almost everybody raised a hand.
"Methodism at its finest has always been a lay-empowered movement," Ross said. "What is making Market Street so strong is you have a congregation of leaders. … If you were picking an all-star team of Methodists in this area of East Texas, this is the team you would have recruited."
Nevertheless, pastors also have a role to play in salving the wounds that linger after the acrimony of many church disaffiliation votes, say two professors of preaching at Southern Methodist University's Perkins School of Theology in Dallas.
"The pain (as it is felt in your ministerial context and as you see it at the conference and denominational levels of the UMC) needs to be named explicitly and honestly," write the Revs. O. Wesley Allen Jr. and Alyce McKenzie in Preaching to the Left Behind, a pamphlet that offers advice for sermons that heal.
"A word of good news needs to be offered, but in ways that avoid denial of the significance of what is occurring," the two write. "This would be a good time to read and preach from lament."
Allen is Lois Craddock Perkins Professor of Homiletics, and McKenzie is the Le Van Professor of Preaching and Worship as well as director of the Perkins Center for Preaching Excellence. Allen said the center is willing to host and facilitate conversations with clergy groups about preaching in this time.
Recovering after failed disaffiliation vote
Jarvis Memorial United Methodist Church in Greenville, North Carolina, held a disaffiliation vote last year that fell short of the required two-thirds majority. Still, the vote was close and several members subsequently left the congregation.
Now, the Jarvis Memorial congregation is working toward healing and continuing to "live into God's future." The North Carolina Conference has a video about the congregation's journey and hopes.
Watch video.
In the meantime, the professors urge both pastors and churchgoers not to confuse the views espoused in such fictional works as the "Left Behind" series with the message of the Gospels. The Gospel of Matthew — the focal Gospel of this year's lectionary — makes a point of showing "that our being 'left behind' is not judgment or abandonment but being commissioned for new work and responsibility in a new day," the two write.
Allen told UM News that he has seminary students in a variety of situations. Some have joined the Global Methodist Church; some have left congregations so they can remain United Methodist; and still others are part of United Methodist congregations that are not only staying but also welcoming new members from disaffiliated congregations.
"It is an odd day, and they are struggling to know what to say and how to lead through what will likely be an extending, painful and confusing time," Allen said. "Their near-constant talk of these situations in class is part of why I wanted us to write this pamphlet."
Many conversations around church disaffiliations use the metaphor of divorce. Allen and McKenzie say a better metaphor might be siblings growing up and going separate ways.
Shifting the metaphor, the two write, "allows us to continue to be in conversation around our common heritage and look for ways to share resources and join forces in certain kinds of ministry (e.g., disaster relief) without demonizing each other."
McKenzie noted that this is not Methodism's "first conflict rodeo." The people called Methodist have parted ways before and come back together again.
Both she and Allen hope for a return to Methodism founder John Wesley's emphasis on grace and graciousness. "But it is not helpful to gloss over differences," McKenzie said.
Both professors recognize that with emotions so raw, a Methodist family reunion may not happen anytime soon.
Subscribe to our
e-newsletter
Like what you're reading and want to see more? Sign up for our free daily and weekly digests of important news and events in the life of The United Methodist Church.
Mindy Sutton, a third-generation member of First Methodist in Mabank, had worked with young parents in the congregation to try to keep that church together in the United Methodist fold. But the effort proved to no avail.
The heartrending disaffiliation vote resulted in Sutton's whole family, including her organist mother, reluctantly leaving behind a church home illuminated by stained-glass windows dedicated to her grandparents.
"My brother made the comment that, when we disaffiliated, it kind of felt like our grandparents were dying all over again," she said.
Now, Sutton, who is associate vice president and dean of students at Southern Methodist University, has found peace in seeing how the Market Street congregation has developed.
"It's hard not to see the hand of God in all of this, to be honest," she said. "As painful and difficult as the disaffiliation process was, this has just been so joy-filled and promising and hopeful."
Market Street is now full of children eager to get involved in church life. The church plans to hold a vacation Bible camp in July.
Among the kids involved in the new church is charter member Nekuza's grandson.
"My 10-year-old grandson, who could not even catch his breath because he cried so hard after the disaffiliation, is now an usher," the proud grandmother said. "That's his dream job — to be an usher at church."
Hahn is assistant news editor for UM News. Contact her at (615) 742-5470 or [email protected]. To read more United Methodist news, subscribe to the free Daily or Friday Digests.
---
Like what you're reading? Support the ministry of UM News! Your support ensures the latest denominational news, dynamic stories and informative articles will continue to connect our global community. Make a tax-deductible donation at ResourceUMC.org/GiveUMCom.