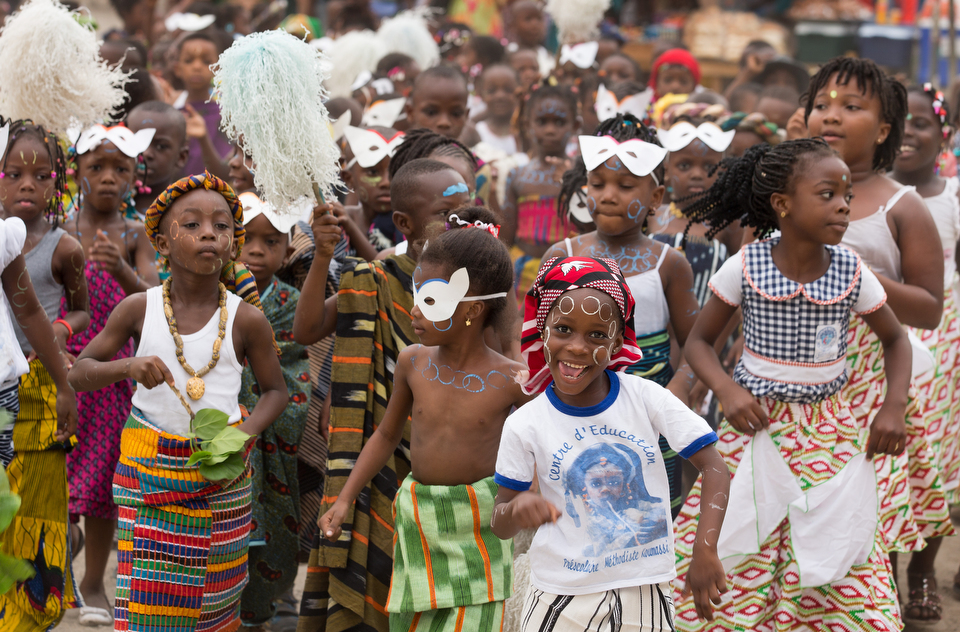 Children celebrate Mardi Gras at the United Methodist Koumassi School in Abidjan, Côte d'Ivoire. Promoting unity across denominational and religious lines is a core mission in the country's United Methodist schools where civil strife is a recent national memory.
Story by Heather Hahn, photos by Mike DuBose
March 28, 2018 | ABIDJAN, Côte d'Ivoire (UMNS)

Exuberant music and laughter fill the air as children take a mid-morning break from their studies to dance in their primary school's sandy courtyard. They sing a song in French that translates "Come and See."
Some children shake pompoms, and others swing handkerchiefs in time to the beat. Most wear colorful garb and party masks to mark the festive occasion.
It's Mardi Gras — the day before the start of Lent. In Côte d'Ivoire, which like Louisiana still reflects French Catholic influence, Fat Tuesday means time for revelry.
At United Methodist schools like this one in Abidjan's Koumassi neighborhood, the party comes with a purpose.
"The children here come from diverse cultural backgrounds. This brings unity," said Marceline Gnagne, the preschool principal, as a brass band blares a bright melody.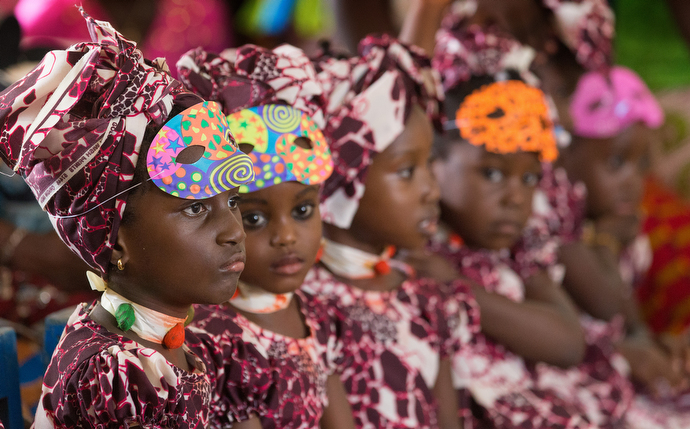 Fostering a sense of unity and common purpose among a religiously and culturally diverse student body is a big part of the mission of United Methodist schools here. They are educating a new generation of Muslims and Christians in a country where civil war is still a fresh trauma.
"Education is key for this nation, and education is best when it is also supported by values grounded in the Bible," said Lazare Kouassi, the director of United Methodist schools. He and other Ivoirians spoke to United Methodist News Service through an interpreter.
The United Methodist Church in Côte d'Ivoire operates one of the country's largest school systems. Altogether, more than 19,000 youngsters attend the denomination's eight secondary, 50 primary and 24 preschools.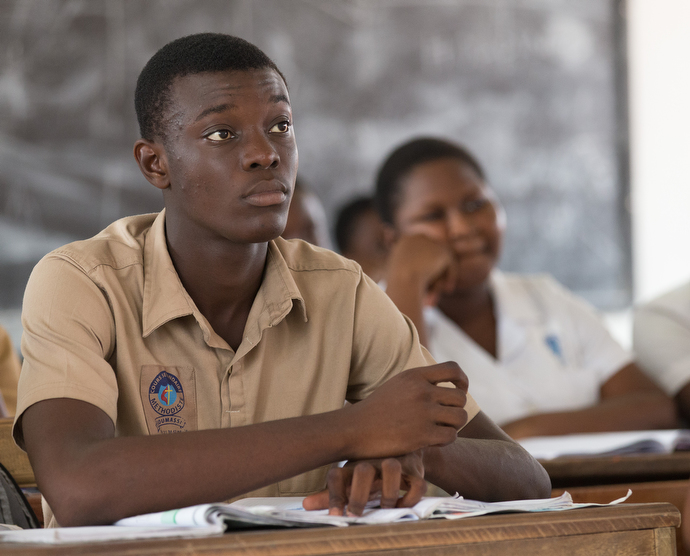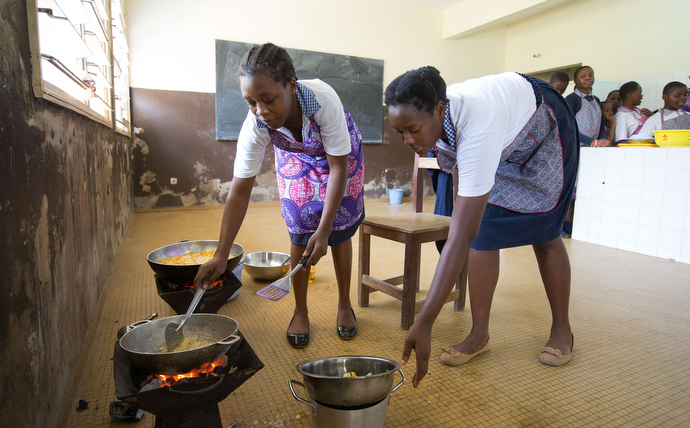 Supporting United Methodist schools
United Methodist schools in Côte d'Ivoire have a total annual budget that is about the equivalent of $7.5 million. Lazare Kouassi, the director of schools, said the federal government supports up to 44 percent of the budget. The remaining amount comes from school fees as well as donations to the United Methodist Advance designated giving program.
To help construct and provide schools, donors can give to Advance #3021943.
Most of the schools' 900 staff members are United Methodist, but only 20 percent of the student body is. More students are Muslim.
While school leaders emphasize that they hope to draw more United Methodist students, they take immense pride that many Muslim parents choose to send their children to campuses emblazoned with the Cross and Flame.
Bishop Benjamin Boni, who leads the Côte d'Ivoire Conference, said the schools have the potential to build peace.
"When people work together and every day share the same realities, a feeling of brotherhood will grow," the bishop said. "We know our country went through some difficult times due to the war. But thanks to the schools, we have a powerful instrument to bring people together in a peacemaking environment."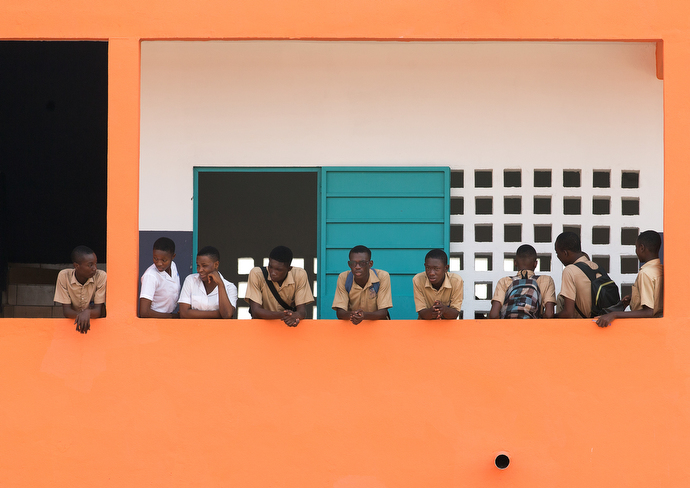 The nation's most recent violent clashes erupted in December 2010 when then-President Laurent Gbagbo, a Christian, refused to accept the election of Alassane Ouattara, his Muslim rival. In six months, at least 3,000 civilians were killed and more than 150 women were raped. Ouattara's forces eventually captured Gbagbo, who now faces crimes-against-humanity charges before the International Criminal Court in The Hague. President Ouattara is in his second term.
However, political and sectarian strife seems a world away as Muslim and Christian students study side by side at neat desks inside the Koumassi campus, which encompasses a preschool as well as the primary and secondary schools.
Just as the students know how to let the good times roll for Mardi Gras, they also know how to knuckle down and pay attention when it's class time.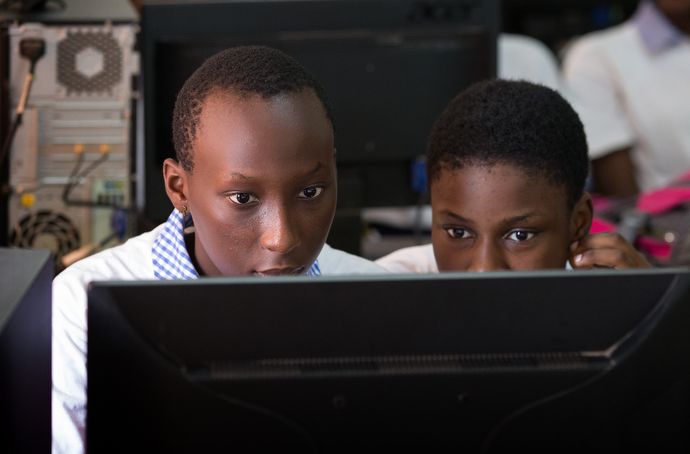 Fast facts about Côte d'Ivoire
The Republic of Côte d'Ivoire is on Africa's western coast.
Population 24. 2 million
People Ivoirians
Area 322,463 sq km (124,503 sq miles), roughly the size of New Mexico
Major languages French, indigenous languages
Major religions Islam (43 percent), Christianity (34 percent), animist (4 percent).
Life expectancy 58 years (men), 60 years (women)
Currency CFA (Communaute Financiere Africaine) franc

Source: CIA World Factbook
Multiple parents told United Methodist News Service they are pleased with the discipline the denomination's schools instill in their children.
"I like this school because they are very strict," said Do Angèle, a Catholic who has a daughter in 11th grade and a son in seventh grade at the Koumassi school. For example, she pointed out that students aren't allowed to bring cellphones to class, so they stay focused on instruction.
She had tried other schools in the city, she said, but didn't appreciate the way they cared for kids.
Similarly, Ali Moustapha — a Muslim — said he transferred all his children to United Methodist schools because he trusts the education they are receiving.
In Côte d'Ivoire, both the government and parents have a say in where students attend secondary school. There are not enough public secondary schools in the country to accommodate demand, so the government assigns students to both public and private schools based on their test scores. The government pays part of the fees for the students assigned to a private school. But if parents opt to send their child to another school, they are on the hook for the full amount.
No matter their background, students at United Methodist schools receive instruction in the Bible and Christian teachings as part of their education. Every Monday, the school week begins with a prayer service.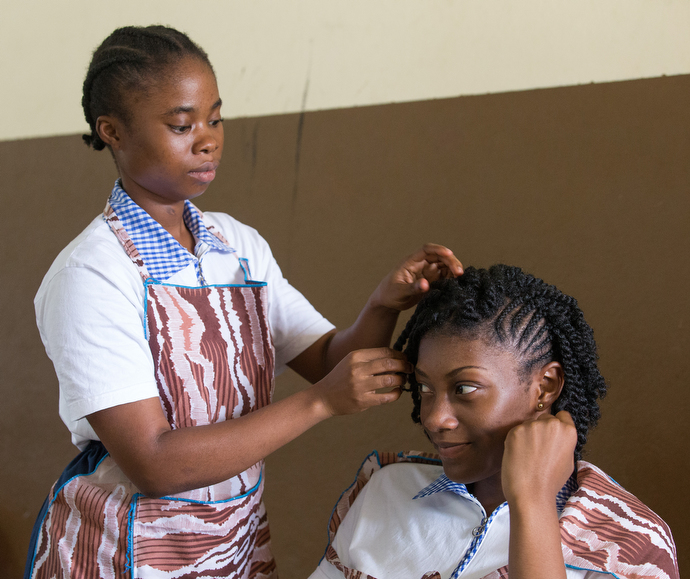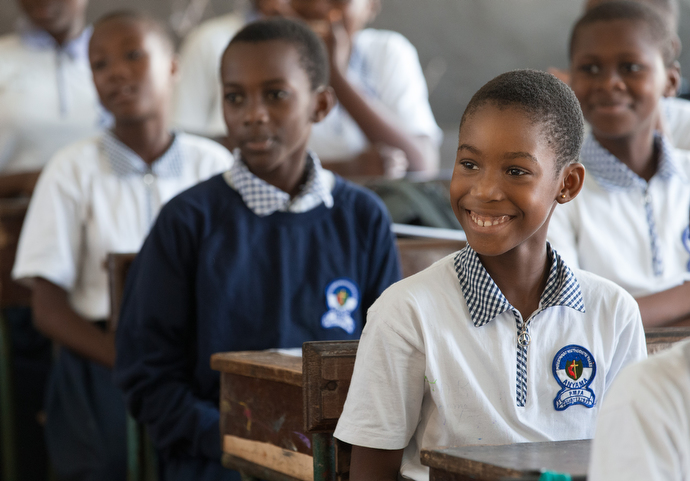 "The church uses the schools as a tool to spread the Gospel," said the Rev. Hermance Akpes Epse Aka, director of chaplains for the schools in the United Methodist system. She is also a board member of United Methodist Discipleship Ministries. "We know that without God, there is nothing we can do."
Boni, the bishop, points with pride to United Methodist school results. He said 74 percent of the schools' students earn a baccalaureate — the equivalent of U.S. high school diploma. This is in a country where fewer than 50 percent of youth complete secondary education and 36 percent of youth have no formal education at any level.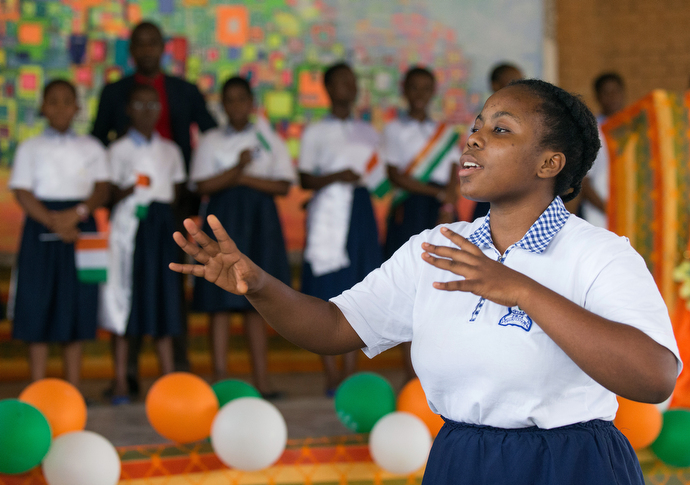 Aladji Koné Yaya, a Muslim preacher, sends his daughter to the United Methodist Anyama School in Abidjan.
Maryline Gogognon, a 10th grader at the Koumassi school, said she like the school's discipline. She expects the preparations she is receiving will help her see the world as a flight attendant.
Across the city from the Koumassi campus, the Anyama United Methodist school focuses on girls' education. Here, the young women can get — in addition to their regular academics — vocational training in cooking, cosmetology, couture and computers. Unlike at Koumassi, the young women also can board at their school in a campus dormitory.
Aladji Koné Yaya, a Muslim preacher, sent his daughter to Anyama based on its rigorous reputation. He wanted her to be challenged academically and is proud to say she excels in her classes.
Allassane Coulibaly, whose daughter is in seventh grade at the Koumassi school, said he believes United Methodist schools have the potential to raise up the leaders who will eventually run the country.
As a Muslim married to a Catholic, Coulibaly also appreciates that the school brings together students of different faiths.
"The school is rich because of its diversity," he said.
Many of the students would agree. At lunchtime at Anyama, a group of Muslim and Christian girls giggle together over plates of fish.
One girl said in English: "We are family."
Hahn is editor of United Methodist News Service and DuBose is a photographer for United Methodist Communications. Contact them at at (615) 742-5470 or [email protected]. To read more United Methodist news, subscribe to the free Daily or Weekly Digests.
---
Like what you're reading? Support the ministry of UM News! Your support ensures the latest denominational news, dynamic stories and informative articles will continue to connect our global community. Make a tax-deductible donation at ResourceUMC.org/GiveUMCom.