---
Key points:
What began as a small way for Booneville United Methodist Church to reach out to the community has blossomed into an annual event attracting hundreds.
The church's Booneville Music Festival was a big community outreach for the tiny, rural church before the COVID-19 pandemic.
After a two-year hiatus, the festival resumed in September.
---
What began as a small way for Booneville United Methodist Church to reach out to the community has blossomed into an annual event attracting hundreds.
Booneville, Iowa, is a small rural town west of Des Moines, but as that city's suburbs have expanded, the growth has reached Booneville.
"Our town is basically a grain elevator, a post office, Waveland West Bar and Grill and our church," said Jim Cushing, a lay speaker at Booneville United Methodist. "We're a small church that has been in a rural setting and everything is growing around us, but it doesn't translate into people coming."
In 2018, the Rev. Sandy Smith, the church's pastor at the time, wanted an event to bring the community together around the church. She thought something with music would be ideal.
Subscribe to our
e-newsletter
Like what you're reading and want to see more? Sign up for our free daily and weekly digests of important news and events in the life of The United Methodist Church.
Cushing, who has experience as an event organizer and connections to the local music scene, got to work.
Cushing said they pulled off the first festival with about $500 — though they had to "beg, borrow and steal" the sound system and other equipment.
"The festival connects the churched, the unchurched and the 'church detached,'" he said. "We consider it a community outreach event to show people that Christians can have fun, too."
The first festival drew several hundred people from the community, and in 2019 it grew to about 350. They had even planned a winter version of the event for March 2020 — and then COVID-19 happened.
After a two-year hiatus, the Booneville Music Festival was held Sept. 25. Though free to the public, the church does accept donations, which are used to support a chosen mission topic. This year, it was food insecurity. Cushing said that though the musicians are paid, they often donate the money back to the church.
The event featured an opening sermon based on Psalm 98:4: "Make a joyful noise unto the Lord." Attendees enjoyed The Relics, who perform hits of the '60s and '70s, and local blues artist Bob Pace, who also used to provide music at West Des Moines United Methodist Church.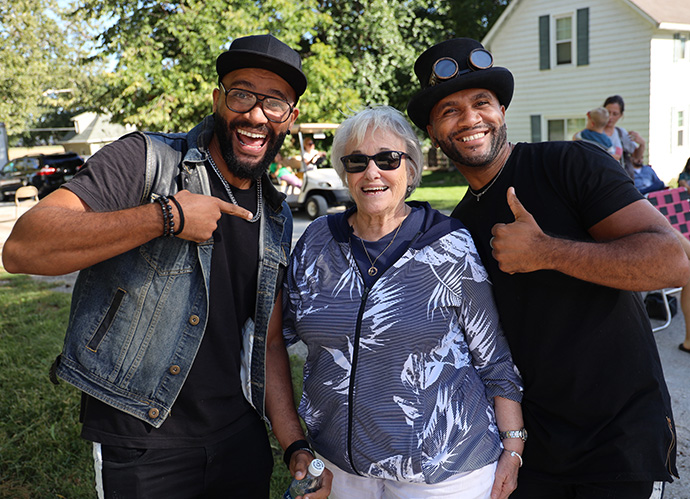 Headliners B2Wins, identical twin brothers from Brazil who perform classic songs rearranged for violin and ukulele, have a long relationship with the Booneville church.
"They've become like my kids, like family to this church," said Smith. "They've come back around Christmastime and sung for us."
Smith said that she and a few other church members traveled to the Minnesota State Fair this past summer to watch them perform.
From on stage at the Booneville festival, Walter Caldas, one of the twins, explained to the crowd that he saw some familiar faces.
"I look down and in the front row are these ladies, my groupies, getting wild!" he yelled to the laughter of the crowd.
Cushing said that this year's attendance was about 300, adding that "it's nice to see the community come together and have the rest of the worries of the world not weigh on them for a bit."
The success of the event has led other churches to ask Cushing for advice on their own community outreach. First, he said, you need someone willing to organize it and, of course, you need money. After the first year, the church started putting funds for the festival in its general budget. Then you need volunteers.
Pastor Nate Mason, Booneville United Methodist's current pastor, said he's proud that the festival is a completely laity-led event.
"We have about 15 to 20 people on a Sunday, and most of them are here today helping," he said.
Cushing is brainstorming other ideas for outreach as well. He said that a lot of runners and cyclists frequent the area, and the church is considering a bike blessing to connect with that community.
He also said that Des Moines University, a private medical school, is opening a campus near the church. In a conversation with the school's dean of students, he learned that many of the students belong to the Christian Medical Student Association, and now the group is considering a monthly worship service and Bible study at the church.
"They haven't had a formal place to meet and we want our doors open to them. We're trying to think of new ways our church can connect," Cushing said.
He's also weighing the possibility of expanding the music festival in the future.
"My response after each festival is 'never again,'" he said, "but this time I already started thinking about changes for next year."
Levin is communications officer for the Iowa Conference of The United Methodist Church. Butler is a multimedia producer/editor for United Methodist News. Contact him at (615) 742-5470 or [email protected] To read more United Methodist news, subscribe to the free Daily or Weekly Digests.
---
Like what you're reading? Support the ministry of UM News! Your support ensures the latest denominational news, dynamic stories and informative articles will continue to connect our global community. Make a tax-deductible donation at ResourceUMC.org/GiveUMCom.