A state-of-the-art surgical facility provides the foundation for expanding eye care at the Lowell and Ruth Gess United Methodist Eye Hospital, which already works with Ebola survivors who suffer from vision complications.

The Sierra Leone Conference's Health Board, together with partners, dedicated the new building on Aug. 4. United Methodist-related Emory University, Central Global Vision Fund and Christian Blind Mission all supported the expansion.

An Emory research team led by Drs. Steven Yeh and Jessica Shantha plan to continue their work with Ebola survivors and establish a vitreo-retina unit at the West Africa Center for Excellence in Eye Care at the hospital. That unit will provide treatment for retinal tears and detachments, macular degeneration and other retinal problems that cannot now be treated in Sierra Leone or neighboring Liberia and Guinea.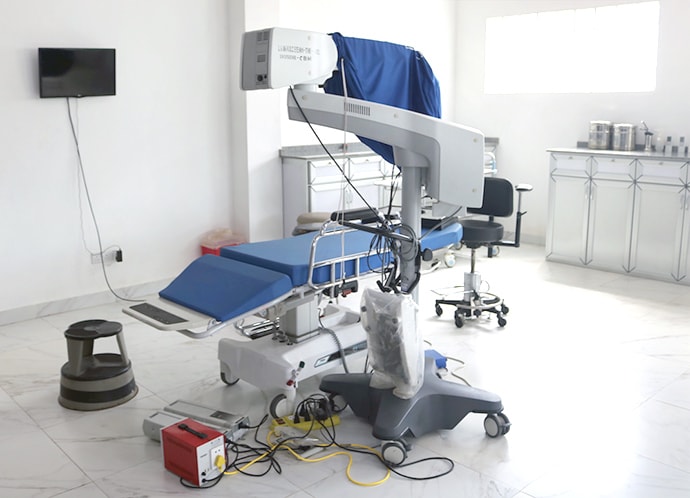 Dr. Moges Teshome, the hospital's ophthalmologist, said the new facility is "very spacious" with good ventilation and is energizing the cataract surgeons.

"We can freely move around and everything is easily accessible," Teshome said, adding the new facility can accommodate the Emory team, too.

The new, larger room can accommodate three simultaneous operations.

The Sierra Leone Conference's Bishop John K. Yambasu expressed his happiness about the new eye surgery, as well as a pediatric eye care building that has been paid for by Christian Blind Mission.
"This is one of my happiest moments in my 11 years of leadership as bishop," he said.
"Emory University's plan is to position this hospital as the West African hub for eye care," the bishop said. "When you give good eye care to people, you make them appreciate humanity. You make them appreciate themselves. You make them look beyond themselves and you make them see God working in their lives."

With support from the Emory University partnership, the West African Center for Excellence in Eye Care will include research, education, telemedicine, infectious disease control and prevention, as well as surgery and treatment for retinal disease, said Melanie Reiners. Reiners, a missionary from South Dakota who works with the Lowell and Ruth Gess Eye Hospital, wrote about the center in a late July letter to supportive churches and friends in ministry.

Lowell Gess, who spent 58 years in mission work in Sierra Leone, founded the original United Methodist eye clinic. The clinic was renamed for Gess and his wife, Ruth in 2011 in recognition of their work and service to the people of Sierra Leone.

Gess, who traveled from Minnesota to Freetown for the dedication program, celebrated his 98th birthday with staff of the hospital the week before.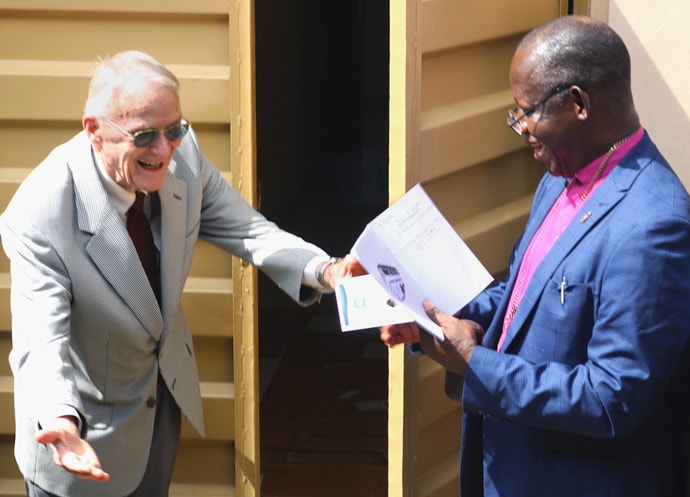 Yeh had arranged for children from an orphanage to be present to sing "Happy Birthday" and other songs for Gess. Some of the children were Ebola survivors, while others were orphaned by the 2014-2015 Ebola pandemic. They have continued to receive eye care at the eye hospital since that time through an ongoing research study of Emory University.

Dr. Matthew Vandy, National Eye Health program manager, represented the chief medical officer of the Sierra Leone Ministry of Health and Sanitation at the dedication.

He said better eye care is important because blindness increases poverty, because many blind people are illiterate and because some keep their children home from school to help them.

He emphasized the need for eye care both for humans and animals but was sad to say the country did not have a veterinary ophthalmologist.

Roger Reiners spoke for Central Global Vision Fund, which he said got involved with the eye ministry in Sierra Leone in 1981.

"We never envisioned the growth and the expansion we see here today," he said.

Jusu is director of communications for The United Methodist Church in Sierra Leone.

News media contact: Vicki Brown at (615) 742-5470 or [email protected]. To read more United Methodist news, subscribe to the free Daily or Weekly Digests.