---
Key points:
• A study by Gammon Theological Seminary focused on the pandemic's impact on Black United Methodist churches and leaders.
• The Rev. Candace M. Lewis, Gammon Theological Seminary president, lauded the innovation and adaptability of Black congregations in coping with COVID-19.
• Long-term sustainability of hybrid worship in smaller Black United Methodist congregations is a major obstacle.
---
In June 2021, Gammon Theological Seminary joined with five United Methodist organizations, seeking to hear the voices of Black pastors and leaders who have faithfully led and served God's people amid the unprecedented COVID-19 global health pandemic.
The goal was to amplify the progress and concerns of Black United Methodist churches since the pandemic began.
Gammon is the only predominantly Black United Methodist seminary of the 13 U.S. United Methodist theological schools. The Atlanta-based seminary developed and launched the 20-question survey in June, garnering an overwhelmingly positive completion rate from 619 respondents representing all five of the denomination's U.S. jurisdictions.
"I was surprised by the number of responses we received so quickly," said the Rev. Candace M. Lewis. "People wanted to speak and share their experiences."
The Rev. Candace M. Lewis.

Photo courtesy of Gammon Theological Seminary.
Lewis, the newly elected 17th president and dean of Gammon, started her tenure on April 1. She is the first woman elected to this role in the school's 138-year history.
The other participating organizations in the survey included Black Methodists for Church Renewal, Strengthening the Black Church for the 21st Century, Black Clergywomen of The United Methodist Church, the Convocation for Black Pastors in The UMC and Discipleship Ministries.
Survey questions focused on the pandemic's impact on emotional well-being, church finances, average worship attendance, launching virtual worship, and how the church remained in mission and ministry during and after quarantine.
Another goal was to discover the factors influencing the decision of Black United Methodist congregations either to return to meeting in-person, to develop and maintain a hybrid in-person and online worship experience, or to continue virtual worship services only. Finally, survey developers wanted to assess respondents' needs in maintaining effective ministry.
Lewis was amazed to learn that before shutdowns in March 2020, 74% of Black United Methodist congregations — accustomed to in-person worship in a physical building — lacked online, hybrid or digital worship experiences.
"This surprised me to grasp the disruption and immediate pivot that occurred," she said. "The need to adapt technically to this new reality and ministry landscape is to be commended."
Since then, the percentage of Black churches offering digital or hybrid worship has increased to 98%, with such options as drive-in and stay-in-vehicle parking lot worship.
Long-term sustainability of hybrid digital and in-person worship in smaller Black United Methodist congregations is a major obstacle facing Black clergy and laity, Lewis acknowledged.
"I fear many will rush back to an in-person, in-the-physical-building worship experience and 'over spiritualize' the decision because it's most familiar and too difficult to ask for the resources needed to build a sustainable, quality, hybrid worship experience," she said. "Immediate needs for many Black United Methodist churches are (obtaining) resources to upgrade technology, recruiting, training, upgrading skills of volunteers with technology and equipping clergy in innovative ministries."
The survey indicated that of the 38% of Black United Methodist congregations not yet returning to offering in-person worship, the top reason was concern for safety, especially among older adults.
"This risk factor," Lewis suggested, "is mitigated by developing a connected hybrid, virtual worship experience and creating additional opportunities for high-risk members to stay connected to the congregation."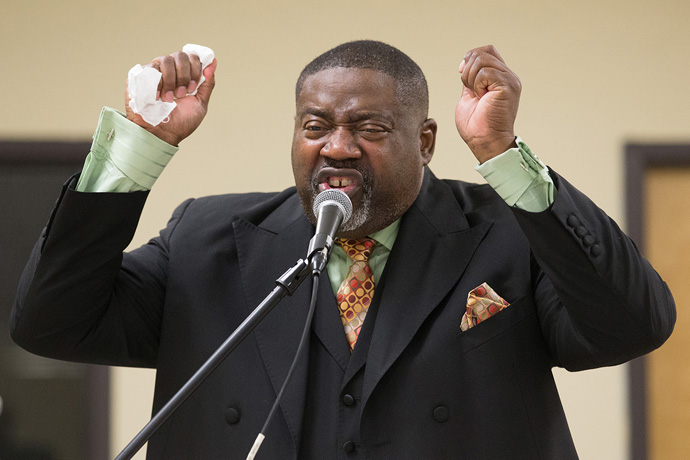 She shared the story of her 86-year-old mother. "She's not comfortable returning to in-person services," Lewis said. "She's enjoyed the Zoom services; yet, prior to the pandemic, she'd never heard of Zoom. She said 'the pictures and sound aren't always clear,' which translates to technical issues that could be improved with upgraded equipment and advanced training for the pastor and volunteers."
The report also stated that Black United Methodist congregations' greatest need is for resources to help with digital discipleship as well as youth and children's ministry.
Lewis expressed excitement that Gammon can now "amplify" and quantify such needs.
"Based on this new data," she said, "we can assist Cokesbury, Discipleship Ministries and other United Methodist general agencies with focus groups to help them respond to this dire need for contextual, digital discipleship resources for children and youth in our Black congregations."
Sixty-two percent of the respondents said their congregations have returned to offering some form of in-person worship experience. However, the increase in positive COVID-19 cases, along with the emergence of delta and other variants, present new challenges.
United Methodist Communications study
In its latest Impact of COVID-19 Study, United Methodist Communications assessed the pandemic's impact on local church services and ministries, finances and clergy well-being and explored demographic trends.
The results verify that because of the pandemic, most churches are offering both online and in-person worship options. These bring with them a return to children and youth programs, as well as small groups and Sunday school for adults.
Churches are also continuing to use their buildings for food distribution and community outreach, nonprofit organizations and support groups.
Like the Gammon survey, the United Methodist Communications study showed that although people feel encouraged on average, levels of exhaustion and loneliness are rising.
Smaller churches have been more likely to hold only in-person services, forgo vacation Bible school, struggle financially and be hindered by members' opinions and comfort levels in reopening their doors. Conversely, larger churches report a higher sense of operating as usual without huge financial woes. Many have moved to a hybrid online and in-person ministry and applied for federal funds.
"The valuable information guided us to quickly create new resources like our
Local Church Learning Sessions
and adjust our services to best equip local churches for what may lay ahead," said Poonam Patodia, chief marketing officer for United Methodist Communications. "While businesses were closing down, our agency's teams increased our activity knowing that churches needed tools to help them continue to serve and share the Gospel message."
"The need for investing resources in higher-quality digital and virtual ministries is now greater than ever," Lewis said. "We must continue to equip our Black clergy leaders to continue to be innovative in ministry and give them 'permission' not to quickly return to business as usual just because it's the most familiar."
One survey participant was the Rev. Rodney Thomas Smothers, lead pastor of Grace United Methodist Church in Fort Washington, Maryland. The 350-member church is part of the Baltimore-Washington Conference and has an average worship attendance of 275.
"Before the pandemic," Smothers recalled, "in-person worship was recorded for later rebroadcast on YouTube. During the pandemic, the in-person option was eliminated, and worship services were prerecorded for broadcast on Sunday."
The survey showed that one factor influencing the return of Black United Methodist congregations to in-person worship is an actively engaged re-entry team that works with the pastor to assess contextually COVID-19 infection rates and the overall welfare of the congregation.
"The re-entry team at Grace," Smothers said, "plays a vital role: preparing protocols, procedures and policies, as well as staffing points of entry, ensuring compliance with policies and monitoring emerging local, state and federal guidelines."
Lewis said such re-entry teams could help a church determine local missional and ministry needs.
The teams "help the church continue being 'salt and light' in their local community," she said. "If this team focuses only on worship re-entry, the congregation misses an opportunity to be outwardly focused with the community in which the church is located."
Despite the difficulties of the pandemic, giving in most Black United Methodist congregations has increased or remained steady. About 31% indicated that offerings had declined. Lewis is encouraged by this for Black, as well as other faithful United Methodists.
"I don't think the financial stability is unique to the Black congregations," she pointed out. "I think the generosity we've seen is a response to the faithfulness of God to God's people throughout this unprecedented season of ministry. I think, overall, the expenses of congregations have been lowered since they are not meeting in person in the physical building."
Lewis appreciates the courage of Black clergy and laity to admit the pandemic's impact on their emotional health. "This reality should be amplified, taken seriously and examined further," she said. "We have the ability to ask more questions in response to this insight and discover what resources are needed to respond.
"The reality is that over 74% of the Black United Methodist congregations were under 100 in pre-pandemic average worship attendance. This season has been especially taxing on their appointed pastors as there probably wasn't support or coverage to take time off in ways pastors of larger congregations are able to do, simply because they have more resources."
Smothers understands severe personal stress. "I was appointed to this church during the pandemic," he said. "Sept. 12 will be the first time I have worshipped face-to-face with my congregation since becoming their pastor in July of last year. The laity have also experienced extreme stress because all of their in-person ministry activities have been changed due to the pandemic."
Many Grace members are older adults, Smothers said. "In-person fellowship was at the heart of the vital life of this ministry," he noted. "Although we have met on Zoom and conference calls, it's not the same. Black churches that are traditionally 'high-touch' have to learn how to also be high-tech in the current environment."
Smothers is hopeful about the future.
"Blessings have been found in the new ways that our folk have learned to effectively use technology for church school, meetings, ministry, fellowship and worship," he said. "Many new collaborative ministries have grown out of our new limitations and opportunities. The anchoring question as we move forward is, 'Who will do this with me?'
"Black churches," he asserted, "can lead the way as we become both adaptive and innovative in our pursuit of effective ministry."
Gammon will make the entire survey available for download by Oct. 1 and will host a webinar to unpack the results of the survey. The webinar date is being finalized.
Barbara Dunlap-Berg is a freelance writer in Carbondale, Illinois. News media contact Julie Dwyer at (615) 742-5470 or [email protected]. To read more United Methodist news, subscribe to the free Daily or Weekly Digests.
---
Like what you're reading? Support the ministry of UM News! Your support ensures the latest denominational news, dynamic stories and informative articles will continue to connect our global community. Make a tax-deductible donation at ResourceUMC.org/GiveUMCom.