The first week East Stone Gap United Methodist Church held online-only worship, the pastor shared the good news of Christ but found sobering news when he looked at the offering receipts.
Worshippers gave a total of only $20.
"I thought that we were ruined," said the Rev. Brad Stapleton, the pastor of this church in rural southwest Virginia. "I was calculating how many weeks before we would go bankrupt."
However, in the following three months, the church has seen not only online viewership exceed its usual attendance but also giving exceed its usual collections.
Stapleton joins many United Methodist pastors across the United States in being more hopeful about their church finances and the future than at the beginning of the pandemic that shuttered in-person worship around the globe.
"We have a link to give to the church, and people are doing it," Stapleton said. "We have people who used to attend our church but moved, and they're giving. We have people in our community who have given for the first time."
The congregation has used the added revenue — and cost savings on utilities — to provide $100 grocery gift cards and other financial assistance to people in the community who have lost their income in the coronavirus-battered economy.
While the East Stone Gap congregation is in the minority of churches that actually saw giving go up during the time of online-only worship, other United Methodists report that their congregations are holding their own in the crisis and continuing vital ministries.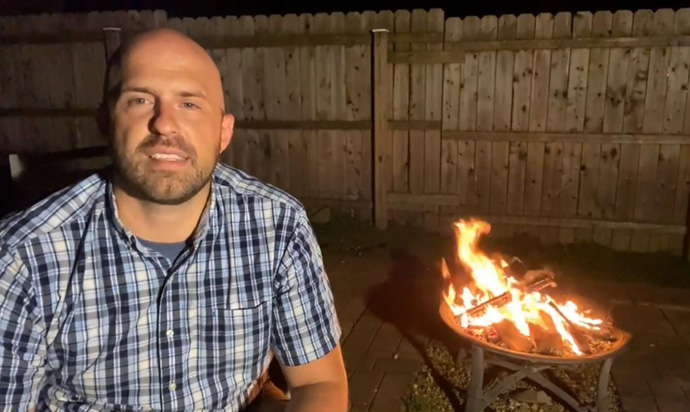 In a United Methodist Communications survey of 1,016 U.S. churches, about 74% reported the same or higher worship attendance after moving online, and 62% reported about the same or higher giving. The survey, intended to guide agency work, was conducted June 10-14.
The June findings showed a marked improvement
over a similar survey taken in March
. Significantly, churches that are seeing a drop in giving report a less steep decline than before. Some 56% of churches say money is tight but they are managing, and another 36% say finances are not a concern.
"I think what churches found is that they are much more resilient and capable of adjusting than they expected," said Charles C. Niedringhaus, United Methodist Communications senior director of marketing, research and evaluation.
The Rev. Daryl L. Williams, senior pastor of St. Paul at Oxon Hill, is among those with hopes that the changes made now will bolster future ministry.
His predominantly African American congregation near Washington had long wanted to start online worship but did not make the jump until the pandemic forced the issue.
"It has been challenging but great," he said. "It is a real opportunity for the church in a lot of ways."
In the crisis, the congregation has embraced a range of new online ministries that it plans to continue into the future. St. Paul at Oxon Hill streams its services on multiple platforms. It also has introduced weekly online hangouts each Thursday for people to check in.
About five people have joined the church through the digital connections, Williams said.
"Whatever the new normal is, we are going to have a continued digital presence like this," he said.
The Rev. Martin McCain attests to how online worship has boosted giving at predominantly African American Grace United Methodist Church in Memphis, Tennessee.
"I've even had people who don't go to our church watch the virtual and then come around the corner and drop off a check," said McCain, the church's pastor.
The number of churches
resuming in-person worship
is accelerating. East Stone Gap United Methodist, for example, held its first in-person worship service with social-distancing restrictions on June 14.
"Wearing masks, not singing, and taking communion from pre-packaged packets was different," Stapleton said, "but did not stand in the way of having a joyful and blessed service."
However, a number of U.S. churches remain online only in areas that have experienced surging COVID-19 cases. As of June 18,
Johns Hopkins University reported
that more than 117,700 people in the U.S. have died of the disease.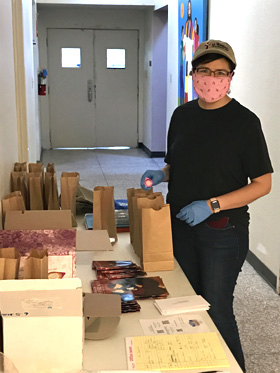 The Rev. Raquel Feagins of La Trinidad United Methodist Church in San Antonio prepares bags that include the Upper Room devotions and communion elements for about 220 people. People pick up the packages curbside during the time of online worship. Photo by the Rev. John Feagins of La Trinidad United Methodist Church.
La Trinidad United Methodist Church in downtown San Antonio is in a ZIP Code where the virus has infected hundreds of people.
The Rev. John Feagins, co-pastor with his wife Raquel of this largely Hispanic church, said staying online is the safe thing for now. And like many churches, La Trinidad has seen increased engagement even with limited in-person contact.
The church tracks that growth not through online views but in how many receive the sacrament on communion Sunday. People pick up the already-consecrated elements at the church curbside on the Saturday before, or the pastors deliver the elements to those who aren't able to make the trip. Worshippers then synchronously celebrate Eucharist the next day during the livestreamed service.
Since the crisis began, the church's communicants have increased from about 150 to about 220.
"I actually believe once the pandemic ends — and it will end — a lot of these gains are going to continue because of the relational steps that have been taken," Feagins said.
The monthly kits also include copies of the Upper Room devotional booklets, a gift such as roses for Mother's Day and a remittance envelope for offering. Giving has held steady and expenses are down, he said, and La Trinidad has seen no need to seek additional financial assistance.
However, other congregations have. A
United Methodist Communications survey
in late April found that 44% of churches that completed the study had applied for financial help under the U.S. CARES Act.
Among those churches is First United Methodist Church in Flushing, New York, which received about a $100,000 loan through
the act's Paycheck Protection Program
.
The predominantly Korean immigrant congregation — which in non-pandemic times averages about 2,000 in weekly attendance — is in New York City,
the epicenter of the U.S. pandemic this spring
.
"The church doors were closed, but the church members have been very active," said the Rev. Chongho James Kim, the congregation's senior pastor. "They have been making masks and organized a food pantry for the daily workers in the street."
Subscribe to our
e-newsletter
Like what you're reading and want to see more? Sign up for our free daily and weekly digests of important news and events in the life of The United Methodist Church.
The congregation, for the first time, also has started using online giving. "We broke the cultural barrier because of this," he said. Because of the congregants' faithful stewardship and the loan, the church has remained financially sound and has found new ways to reach out to its neighbors.
The church recently held a memorial service for George Floyd, a black man who whose death under the knee of a police officer
sparked protests and calls for racial justice worldwide
.
"Because of the coronavirus, every communication we produce is bilingual now," Kim said. "We want to be intentionally connecting with the larger community. We also want to be a center where people can come together to combat racism."
Stapleton of the largely white East Stone Gap United Methodist speaks for many pastors when he talks with relief about how his congregation has responded to God's call in this time of uncertainty.
"I think our church has done what we can do," he said. "But the blessings that we've received in this time are not due to process. I think it's due to people who love Jesus and are faithful to the church."
Hahn is a multimedia news reporter for United Methodist News. Contact her at (615) 742-5470 or

[email protected]

. To read more United Methodist news, subscribe to the free Daily or Weekly Digests.
---
Like what you're reading? Support the ministry of UM News! Your support ensures the latest denominational news, dynamic stories and informative articles will continue to connect our global community. Make a tax-deductible donation at ResourceUMC.org/GiveUMCom.