"Yes, sir, this is the best bad plan we have." — CIA agent in "Argo."
Behold the townhouse. A building shares a common contractor, common foundation and a partial common address. Each individual dwelling is outfitted with interior configurations and décor specific to the family. Call it an architect's answer to creating unity without uniformity.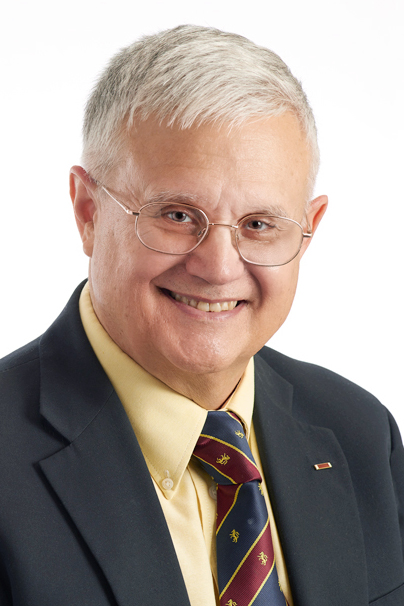 The Rev. Bob Phillips
Photo by Timothy H. Wright
The Connectional Conference Plan seems to reflect a townhouse vision of ecclesiology and theology, and I don't mean this in a demeaning sense. It posits a common core, rooted in the Wesleyan theological tradition, as the foundation or floor shared by a diverse spiritual family.
As the various dwellers in a townhouse do not have special access to the other units in their shared building, so the Connectional Conference Plan creates an integrity of helpful distance among the disparate and squabbling members of the family. The name United Methodist remains, but in ways that allow and bless refreshing differences to bloom without shame or the need to justify themselves to others who lack basic sympathy for the intention behind those differences.

The Connectional Conference Plan has numerous, well-intended detractors. Their critiques are serious and real. The global church in its annual conferences must affirm the plan by a super-majority on eight constitutional changes. To some concerned critics, inventing time travel would be an easier task. The Connectional Conference Plan is polite schism, with various church components walled off from one another with a watertight integrity that admits no leakage of sympathy from other viewpoints.

The Connectional Conference Plan would slay some of the boards and agencies of the denomination, snuffing church growth initiatives, justice for women and minorities, or a collective voice raised for issues of justice in an unjust world. The Connectional Conference Plan is too darned complicated.

Before responding to these concerns, consider where the denomination stands as it is poised on the cusp of the called General Conference. Others helpfully have pictured the plans as the understanding of Christian marriage reaffirmed, redefined or restructured. The One Church Plan, favored by a majority of the bishops (though almost certainly not favored by a majority of members), absolutely would yield a decisive split.

The Wesleyan Covenant Association, together with other traditional voices have made clear that Christian conscience would not permit them to remain in a church that blesses behaviors the believe Scripture declares to be "incompatible with Christian teaching." Redefine marriage? Decline becomes free fall.

The Modified Traditional Plan, favored by many traditional clergy and laity in the U.S. and reflecting the theology of marriage of the global church, if adopted absolutely would yield immediate, sustained and calamitous resistance.

Clergy, laity, annual conferences, bishops and at least one entire jurisdiction (yes, small but still a jurisdiction) would enter into principled protest and disobedience. "Let a thousand trials occur," would be a clear response in several regions of the church to the Modified Traditional Plan. Many middle-way churches will find members quitting a church now perceived as bigoted and anti-gay. Yes, really.

Most of those who have no objection to same gender marriage see "gracious exit" as a velvet-covered boot out the door. Liberal/progressive Christians have no recent history of leaving amid such disagreement. They stay until they get their way and justice is done. It will happen to The United Methodist Church if the General Conference 2019 adopts the Modified Traditional Plan.

The Simple Plan, favored by many on the progressive-left of the church, if adopted would lose all of the traditional folks who would depart if the One Church Plan is adopted and a good chunk of moderates who would be biblically and emotionally challenged by a free-for-all approach (literally) to the issue of human sexuality.

To ignore the history behind the additions of restrictive language to the Book of Discipline and shrug off the reasons and human nuance behind that language is no way to run a railroad but it will guarantee a train wreck.

The decision not to decide is simply backing the posterior of the church into the electric fan of this swirling issue rather than facing it forthrightly. The status quo would remain and the delegates and bishops would have to explain to an exasperated global church precisely what good came from the roughly $3 million tithe dollars spent for the four winter days spent in St. Louis.

The Connectional Conference Plan is "the best bad plan we have." It is imperfect, as are they all. It bears consequences known and unintended, as do they all. It does offers a clear time line on reality. If the constitutional amendments fail to pass at the annual conference level, that would be known prior to the General Conference 2020, at which time a further modified alternative would pass for quick implementation. However, if the plan jumps the constitutional hurdles, consider these factors:

• Each theological expression of United Methodist Christianity could operate freely from its own residence within the Wesleyan townhouse.
• Major boards and agencies would receive shared support. Other general church groups and agencies likewise would be supported in ways consistent with the theological identity of that particular part of the townhouse and evaluated by metrics of effectiveness in achieving their mission.
• Evangelical United Methodist new church starts could occur in regions where current structure functionally excludes that perspective from such efforts or from any meaningful leadership. Ditto for progressives in traditional areas.
• The haggling over sexuality really moves to the rearview mirror. Folks who claim adherence to the historic Christian sexual ethic will be able to make their case. Folks who claim that a revised and vigorous sexual ethic will open the doors to growth that traditionalism have shut will be able to make the case. Middle-roaders who agree and disagree with everything just said will be able to make the case that moderation is the way to increasing disciples, "be not righteous overmuch" (Eccl. 7:16).

What about the impossible super majority requirement? Conferences would vote with full knowledge of what happens if the amendments pass ... and what happens if they don't. While it would require patching and repairs, a real case can be made that it is "the best bad plan we have." Note that on the Way Forward Commission the plan received affirmation from group members at the opposite spectrum of the sexuality issue. The plan offers hope.

What about schism? Hello? Have you traveled in the Western Jurisdiction recently? Openly gay and partnered clergy appointed as pastors, district superintendent and one holding the office of bishop. The Judicial Council ruled that the consecration of a gay bishop violated church law, but said the bishop "remains in good standing" until an administrative or judicial process is completed. That leaves it to the bishops of the Western Jurisdiction to take appropriate steps. Didn't happen and won't happen. The few remaining traditional-evangelical clergy serve quietly on the margins, with their heads down. The Connectional Conference Plan dispenses with illusions of unity and replaces illusion with a constructive reality.

The Connectional Conference Plan would eliminate general boards and agencies that protect women, minorities and foster church growth? Yes, and no. Zero-based budgeting, which churches and annual conferences would be wise to use, requires an organization to begin its budgeting process at zero, and to reboot the budget line by line with mission as the controlling vision and each item objectively evaluated as to effectiveness in contributing to the reason for which the organization exists. Innovation, focus and creativity are affirmed and released, though the old rice bowls of traditional assumptions and guaranteed funding may smash.

Each expression of Methodism would affirm both a selective and collective unified voice in advancing racial, gender and ethnic concerns and church growth, without requiring more conservative or liberal folks to embrace positions that offend and anger them on issues such as abortion, or support for Israel-Palestinians-immigration. Any expression of Methodism that shrugs off a mobilized approach to new church starts is kissing its future goodbye, regardless of its stance on sexuality. This approach, however, more likely will ensure such efforts are led by those who effectively have done what they are teaching others to do.

What will happen later this month is, like the Unknown Soldier, "known but to God." Conservatives, frustrated with the process, may shift votes to the One Church Plan and then walk away from the denomination in a clean break. Liberals can repeat past behavior with protests, uproar and planned paralysis, all under the eyes of national media delighted in visual discord in the Body of Christ. Moderates may stay in their rooms and watch hotel TV or visit the waterfront casinos. What we know for sure is this. No one plan currently before us has super-majority support and any plan that receives less than a decisive majority will result in major pushback by the losers in this win-lose approach.

The Connectional Conference Plan may not pass. Nor, as a delegate, am I committing to vote for it when the moment looms large. My appeal is that it receives the serious consideration it, and our bedraggled denomination deserves. As for the rest, I part with the words of the great theologian Bette Davis in her reflection in the movie, "All About Eve" — "Fasten your seatbelts. It's going to be a bumpy ride." If Jesus is behind the wheel, we can deal with the bumps. Maybe, just maybe, he is driving us toward a townhouse destination.

Phillips is an elder in the Illinois Great Rivers Conference and a retired captain in the Chaplain Corps of the U.S. Navy. He is also a delegate to the 2019 General Conference.
---
Like what you're reading? Support the ministry of UM News! Your support ensures the latest denominational news, dynamic stories and informative articles will continue to connect our global community. Make a tax-deductible donation at ResourceUMC.org/GiveUMCom.