The French Quarter is loud and bustling with people from around the world enjoying beignets and café au lait or fat, juicy fried oyster and shrimp po' boys.
In some of the poorer wards in New Orleans, empty dilapidated houses and overgrown lots are reminders that many people left and never came home.
And many who survived Katrina didn't live until the 10th anniversary.
"The death tsunami hit us in the last two years," said the Rev. Irvin J. Boudreaux, pastor of St. Luke's United Methodist in New Orleans, talking about the elderly church members who have died since Katrina.
Boudreaux said it is a tale of two different New Orleans.
"There is the 9th Ward and poor neighborhoods and then there is Lakeview and other lakefront communities that were equally devastated by the water. But they had two different ways of coming back. They really tried to keep up the normative lifestyle (in Lakeview) and that was quite impressive in this area," he said.
Boudreaux remembers the first anniversary of Katrina.
"I was invited to come to the 17th street Canal breach which is not far from here. We threw flowers in the water for each death we had in this community. There were 39 people who died in the Lakeview community."
One of the best things to come out of Katrina is diversity.
"But St. Luke's is more diverse than we were prior to the storm … people have been open to do different things since Katrina, more inclusive," Boudreaux said.
Diversity seems to be a common theme in New Orleans. Margaret Ferguson Washington, a founding member of the integrated First Grace United Methodist Church, says when they have soul food nights it means people bring dishes from Sweden, Nigeria, old African-American and Italian to name a few.
"Many of our members have been unchurched or are young couples who are from different denominations. Here is a new beginning. Our role is trying to get them to understand what Methodism is about."
But there is sorrow and some deep resentment in the voices of those who lost everything but still came back.
Angelique White-Williams, Andrea Sanchez-Reese and Burnetta D. Fauria talk about the 9th Ward as it was before Katrina. "Ninety-five percent of the people were homeowners," said Sanchez-Reese. "Katrina destroyed the middle class in New Orleans and created a new category of homeless."
See photos, read more stories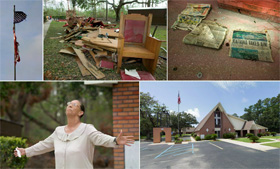 Mississippi sunshine
Along the beautiful coastal highway between Biloxi and Ocean Springs, the buildings sparkle in the sunlight and the ocean beckons to travelers to pull over and walk in the warm Gulf water.
But take a short drive off the main highway and the scars from Katrina are still in plain view. Such as brick stairs that lead to empty slabs and tall grass.
"The initial response to Katrina by so many churches and people throughout the world truly helped the churches on the coast experience the grace and renewal that Christ brings," said the Rev. Chris Cumbest, who served as disaster relief coordinator after Hurricane Katrina and is now pastor of Crossgates United Methodist Church in Jackson, Mississippi.
Ten years down the road, most churches have returned to their ministries.
"They experience the same struggles as churches throughout the connection with the added challenge of high insurance cost, an oil spill and the downturn in the economy and housing market."
Cumbest said Katrina in many ways saw the church truly living out its mission.
"In places like Pearlington and Clermont Harbor the church building was literally the first sign of life coming back into those small communities. Other churches used what facilities they had to house volunteers and become distribution centers for much-needed goods," Cumbest said.
"I was incredibly blessed by witnessing the church and the United Methodist Church connection at its best during the time of healing hearts, homes and churches," Cumbest said.
So many are appreciative of how the church helped.
"All these years later we in New Orleans, particularly those who have been here from the very beginning are very appreciative to the support we have received from the general church and everyone. We are forever indebted to the United Methodist people who helped us as much as they did," Boudreaux said.
Gilbert is a United Methodist News Service multimedia reporter in Nashville. Contact her at [email protected] or 615-742-5470.
---
Like what you're reading? Support the ministry of UM News! Your support ensures the latest denominational news, dynamic stories and informative articles will continue to connect our global community. Make a tax-deductible donation at ResourceUMC.org/GiveUMCom.