The images of the 9th Ward after the levees broke and 20-foot surges of water poured over the area are hard to forget.
Hurricane Katrina pushed structures off their foundations. Houses ended up on top of pickup trucks. Boats landed upside down on grocery stores. Debris blocked most of the streets.
Ten years later, streets are still buckled from the water. Lots are overgrown and graffiti covers the walls of ruined houses. Some people have returned and their nice houses with neat yards dot the landscape – but spotting a living soul out on the streets is rare.
It takes courage to live here.
Three members of Hartzell United Methodist Church are among the fearless who stay.
Angelique White-Williams, Andrea Sanchez-Reese and Burnetta D. Fauria are faithful and fierce defenders of the church and the 9th Ward.
Hartzell reopened in 2007 but most members forced out of the area by Katrina have not come back. Not surprising, since the 9th Ward went from being the most populated of the 17 wards in New Orleans to a near ghost town.
"We are not what we used to be before 2005, but we are going where Jesus already is," Sanchez-Reese said.
White-Williams, Christian education director and president of the church's United Methodist Women, shakes her head and talks about her mother, who worked at Hartzell's children's center for 44 years serving hundreds of neighborhood families.
"We don't have people to reopen the center," she said. "My house washed away, my grandmother who is 100 years old, her house washed away."
"It looked like a wet, war zone," Fauria said. "It was smelly and horrible," she added, her voice trailing off, "dead people, dead animals."
It took a long time even to clear the streets enough for people to return home, Sanchez-Reese said.
Sanchez-Reese, who is a church trustee and director of youth and an award-winning drill team, said, "We loved our church. People went here because they wanted to be here."
See related slideshow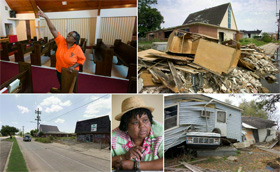 Worship goes on
Hartzell, a traditional African-American church, now shares a pastor with Harahan St. Paul's, an established white church.
The Rev. Lisa Fitzpatrick preaches at Hartzell at 8:30 a.m. on Sundays then leads worship at 10:45 at Harahan St. Paul's. Both churches share activities and have visited in each other's sanctuaries.
There are plans to reach out to the community with a dinner at the church on Sept. 15, a dinner that the church plans to make a regular outreach, White-Williams said.
Wiped out
Katrina destroyed more than buildings. It destroyed a way of life.
"Generations were wiped out," Sanchez-Rice said. "Four generations were impacted." She recalls her family and many other families being "30 deep" in one house for months after the storm.
White-Williams remembers 10 to 12 "blood" family members packed into cars in caravans evacuating to Texas. "No one was going unless all of us were going," she said.
Around the neighborhood, the women point out where there was a doctor's office, a barbershop and a drugstore. An empty lot next to the repaired church belonged to a church member.
Burnell Cotlon used all his life-savings to open the only grocery store in the ward after he came home and decided to be part of the solution.
"Miss Emmanuel, my neighbor, used to have to catch three buses to get to the closest grocery store and that is 5 miles away and that's Wal-Mart in the next city. She is elderly. That is an unnecessary hardship that no one should have to endure to get a loaf of bread," Cotlon said.
Cotlon buys groceries at stores in New Orleans to resell at his store in the 9th Ward.
Not a stranger to storms
The lower 9th Ward was not a stranger to storms either, Fauria said. The people were strong and had been through seven hurricanes, including the 1965 Hurricane Betsy, one of the deadliest and costliest in U.S. history. "The people came back," she said.
The church has three cornerstones for each time it was rebuilt. The pastor and congregation gathered recently to plant a small azalea bush by the restored church sign. It was a symbol of burying the past and celebrating the future.
The women said Hartzell was, and will be again, a beacon for the community.
Gilbert is a United Methodist News Service multimedia reporter in Nashville. Contact her at [email protected] or 615-742-5470.
---
Like what you're reading? Support the ministry of UM News! Your support ensures the latest denominational news, dynamic stories and informative articles will continue to connect our global community. Make a tax-deductible donation at ResourceUMC.org/GiveUMCom.