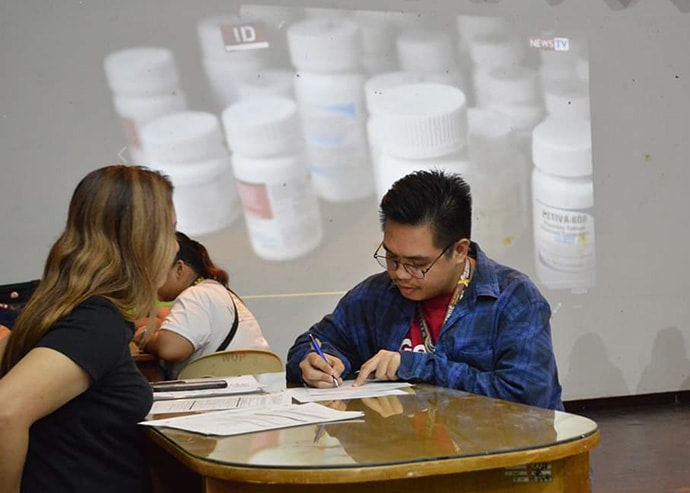 United Methodist leaders and youth are among those collaborating on ways to stop the "ugly and alarming" rise in HIV cases in the Philippines.
HIV and AIDS is a national emergency in the country, said Wilfredo C. Ramos, a United Methodist and dean of the College of Nursing and Allied Medical Sciences at United Methodist-related Wesleyan University-Philippines.
"HIV cases in the Philippines have increased by 174% in the past eight years and (the number) is still growing," Ramos said. "The numbers and are quite ugly and very alarming."
Ramos was among the speakers at an Oct. 30 HIV and AIDS education and prevention forum held at the university.
Called "Critical Thinkers: Steadfast in Pursuing Shalom," the forum was a collaboration between John Wesley Academy and Critical Thinking Center (a program of the Middle Philippines Conference in collaboration with Wesleyan University-Philippines), the Cabanatuan City Health Office and the Center for Health and Hope.
More than 150 students, seminarians, clergy and members of the United Methodist Youth Fellowship went through counseling and blood screening at the event.
The forum was held a little more than a month before World AIDS Day. The global health day takes place Dec. 1 each year and is dedicated to fighting against HIV, supporting those living with the virus and commemorating those who have died from an AIDS-related illness.
Khristine Leah De Leon, a member of United Methodist City Temple, was among the youth who attended the forum. She said she was alarmed by the rise in HIV cases, especially in Cabanatuan City.
Cabanatuan City, where Wesleyan University-Philippines is located, has the highest number of cases in the country, said Dr. Arminda A. Adecer, a health officer with the city health office in Cabanatuan City and lay member at United Methodist City Temple.
She said the city has three testing centers, including one at the city health office.
"We want to saturate the entire city in order for us to help those who tested positive get proper treatment while those who tested non-reactive or negative to maintain that status," she said.
The Rev. Donald E. Messer, executive director and founder of the Center for Health and Hope, addressed the forum and shared five ways to end the epidemic in the Philippines, including tackling cultural and church taboos and encouraging volunteer counseling, testing and treatment.
For almost 20 years, the center has supported and advocated for persons affected by HIV and AIDS through programs of education, prevention, care and treatment.
Messer, who led similar forums in 2016 and 2017, said that he chose to return to the Philippines because he wants to promote education and prevention.
"I want every Filipino person — whether young or old, rich or poor, straight or gay, Catholic or Protestant, Christian or Muslim, female, male or transgender — to live what Jesus called a 'life abundant.' I believe stigma and discrimination are contrary to the Christian Gospel, and as a United Methodist pastor, I champion acceptance, understanding and inclusion of all persons."
Messer explained how the number of new infections has more than doubled since 2014.
UNAIDS, the joint United Nations program on HIV and AIDS, estimates that there are 77,000 people living with HIV in the Philippines. More than a quarter million will be infected by 2030 according to the organization, Messer said.
He said at least 32 new infections are diagnosed daily (about 1,000 per month), but many more are suspected but unrecorded because of lack of testing and verification.
"This surge contrasts with most of the world where the rate of infections appears to be declining," he said.
Adecer said being informed is the best way to shift the numbers.
"We want to reach the present status of developing countries, wherein their number of HIV cases is stable or decreasing. This can only be made possible if everyone will be informed with the right information and there will be no discrimination.
Subscribe to our
e-newsletter
Like what you're reading and want to see more? Sign up for our free daily and weekly digests of important news and events in the life of The United Methodist Church.
"For now, we will never rest until everyone is aware about HIV and AIDS and how they can protect themselves from being infected, avoiding risky behavior and staying safe," she said.
John Mark Santiago, former student governor of the College of Education local council at Wesleyan University-Philippines, said that HIV and AIDS are a real threat to humanity.
"Having enough knowledge about this virus will help us understand our present condition, how we interact and deal with intimate relationships, and how we can prevent the spread of the virus," he said.
"As a student, we can extend help in educating people about this virus. We can simply talk about this topic whenever we have the opportunity. Prevention about HIV and AIDS is the best topic to gossip.
"We need to understand that the virus is the villain here, not the person," Santiago added.
Ruth C. Alfonso, a United Methodist and dean of the College of Education at Wesleyan University-Philippines, said Christians need to act on behalf of those who have been stigmatized.
"Let us declare compassion and love towards another. Now more than ever is the culmination of our Christian faith as we extend care and selfless love among those who have been judged and stigmatized," she said.
Messer is hopeful that Filipino leaders and individuals will remain committed to educating people about HIV.
"You can help reverse the Filipino HIV epidemic. Hate the disease, avoid unprotected sex, tackle the taboos, encourage testing and treatment, and stamp out stigma and discrimination," he said.
"Protect yourself and your loved ones. There is a popular song that goes, 'Let there be peace on earth, and let it begin with me.' Likewise, when it comes to this topic, 'Let there be an end to HIV on earth, and let it begin with me and you."
Mangiduyos is a communicator from the Philippines. News media contact: Vicki Brown, news editor, [email protected] or 615-742-5470. To read more United Methodist news, subscribe to the free Daily or Weekly Digests.