James T. Laney had just turned 19 when he landed in 1947 at Inchon, Korea, in a U.S. troopship. That introduction to a divided Korean Peninsula would change the direction of his life.
He wanted to do good the old-fashioned way. He finished his economic studies at Yale University, but dropped plans to take up investment banking and enrolled instead at Yale Divinity School. Then, the Rev. Laney found his way back to Korea twice — first as a missionary and later as a diplomat — during a lifetime journey of active peacemaking.
The journey of Inderjit Singh Bhogal's parents also began in 1947, when they were forced to leave Punjab after the partition of British India into India and Pakistan. He was born in Nairobi, Kenya, four years later. After Kenya became independent, the family had to leave once again, arriving in England in 1964.
That early immigrant experience, his decision to start going to church because there was no Sikh temple available and his embrace of the story of Christ led the Rev. Bhogal to become a Methodist minister and to focus on interfaith peacemaking through Christ's vision of the open table.
The World Methodist Council just recognized both theologians for their achievements. Bhogal is the 2018 recipient and Laney is the 2019 recipient of the council's World Methodist Peace Award. Public presentations of the awards will be made Nov. 21 in Atlanta for Laney and March 27, 2020, in London for Bhogal.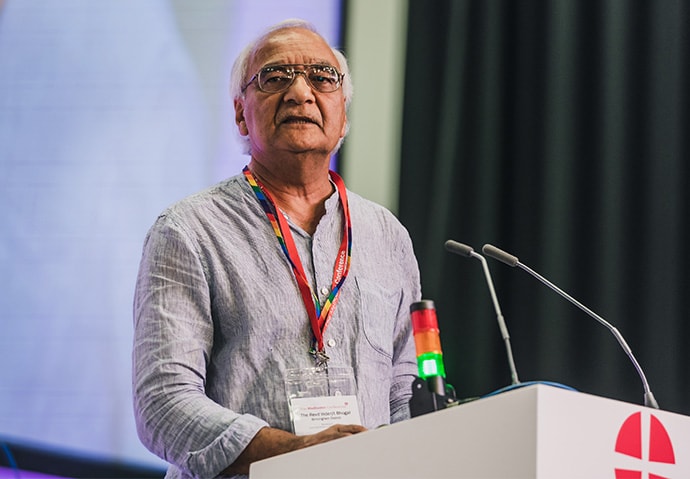 Bishop Ivan Abrahams, the council's top executive and a Methodist from South Africa, characterized Bhogal and Laney as bridge builders. "I would consider them even (to be) modern-day prophets," he told United Methodist News. "They embody the hope of our day and age."
The World Methodist Peace Award goes to individuals or groups "who have made significant contributions to peace, reconciliation and justice."
Recipients since 1977 have included Habitat for Humanity International; Nelson Mandela, who fought apartheid and was the first black South African president; former U.S. President Jimmy Carter; Boris Trajkovski, former president of Macedonia; the Community of Sant'Egidio, a lay Catholic group in Rome dedicated to social service; and the Grandmothers of the Plaza de Mayo, a human rights group that works to find children who disappeared under the Argentine dictatorship.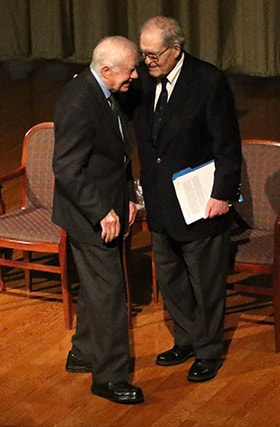 Former U.S. President Jimmy Carter speaks to the Rev. James T. Laney during the 2018 Roundtable for Peace on the Korean Peninsula held at The Carter Center in Atlanta Nov. 9-11.
File photo by the Rev. Thomas Kim, UM News.
Laney, the president emeritus of Emory University, said he is honored to be "put in the company of such a distinguished group of previous awardees" — people he has always admired. He also is humbled by the deep commitment of people in Korea to peace. "In a way, I feel like I'm just emblematic of their work," he added.
Laney's own commitment grew after he and his wife, Berta, moved to Korea as a missionary family in 1959, where he taught at Yonsei University in Seoul until 1964. Many of his students became leaders in South Korea, he said.
Several decades later, as the U.S. ambassador to South Korea under President Bill Clinton, Laney worked with Clinton and former President Carter to defuse the first North Korean nuclear crisis in 1994.
Laney and Carter recalled those challenges during the 2018 Roundtable for Peace on the Korean Peninsula, sponsored by The United Methodist Church, World Methodist Council and Korean Methodist Church among others.
Peacemaking cannot be achieved when opponents are demonized, Laney told roundtable participants. "The fact is that peacemaking is not a witness to the good of peace," he said. "Peacemaking is the actual activity of making peace happen."
That has been a calling for the Laneys, both 91, who will celebrate their 70th wedding anniversary in December. Although she now has dementia, Laney calls his wife's devotion to the people of Korea more profound than his in some ways. "She's been my companion all our ministry," he told UM News. "She's had a fierce commitment."
Being a peacemaker involves a grasp of the situation and an appreciation of how you analyze it and speak to it, Laney said. "The issue today is how do we, as Christians, fit into our times … and make peace when there's so much chaos and animosity and bitterness?"
While the current situation with North Korea seems "virtually intractable," it is important that talks continue, Laney said. The peace and reconciliation movement on the Korean peninsula can help with unresolved anger from the past and provide a base of common acceptance and commitment, he noted.
For Bhogal, a tireless supporter of refugees who has worked to foster interfaith relations and multicultural communities, peace and reconciliation is a necessary part of the equation.
"My whole life has been inspired by people around the world who have held up the witness to peacemaking, challenging war, violence and killing," he wrote after learning about the peace award.
With polarization and more fractured relations between nations, Bhogal declared, "the most challenging issue facing human beings is how to live with those who are different from you."
His address to the British Methodist Conference, when elected president for 2000-2001, was about the "table for all," inspired by Jesus Christ. "The genius of Jesus was to put food, a meal, at the center of his community," he said during the speech.
Today, Bhogal believes there are three priorities — pollution, poverty and plurality — that are "facing human beings whichever nation they're living in." Making progress on plurality, to live well with others, will make all goals more achievable, he said.
One of the peace-related movements initiated by Bhogal was City of Sanctuary, a grassroots, movement to build cultures of welcome, hospitality and safety. He was living in Sheffield, England, in 2005 when he held a meeting to invite people to talk about how they were supporting refugees.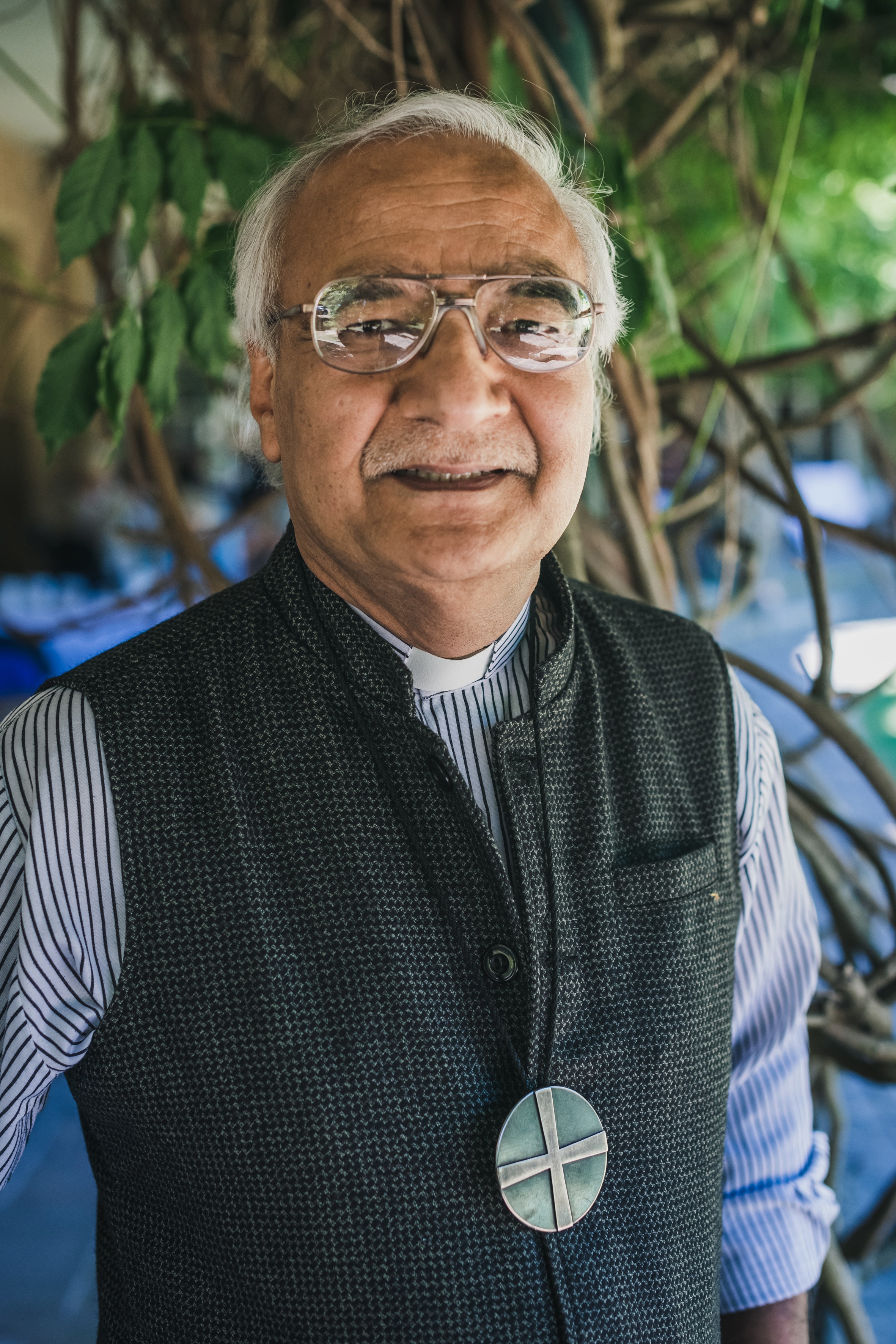 The Rev. Inderjit Bhogal, photographed during the Past Presidents and Vice-Presidents' lunch at the 2018 Methodist Conference, wears a stole fashioned from a piece of rope he found in an abandoned refugee boat on the Greek island of Lampedusa.
Photo by Alex Baker, Methodist Conference.
Then Bhogal pointed out how much bigger the impact would be if they all worked together. "They all agreed," he recalled. "These were people of different faiths and different backgrounds. But they all could understand this ancient biblical concept and committed themselves to it."
In 2007, the Lord Mayor of Sheffield declared it a city of sanctuary. Today, more than 100 cities, towns and villages in the United Kingdom are "working by that vision of city of sanctuary," he said. Schools, universities and other organizations have adopted the vision as well and Bhogal currently is working with the Churches Together in Britain and Ireland to encourage local congregations to become churches of sanctuary.
Now retired, the 66-year-old minister still wants to inspire others toward peacemaking. As a retiree, he sometimes takes his message on the road, speaking to UM News from Serbia, where he was learning more about the faith-based conflict that happened there. He also has been escorting groups to Croatia, Punjab and India "to help people to really understand what it's like to live in challenging environments."
His continued dedication to peacemaking goes back to the concept of an open table for all. "For me, holy communion is a revelation of the world as it is meant to be now," Bhogal explained.
What should characterize Christian faith today, he said, is "the capacity to spread out the table, which is a symbol of hospitality, welcome and inclusion."
Bloom is the assistant news editor for United Methodist News Service and is based in New York.
Follow her at https://twitter.com/umcscribe or contact her at 615-742-5470 or [email protected]. To read more United Methodist news, subscribe to the free daily or weekly digests.
---
Like what you're reading? Support the ministry of UM News! Your support ensures the latest denominational news, dynamic stories and informative articles will continue to connect our global community. Make a tax-deductible donation at ResourceUMC.org/GiveUMCom.