The Rev. Chongho James Kim.
Photo courtesy of the author.
Almost daily, I see the news of violence against Asians erupting in major cities of the U.S. Many of the victims are women and the elderly. It broke my heart to see a child holding a "Don't hit my grandma!" placard at a rally held in Los Angeles a few weeks ago.
Hate crimes against Asians rose 800% in New York since the start of the COVID-19 pandemic last year. Particularly grievous was the March 16 Atlanta-area shootings that killed eight people, including six Asian American women.
Commentaries
UM News publishes various commentaries about issues in the denomination. The opinion pieces reflect a variety of viewpoints and are the opinions of the writers, not the UM News staff.
That week, Time Magazine featured a cover story about confronting America's legacy of anti-Asian violence. In the article, author Cady Lang quotes social media specialist Mark Kim, who wrote, "This Atlanta tragedy lies at an intersection of race, gender, class and the legacy of America's history of colonization and violence in Asia."
Kim rightly pointed out the essence of the problem.
There exists a widespread, unacknowledged assumption that it is OK to discriminate against Asians. This land's history contains echoes of the Chinese Exclusion Act signed by President Chester Arthur in 1882. This country still bears scars from Executive Order 9066, which forcefully relocated and incarcerated approximately 120,000 people of Japanese ancestry between 1942 and 1945. During the Los Angeles riots of 1992 — triggered by white police brutality to an African American man — Korean Americans came to a rude awakening as the police left Koreatown to burn while protecting Beverly Hills.
These patterns of discrimination continued to unfold and surged with the outbreak of the pandemic, and the tragic mass shooting in the Atlanta area was one of those manifestations.
Hatred knows no bounds. Asian men and women, both old and young, have become targets to hate crimes. The sad reality is that in many cases, the assaulters themselves are socioeconomically vulnerable and underprivileged members of our society, oftentimes struggling with battles such as mental illness or homelessness. And they take out their anger and resentment on those who they perceive as the weaker party, such as Asian elderly and women.
Earlier this year, a 13-year-old Korean American boy had to hear racial slurs and was shoved to the ground and beaten up in my neighborhood. Why do so many people still think that Asians are easy targets to mess with?
Perhaps what adds to the problem is the cultural stereotype of Asians as reserved and quiet. It is likewise said that the model minority myth has caused a form of envy and resentment that hurts Asian Americans. So, what we are facing is not just individual discrimination. It is also systemic in nature, with deep roots stretching across American society.
What we're learning through the incidents of anti-Asian hate crimes that surfaced is that no one, no community can live entirely on their own. It has spurred us to strengthen solidarity, not only among Asian American communities but also with other communities of color.
What we see emerging out of crisis is the new opportunity and building of political momentum for greater social justice in this country.
When I became a freshman in college in 1975, I really wanted to find my place among white Americans. I joined a fraternity to be a part of the club, and I was proud to be called "Brother Kim." Our fraternity life resembled that depicted in the 1978 comedy "Animal House."
One weekend night, my frat brothers and I were drinking alcohol and playing pool in the basement when one white friend told me, "You're OK. You are one of us. But I can't stand those gooks out there." He was pointing toward the dorm where many international students from Korea and India lived. It was a wake-up call moment for me. I felt an emotional tsunami of anger as well as shame for trying to measure up to white friends while they looked down on other Asians. I ended up having a big fight with him that night.
While I had a white friend who unabashedly made such racist remarks, my best friend and college roommate was also white. I missed him from time to time and finally met him at our 40-year reunion. I asked him, "Why were you so friendly to me?" His answer was, "I was so scared back then. I grew up in a rural area and it was my first time living in the city. You were the only person who did not scare me."
He was a tall, smart guy but had anxieties coming into a new environment and new college life in the city. I was short and my English was not so good, but this guy found a friend in me and that made me tear up. We came from very different backgrounds and shared no resemblance in outward appearance, but we relied on one another for friendship because we were both anxious and afraid.
When we first spotted each other at a Korean bakery in Chicago after 40 years, we embraced and tears rolled down our eyes. He and I probably looked like we don't belong together, but we were college buddies who had missed each other's company over those 40 years.
White nationalism and institutional racism are a reality in America that we must change. For this, all our efforts for justice must come together in solidarity — not just to eliminate racial injustice but also to tackle fundamental causes of socioeconomic disparity and disadvantages that often become indirect determinants of crime, including hate crimes against other racial/ethnic groups.
We Are God's Family: Personal Encounters with Racism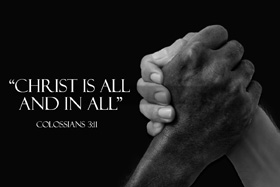 UM News is inviting people to share their own personal stories about encounters with racism, as well as hopes and ideas for combating it.
When we look into the context where the hate crimes against Asians have occurred, the greater proportion happened within low-income neighborhoods with relatively high homeless populations. Anti-Asian hate crimes should not be seen as just the problem of race because urban inequality and poverty feed right into the problem of violence.
When I think back to my college buddy, and when I think about Martin Luther King Jr., whose activism was lifted from the teachings of Jesus, the way that church can bring justice and healing is by the truth: "Darkness cannot drive out darkness, only light can do that. Hate cannot drive out hate, only love can do that." I think about the importance of our God-given mission as the salt and light of the world.
The protocol for transformative social change according to the prophet Micah is "to act justly and to love mercy and to walk humbly with your God" (Micah 6:8).
One leader who put this protocol into practice was Nelson Mandela. Deeply committed to peace and reconciliation, Mandela appointed his white predecessor and previous political opponent F.W. de Klerk as deputy president. Perhaps, Mandela's dream to move beyond past conflicts through partnership and cooperation among competing interests provides us with a picture of how to approach the problem of race in America.
I always liked to think that it was at the Methodist mission school that Mandela learned the truth about love: By loving our enemies, we love ourselves, and it is the way we express our love for God.
As simple as it sounds, agape love is the ultimate way for us to overcome hate crimes against Asian Americans. There is no better and higher way than through the love of our neighbors and even enemies. Love was the path of social justice that Christ modeled for us; love is the path that the church must choose.
Kim is senior pastor of First United Methodist Church in Flushing, Queens.
News contact: Joey Butler or Tim Tanton at (615) 742-5470 or
[email protected]
. To read more United Methodist news,
subscribe to the free Daily or Friday (weekly) Digests
.
---
Like what you're reading? Support the ministry of UM News! Your support ensures the latest denominational news, dynamic stories and informative articles will continue to connect our global community. Make a tax-deductible donation at ResourceUMC.org/GiveUMCom.