The earthquake that devastated Haiti on Jan. 12, 2010, cast a pall all the way to Highland Park United Methodist Church in Dallas.
One of three buildings in the church's medical mission in Petit-Goâve, Haiti, near Port-au-Prince, collapsed in the quake, causing the death of volunteer Jean Arnwine and injuring others.
But the nightmare development didn't weaken the church's commitment to Haiti. Last January, the church resumed sending volunteer teams and dedicated a new eye clinic building in Arnwine's memory.
Among those returning to give eye exams was Karen Gardner, an ophthalmic professional who had been buried in the rubble with Arnwine. Gardner eventually recovered from the deep lacerations and crushed left arm nerve she suffered, and insisted on joining the first team to go back.
"So many people get helped," Gardner said of the clinic. "Even if it's just a pair of eyeglasses, that's huge to them. And it's not something they take for granted."
Five years after the earthquake, Haiti continues to be a magnet for United Methodist volunteers who speak of the enormous needs there but also the spiritual return they themselves receive.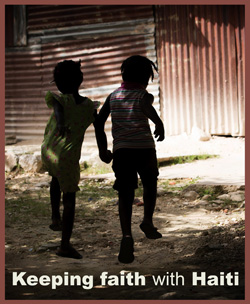 Dale Stickel, a retired engineer and member of Faith United Methodist Church in Goshen, Indiana, has made 14 trips before and after the earthquake.
"I go back each year just to get re-grounded in what really is important in our materialistic world, and to enjoy fellowshipping and worshipping," Stickel said of his work at Faith Academy in Croix des Bouqet, Haiti. "I tell people, `It's not what we're going to do for the Haitians. It's what they're going to do for us when we work with them.'"
Long-haul commitment
Exactly how many United Methodists have worked in Haiti since the earthquake is unclear, since some operated outside the denomination's Haiti Response Plan.
But that three-year effort – a collaboration of the United Methodist Committee on Relief, United Methodist Volunteers in Mission and the Eglise Méthodiste d'Haïti (Methodist Church of Haiti) – drew some 450 teams, representing about 4,000 volunteers.
As many as 23 teams a month came at the height of the effort.
"Those folks included teams who had been coming to Haiti for a number of years and also a lot of new people," said the Rev. Tom Vencuss, who was in Port-au-Prince during the earthquake and lived in Haiti for three years as coordinator of the Haiti Response Plan.
While the new volunteers were drawn by the emergency, some have built relationships with Haitians churches and schools, and joined the ranks of long-term helpers.
"So many of the people who went were just taken by the people, by the land, by the history. It's become a part of their lives," Vencuss said.
Typical of congregations with a pre- and post-earthquake presence in Haiti is Horne Memorial United Methodist Church of Clayton, North Carolina. The church has been working in Haiti since the 1980s, and in 2007 opened the Ryan Epps Home for Children. The orphanage near Port-au-Prince is named in memory of a beloved member of the church's youth group.
The church's star Haiti volunteer is 84-year-old Helen Little. She first went in June 1986 and has been back at least once every year since, usually making multiple trips as she serves on the orphanage board.
Her 78th visit was last week. Haiti captured her heart from the first.
"I knew that this is where God wanted me to be," Little said over a crackly phone connection.
Church of the Saviour, in Cleveland Heights, Ohio, is another United Methodist congregation with a long history in Haiti. The church works closely with the Cap-Haïtien station of the Methodist Church of Haiti, supporting a school and church in the remote village of Dondon.
The Rev. Erik Marshall, Church of the Saviour's pastor of global and community outreach, led an eight-person volunteer team there last November and is working to get other East Ohio Conference churches to sponsor churches and schools in and around Cap-Haïtien.
Marshall was a nondenominational missionary in Haiti before he committed to United Methodist ministry.
"There's a beauty within the people there that's very difficult to explain," Marshall said.
Volunteer teams in Haiti
Many United Methodist volunteer teams participated in earthquake relief and recovery work through the Haiti Response Plan, a three-year partnership of the United Methodist Committee on Relief, United Methodist Volunteers in Mission and the Methodist Church of Haiti (EMH).
Between 2010 and 2013, the work of more than 4,000 volunteers was coordinated through the plan, which has since transitioned to local leadership under Carine Odilus, EMH coordinator for volunteer teams.
The Rev. Gesner Paul, EMH president, said he would like to see an increase in the current number of volunteer teams assisting the Haitian church.  "Things are a little bit slow," he explained. "What we would like to see happening would be to have more teams… so that we could have more work done."
The majority of volunteer reconstruction projects on the priority list have been completed, said the Rev. Jim Gulley, who has helped coordinate the partnership in Haiti. He acknowledged that "the numbers of teams have slowed down considerably since the end of the Haiti Response Plan."
As of December, 45 volunteer teams were scheduled from that month through March, according to the church's VIM newsletter. Plenty of slots were available for February, April and beyond. Those interesting in scheduling a team can contact a jurisdictional UMVIM coordinator or Odilus at [email protected].
A near death experience
The ongoing commitment to Haiti extends to United Methodist conferences, such as the New York Conference.
Vescuss and his wife, the Rev. Wendy Vescuss, coordinate the conference's Mountains of Hope for Haiti task force, which supports a clinic, school and church in the small mountain village of Furcy, about 30 miles southeast of Port-au-Prince.
Conference churches come together to provide funds and send volunteer teams to Furcy.
The Florida Conference has a covenant relationship with the Methodist Church of Haiti, and is helping to train local pastors there. The Rev. Pam Carter, wife of Florida Conference Bishop Ken Carter, is a participant in and champion of the work in Haiti.
She first went in 2006 with a team from Providence United Methodist Church in Charlotte, North Carolina, where her husband was pastor.
"This newborn child almost died of dehydration, and I watched as these medical volunteers rehydrated this infant," she recalled. "The kid just perked up and lived, and I had this stunned sense of, `What if these medical volunteers hadn't been there?'"
A legacy of service
If there's one United Methodist church most associated with the 2010 earthquake, it is Highland Park, whose loss of a volunteer was among the early major news stories in U.S. coverage of the disaster.
The Dallas church, which sits right next to Southern Methodist University, began sending medical teams to Haiti in 1976.
Church leaders say they never considered letting the earthquake end their work. Highland Park continued to underwrite ongoing work at the Petit-Goâve clinic by Haitian physicians and nurses, even as it raised funds and worked on a design for a replacement to the collapsed building.
To lead that effort, the church turned to Susan Brooks and Caroline Hazlett, daughters of the late Dr. Otto Willbanks, who put together the first medical team from the church to visit Haiti.
Brooks and Hazlett had been teenagers then, admiring their father's work, but not engaged in it. They welcomed the chance, a generation later, to help carry on the legacy.
Hazlett recalled the thrill of being present last January for the opening of the new eye clinic building and the resumption of work by visiting medical teams.
"When you're seeing the patients, you know you've made a difference," Hazlett said. "That's all God asks us to do, to touch people where we can."
Hodges, a United Methodist News Service writer, lives in Dallas. Contact him at (615) 742-5470 or [email protected]
Read current and past UMNS coverage of Haiti earthquake response.
---
Like what you're reading? Support the ministry of UM News! Your support ensures the latest denominational news, dynamic stories and informative articles will continue to connect our global community. Make a tax-deductible donation at ResourceUMC.org/GiveUMCom.