For Methodists, the recovery process since the Jan. 12, 2010, Haiti earthquake can easily be measured by statistics: dollars raised, churches and schools repaired, volunteer teams sent.
What is less measurable - but ultimately more important - are the new or renewed relationships forged among Haitian Methodists, Haitian communities, The United Methodist Church and other global partners, both large and small.
"Generally speaking, it's a positive cooperation," said the Rev. Marco Depestre, secretary of the Methodist Church of Haiti.
Much more needs to be accomplished, he stressed, to help Haiti recover from the 7.0-magnitude earthquake that took at least 220,000 lives and affected 3.5 million people. But, when Depestre considers "how far we are coming from, it (the progress) is very moving."
The relationships driving the Methodist contributions to Haiti's recovery are highlighted in "Haiti Progress Report: Two Years Later," a summary compiled by the United Methodist Committee on Relief, which has raised nearly $46 million for its long-term recovery work there.
The core partnerships revolve around UMCOR, the Methodist Church of Haiti - known in Haiti as the Eglise Méthodiste D'Haiti or EMH - and United Methodist Volunteers in Mission. A long list of other partners includes Church World Service, IMA World Health, GlobalMedic, several U.N.-related groups and British and Irish Methodists.
A joint comprehensive recovery strategy focuses on shelter and reconstruction, education, health and hygiene, livelihoods and capacity building.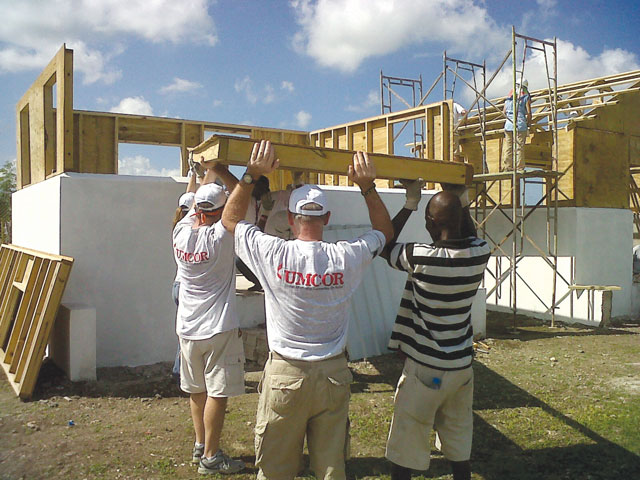 A survivor with a commitment
If any one person can symbolize this collaborative effort, it is the Rev. James Gulley, a retired missionary and agricultural and development specialist, who was part of a group meeting with the Rev. Gesner Paul, president of the Methodist Church of Haiti, shortly before the earthquake struck.
Gulley and two of his colleagues from the United Methodist Board of Global Ministries, the Rev. Sam Dixon and the Rev. Clinton Rabb, were trapped beneath the rubble of the Hotel Montana.
"Sam and Clinton, like hundreds of thousands of Haitians, died of their wounds; Jim emerged with his life and a commitment to walk with the Haitian survivors, which he does to this day with UMCOR," noted the Rev. Cynthia Fierro Harvey, UMCOR's top executive, in her letter introducing the Haiti Progress Report.
The first six months after the earthquake were the toughest for Haiti, Gulley told United Methodist News Service. Nearly all of the country's federal buildings had collapsed, causing a loss of records, infrastructure capacity and human life. Up to 25 percent of the Haiti's workforce was depleted by death or injury.
"I thought the conditions looked worse every time I went there," he said. "As they began to take buildings that were damaged down, the streets were filled with rubble."
Hardships for earthquake survivors continued throughout the year as tent camps were flooded by summer storms. A cholera outbreak, fueled by renewed flooding from an early November hurricane, grew into "a major health epidemic." Meanwhile, Gulley witnessed the riots triggered by the results of the Nov. 20 presidential election, which required a runoff election in 2011.
'Visible signs' of recovery
Melissa Crutchfield, who has been visiting Haiti every month or two in her role as UMCOR's international disaster response coordinator, has noticed visible signs of recovery upon every return. But she acknowledges that it took the denomination most of the first year "to get a solid team of people together."
The initial slow pace of the response was frustrating to some. With "massive" relief needs, many agencies were trying to do similar work and competing to get good staff, Crutchfield said. And the deaths of Dixon and Rabb, who led the relief agency and mission volunteers program, respectively, meant learning to deal with the grief and move forward.
In the end, their legacy "has really empowered us to work better together," she believes, and the denomination has made a successful transition to a long-term recovery plan. "Our strength has been in the longer-term vision," Crutchfield pointed out. "I think we've established ourselves in a very positive way and made some great partnerships."
One of the challenges was to strengthen the existing ties to Haitian Methodists. "The church there wasn't sure we'd stick around," she explained. "I think we've proven we really are there to work with them."
A district of the Methodist Church of the Caribbean and the Americas, the Eglise Méthodiste D'Haiti has 156 congregations led by unsalaried lay pastors, 105 schools and 10 clinics. While the church hierarchy is in charge of policy and decisions, United Methodists have encouraged the leadership to pursue a more collegial approach to gain support for the earthquake recovery programs, Gulley said.
"We need initiative, we need to broaden leadership, we need to empower others within the church," he added.
Gulley spearheaded the successful Haiti Emergency Agricultural Assistance Project formed by UMCOR and the Haitian church, which has reached more than 2,000 families in 78 communities. He also has served as the shelter coordinator and is overseeing a pilot project in Mellier and Carrefour to build 40 permanent, earthquake-resistant homes.
In addition, he is a member of an UMCOR interdisciplinary development team - with specialists in agriculture, microcredit, literacy and health - visiting eight regions of Haiti to ask three questions of church representatives: What is your past experience? What are your current efforts? What would you like for the future? Team members then talk about what they consider sustainable development to be.
He considers the visits part of an arduous but vital process to "engage these people with their own programs for the future" and find out what they are willing and able to accomplish. "It's been a big challenge," he admitted. "The outcome is not totally certain until we get farther along."
The Haitian church and its recovery partners have been at work on a plan to submit to the Haitian annual conference in late January, Depestre reported. The plan will not only encompass reconstruction but also promote Christian education and evangelism, general education and community development work.
For Haiti at large, he believes, the recovery has been "very, very slow," but, he added, "from the church side we are not doing too bad at all," pointing to the reconstruction and building of chapels and schools and the pilot home-building project.
The earthquake's emotional toll, however, remains apparent. In early January, Depestre recounted, "there was an earthquake in the Dominican Republic and people felt that in Port-au-Prince. There was some panic."
Haitian Methodists are finding ways to share their losses with each other. Last November, a general assembly on women's work in the church provided "an opportunity for many of these ladies to express their feelings," he said. "Many had lost children and husbands. A lot of weeping took place there."
Progress so far
Since the Jan. 12, 2010, earthquake in Haiti, a joint leadership team representing the Methodist Church of Haiti, United Methodist Committee on Relief and United Methodist Volunteers in Mission has met to review priorities and ensure plans are operational.
As outlined in UMCOR's "Haiti Progress Report: Two Years Later," those priorities, involving a number of partners, have focused on capacity strengthening for sustainable development, education, livelihoods, health and hygiene and shelter and reconstruction.
Examples of the results so far include:
Construction of 3,000 shelters in Cabaret, Léogáne and Port-au-Prince, in partnership with Habitat for Humanity
Reconstruction of damaged, church-owned schools at Bois Gency, Hyacinthe, St. Martin, Mellier and Petit-Goâve and the historic New College Bird campus
Provision of seeds, tools, livestock and technical assistance through the Haiti Emergency Agricultural Assistance Project
Response to the cholera outbreak after the earthquake through preventative education and the distribution of health kits and water filters
Volunteer work teams are assisting Haitians in reconstruction and recovery projects and are being scheduled for 2012 and 2013. More teams are needed.
Significant progress expected
Today, about half of Haiti's earthquake rubble has been removed, Gulley estimated, and empty spaces have become construction sites. The new president, Michel Martelly, is in place and Prime Minister Garry Conille, who has worked with the United Nations and the Clinton Foundation, is thought to be serious and capable, he said. "I think we are now in that period where we can see much more significant progress."
In the Port-au-Prince area, the Rev. Tom Vencuss is witnessing a construction boom never seen before in the nine years that he has brought mission teams to Haiti.
Vencuss, a New York Annual (regional) Conference pastor who was in Haiti when the earthquake happened, has been serving on site as the United Methodist Volunteers in Mission coordinator since Nov. 1, 2010.
During the recent period of relative political stability, the Haitian government has moved some survivors out of tent camps by offering land or a year's worth of rent and has reclaimed parks occupied by those camps, he said. Buildings are going up; roadways have been built or repaired. A tourism push includes the construction of a Best Western hotel five minutes from the Methodist guesthouse in Petionville, where Vencuss is headquartered.
Haiti's president is talking about offering free education for more than 900,000 children and stressing the importance of improving rural communities. "There's a sense of hope here," Vencuss said.
Haiti response plan
At the church level, part of that hope has been delivered by a three-year Haiti Response Plan, started as a pilot project in April 2010, which supports the work of United Methodist Volunteer in Mission teams. Each team contributes funds for recovery and rebuilding projects, matched by an UMCOR grant.
The plan, now at its midpoint, has focused on the reconstruction of churches, clinics and schools, with teams working at 25 sites during any one period. The operation has functioned so well, Vencuss said, that "we've further developed and refined our process," adding teams to pilot projects for permanent housing, sanitation, water, hygiene and health care.
On average, 3.5 Haitians are employed at the sites for every one American volunteer, providing local jobs and bolstering the economy. "The teams come in to basically assist and resource community and local workers," he explained. "We're stressing that these are really their projects, not ours."
The program placed 223 volunteer teams during 2011 and now has 130 scheduled for this year, including 21 teams in January, 19 in February and 18 in March. More teams are needed - Vencuss reported a decrease in numbers that he attributed to the demand for work teams in recent U.S. disasters and an increase in airline-related expenses. "We just had a team in and it was a thousand dollars just for their baggage there and back," he said.
But even with the construction tasks ahead, Vencuss said, the focus is shifting to how to use what has been accomplished "as a springboard for mission in the local community."
That is why Crutchfield considers the long-term plan developed for Haiti's recovery - with its focus on strengthening capacity and improving relationships - to be a model "for how we'd like to do things" in the future.
*Bloom is a United Methodist News Service multimedia reporter based in New York. Follow her at http://twitter.com/umcscribe.
News media contact: Linda Bloom, New York, (646) 369-3759 or [email protected].
---
Like what you're reading? Support the ministry of UM News! Your support ensures the latest denominational news, dynamic stories and informative articles will continue to connect our global community. Make a tax-deductible donation at ResourceUMC.org/GiveUMCom.