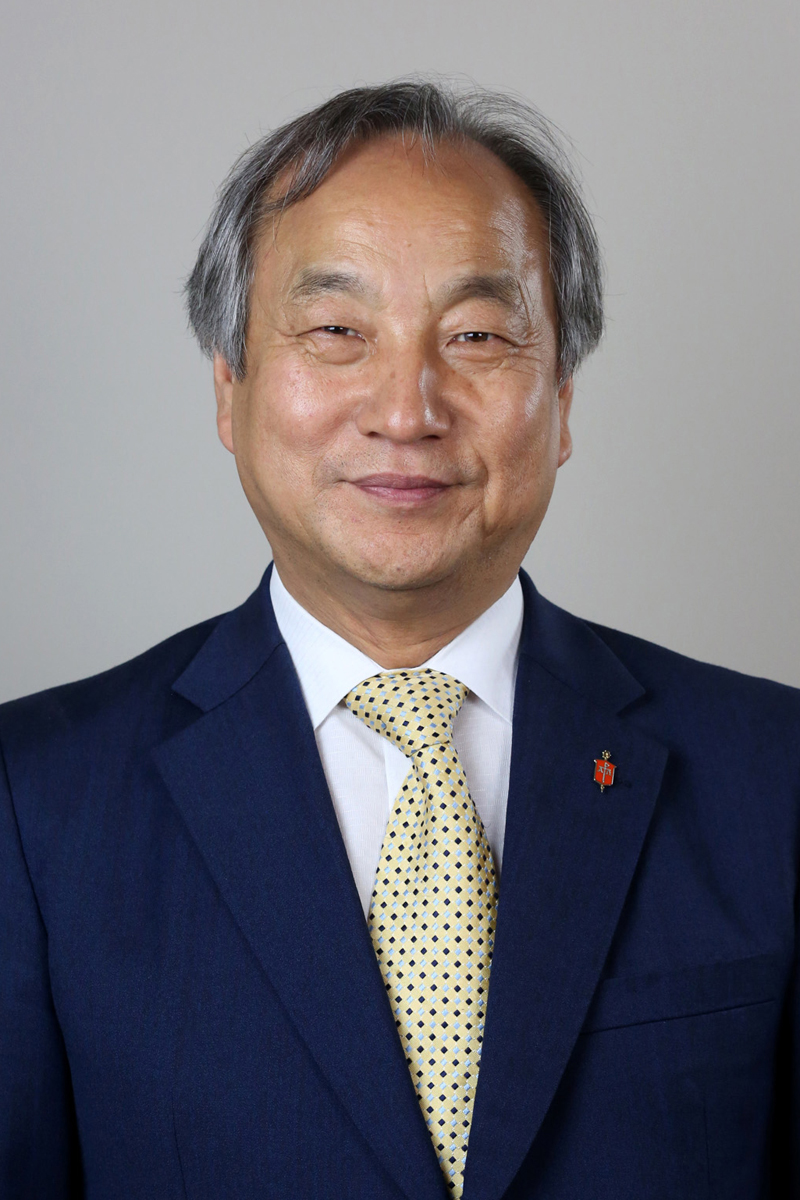 Wisconsin Conference Bishop Hee-Soo Jung.
Photo by Kathleen Barry, United Methodist Communications.
Almost 60 years ago, the Rev. Martin Luther King Jr. delivered one of the most inspirational and iconic speeches in history, "I Have a Dream." Like King, I also have a dream: for a reunited and reconciled Korea.
This year marks the 70th anniversary of the start of the Korean War. The history of the division between North and South Korea is marked by division, destruction and ongoing pain caused by political and global unrest. In the past 70 years, North and South Korea have had very different experiences of the world, global culture, and basic standards of daily life. One nation, one people, one heart, torn apart with an invisible border separating families and friends. We have traveled separate paths, but the time is long past that we find our way back to each other.
Whenever I think of the current reality of our two Koreas, I am reminded of biblical parallels. First, I think of the story of Jacob and Esau from Genesis 32-33. I do not want to ascribe one character to each of the Koreas, simply to view our situation through this biblical witness.
Commentaries
UM News publishes various commentaries about issues in the denomination. The opinion pieces reflect a variety of viewpoints and are the opinions of the writers, not the UM News staff.
The two brothers were set as adversaries from their very birth. They competed, strove for approval, sought advantage and were eventually divided. Their lives took two very different paths and they created their own realities. Then came a day for reunion and reconciliation.
We hear mostly from Jacob's side a story of anxiety, worry and consternation – fear that Esau would not be willing to reconcile, that he would be aggressive and attack. The wonderful story of Jacob's contest with the angel and his naming as "Israel" occurs during his time of worry and discontent. But when the actual meeting takes place, Esau rushes forward to embrace his brother, falling against his neck with kisses.
This is a stunning story, but an apt metaphor for the situation between North and South Korea. I do believe reconciliation and reunion would be possible.
II
In 2015, I was honored to be part of a World Council of Churches delegation to Democratic People's Republic of Korea, also known as North Korea, to meet with religious, political and cultural leaders there. This was a foreign and, in some ways, intimidating trip. It was a return and an adventure. Meeting with the leaders was significant, but meeting with the people in North Korea was incredible.
There is so much peace work to do as the two cultures have become very different. So much attention is given to the differences between the North and South; not nearly enough attention is given to the similarities and the shared hopes and desires. North Korea and its inner life of society is not well known, but the people there – as almost everywhere – are simply wishing to live good, safe, healthy lives. There is a widespread desire for a nuclear-free world, where the threats of war and destruction are left in the past. A deep desire for reconciliation and the reunion of families still is very strong.
My trip to North Korea was a journey into my own history and heritage, but I pray it was also a journey into my future. I dream of one strong Korea, but I know that there is much work to do to make this dream a reality.
III
I want to acknowledge the wonderful work that is being done by the United Methodist Board of Global Ministries and World Council of Churches with the National Council of Churches in Korea. There has been a powerful biblical witness for peacemaking, peace building, and peace forging for decades, and every effort has made a difference.
As I explore my dream for a reconciled Korea, I think about what an amazing global witness this could be. I honestly believe if the differences between North and South Korea can be healed, there is hope for the entire planet. It can become a model for U.S.-China relations, for Palestine-Israel relations, for Russia-Europe relations. It can provide hope that there are no divisions so great that reconciliation is not possible.
The political and ideological differences are great, and they are real, but they are not insurmountable. Many of the priorities of North and South are the same. To be respected as a world power, to be economically stable and secure, to provide for the well-being of the people, to create a solid foundation for the future.
The Panmunjom Declaration in 2018 was a source of great hope and promise. Many felt it was nothing short of a miracle, but it was only a good first step. It is critically important that we continue to call on our political leaders in the United States to work for peace and reconciliation.
So much of what is happening in Korea is related to and dependent on what happens with the United States. Our relationships with North and South Korea – in trade, sanctions, embargoes, and diplomacy – are critically important to the future of both. The United States, and our president, play an influential role in the fate of Korea. What has occurred in the past few years has strengthened my resolve that U.S. churches must become involved. The louder our voice, and the stronger our witness, the greater our potential to make a difference.
IV
At this point, I want to honor the Rev. James Laney, an evangelist, teacher and champion of Korean reunification. The World Methodist Council recognized his work and dedication with its 2019 Peace Award. He also received first Global Ethical Leadership Award from the Board of Higher Education and Ministry. Few people from the U.S. have given more to the life, vitality and future of Korea. Laney shares my dream for one, united Korean Peninsula and has influenced my pursuit of Korean Peace.
We cannot discount the power and presence of prayer. The Korea Peace Prayer Campaign is a powerful invitation to pray for healing and restoration. It is an invitation we must make known and available in the United States. There is enormous strength in the faithful prayer of loving Christians.
If I were to boil down my dream and vision for Korea to just one word, that word would be peace. I pray for peace in Korea. I dream of peace for Korea. I preach and teach for peace in Korea. I work wherever I am able for peace in Korea. I am both comforted and humbled by the words of Jesus: "Blessed are the peacemakers," from Matthew 5:9.
It is critically important that the recent work moving the Korea armistice to an official end of the war continue. There were great advances begun in 2018, and many people on many different continents are working to move this work forward.
There is no sustainable future for a nuclear-anxious world. The escalation of weaponry and defense spending occurs only at the expense of human need and safety. Peace throughout Asia and with all global partners is the highest good we can pray for. A united Korea could be a powerful ally in an area of incredible change, growth, and potential. A single, strong Korean Peninsula is good for Korea, good for the east, and good for the whole world.
For my dream to become a reality, I urge and pray committed Christians to write to their congressional representatives and the president, recommending every possible humanitarian and diplomatic action in our relationship with North and South Korea – especially with the North.
V
I am a privileged individual as a well-educated Korean, a bishop in The United Methodist Church, as president of our Board of Global Ministries, and as a lifelong participant in work for the reunification of Korea.
I have seen life on both sides of the border, so I am well aware of the challenges. I understand the cultural and economic differences and the political implications. But I also believe we can be better than our limitations and divisions.
I have been with the families, divided by an artificial chasm. I know the hearts and spirits of so many of my own country who want peace. I have a dream that Korea can be one, that Korea can be a witness to healing and reconciliation, and a leader in the world. Just as Jacob and Esau reunited, because blood is thicker than any separation, I know that Korea can heal.
Jung is resident bishop of the Wisconsin Conference.
News media contact: Vicki Brown, news editor, [email protected] or 615-742-5469. To read more United Methodist news, subscribe to the free Daily or Weekly Digests.
---
Like what you're reading? United Methodist Communications is celebrating 80 years of ministry! Your support ensures the latest denominational news, dynamic stories and informative articles will continue to connect our global community. Make a tax-deductible donation at ResourceUMC.org/GiveUMCom.