Denominational leaders unanimously approved a move toward forming a church decision-making body that deals exclusively with U.S. matters.
The Connectional Table in its Nov. 2 vote gave the go-ahead for one of its subcommittees to detail a process leaders hope will lead to such a structure. The 64-member church leadership body acts as sort of a denominational church council coordinating ministry and money.
Much of the group's discussion focused on how much time General Conference — the denomination's multinational top lawmaking body — spends on decisions that only affect the church in the United States.
The Rev. Brian K. Milford, the top executive of the United Methodist Publishing House, used the examples of pensions and U.S. clergy compensation.
"There are a lot of issues we have to discuss at General Conference because the United States doesn't have a mechanism for discussing them apart from General Conference," said Milford, a veteran General Conference delegate. He and the 12 other top agency executives serve on the Connectional Table with voice but not vote.
"We are trying to find a way to address that."
Instead, he and other Connectional Table members want to see General Conference focus on matters that affect the denomination's global mission.
To get to that point, the Connectional Table is looking at a two-step process.
The first step would either be adding a General Conference legislative committee to deal with U.S.-only legislation or creating a General Conference standing committee that can meet between legislative sessions. The Connectional Table is looking to propose one of these possibilities in time for the 2020 General Conference.
Creating a new legislative committee would be up to the Commission on General Conference, which plans the big meeting. That commission decides the number of legislative committees and typically, what legislation is assigned to those committees.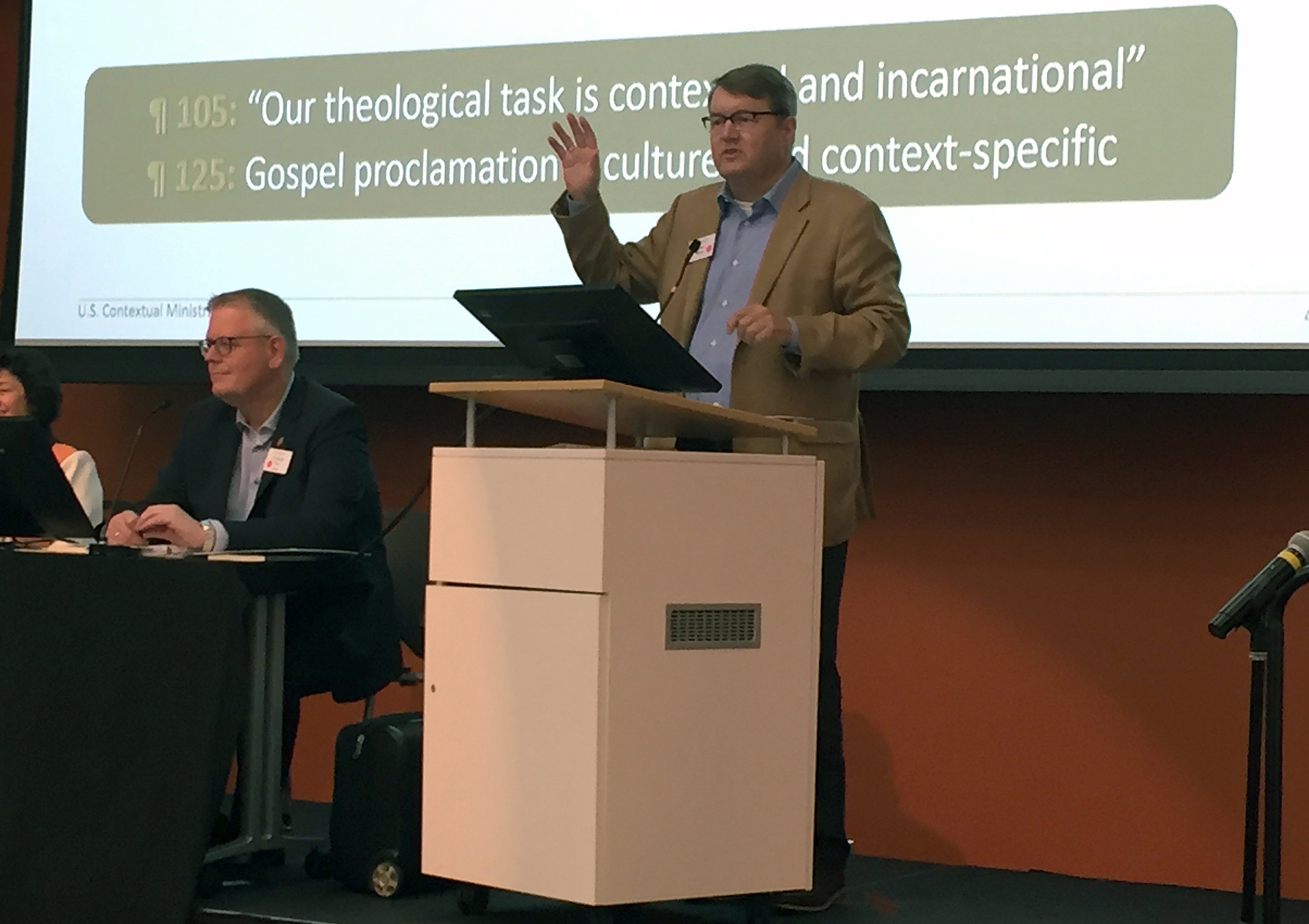 Creating a new standing committee would be up to the majority of General Conference delegates. Such a standing committee already exists for matters that affect central conferences — church regions in Africa, Europe and the Philippines.
Either way, any committee decision would need the approval of the General Conference's full multinational plenary before it could go forward.
Connectional Table members see the committee approach as only an interim step towards creating a U.S. central conference where delegates from across the U.S. could make decisions without going to the full General Conference.
At present, that is how some decisions work in the current seven central conferences. Central conferences have authority under the denomination's constitution to make "such changes and adaptations" to the Book of Discipline, the denomination's policy book, as missional needs and differing legal contexts require.
In practice, that means central conferences make decisions related to administering their own clergy pensions, their own clergy compensation and in some cases, their own clergy's educational requirements.
The Standing Committee on Central Conference Matters is drafting a proposal that would specify what portions of the Book of Discipline central conferences can adapt and what portions they must follow.
That proposal is heading to the 2020 General Conference. No matter what General Conference decides, U.S. United Methodists still would not be able to adapt the Discipline without General Conference approval — that is, unless they have their own central conference.
Creating a U.S. central conference requires amending the denomination's constitution. To be ratified, amendments must receive at least a two-thirds vote at General Conference and at least two-thirds of the total votes at annual conferences.
"Our ultimate goal is the second stage," said Judi Kenaston, a Connectional Table member from the West Virginia Conference. She oversees the subcommittee developing the proposal.
For decades, United Methodists have talked about creating a church structure to deal with solely U.S. concerns. Still, such proposals always have faced stiff opposition.
As recently as 2016, petitions to create a U.S. central conference and other proposed new regional structures didn't make it out of committee at General Conference. Earlier, constitutional amendments to create uniform regional conferences around the globe gained approval at the 2008 General Conference, only to go down to defeat before annual conference voters.
For many, the debate over the structural change has become a proxy in the denomination's long-term debate over homosexuality — with people of various perspectives seeing it as a backdoor way for U.S. United Methodists to have different policies than United Methodists in other parts of the world.
Connectional Table members stress that is not the case here. In fact, the 13 members of the subcommittee working on the proposal have differing views in the church debate.
"It has never been our intention that it be for petitions that deal with homosexuality," Kenaston told United Methodist News Service.
In any case, Connectional Table members also hope the special General Conference called for Feb. 23-26 in St. Louis will set the denomination's direction on how the church ministers with LGBTQ individuals.
In proposing a new structure, Connectional Table members mainly are thinking of less fraught disputes.
Barbara Boigegrain, the top executive of Wespath Benefits and Investments, estimates that between a third and a half of the legislation before the General Conference's finance and administration committee deal with solely U.S. matters. A number of those petitions merely intend to update U.S. pension and benefit plans to bring them in line with federal regulations.
"I just have felt that we should get the governance of the plans aligned as closely as possible to where they are going to be providing coverage," Boigegrain told UMNS.
Benedita Penicela Nhambiu oversees the Connectional Table's working group on the worldwide nature of the church. That group encompasses the subcommittee working on the U.S. structure proposal.
The veteran General Conference delegate from the Mozambique South Conference pointed to another example of a U.S. issue demanding attention at a global meeting.
She remembers some years back when General Conference debate erupted over the inclusion of "The Battle Hymn of the Republic" in U.S. hymnals. The controversy around a hymn that dates to the U.S. Civil War had nothing to do with ministry in her area, she said.
"If I travel more than 24 hours to attend a global conference," she said, "I expect my decisions to be global."

Hahn is a multimedia news reporter for United Methodist News Service. Contact her at (615) 742-5470 or [email protected]. To read more United Methodist news, subscribe to the free Daily or Weekly Digests.
---
Like what you're reading? Support the ministry of UM News! Your support ensures the latest denominational news, dynamic stories and informative articles will continue to connect our global community. Make a tax-deductible donation at ResourceUMC.org/GiveUMCom.