---
Key points:
Taking an example from how director George Lucas' vision helped revolutionize the film industry, the Rev. D.G. Hollums asks whether a pending split is an opportunity to reimagine the denomination.
Lucas' dream to create a groundbreaking, paradigm-shifting science-fiction movie was stifled by movie studio opposition to new ideas, but ultimately "Star Wars" became one of the greatest and most successful films of all time.
Hollums asks whether this is "a time where we have no choice but to dream and innovate in the church I love so dearly?"
---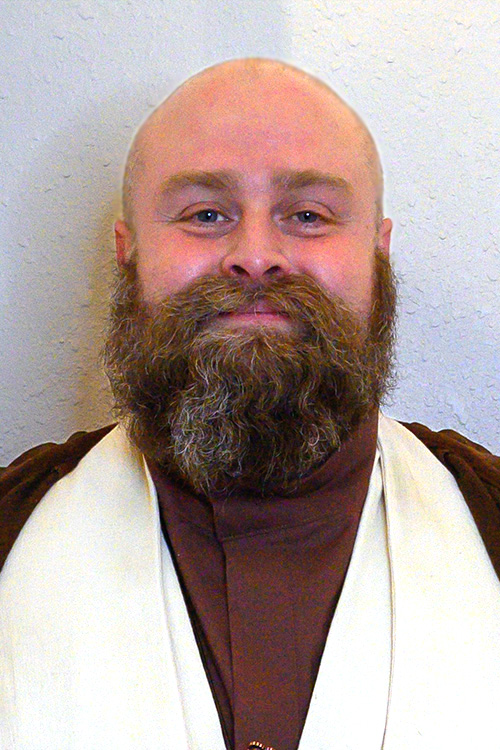 The Rev. D.G. Hollums.
Photo courtesy of the author.
Commentaries
UM News publishes various commentaries about issues in the denomination. The opinion pieces reflect a variety of viewpoints and are the opinions of the writers, not the UM News staff.
In the Disney+ documentary "Light & Magic," director George Lucas said, "There's nothing worse than the frustration of having somebody who doesn't get what you're doing trying to turn it into something else."
Lucas had a dream: to create a groundbreaking, paradigm-shifting science-fiction movie. "THX 1138," the first movie he directed and co-wrote, was a creation unlike any other. Yet, he was frustrated with how Warner Brothers movie studio felt they needed to make the movie more profitable, so they cut scenes and turned the movie into something that was not what Lucas had envisioned nor desired.
This began a series of tough losses. The studio cut Lucas from several projects he was going to do for them and American Zoetrope, the production company he and Francis Ford Coppola co-founded, went bankrupt. Coppola's next film to direct was "The Godfather" and Lucas went on to direct "American Graffiti," but only after being told by Coppola and the movie studio to direct a comedy instead of science-fiction movies, because they would make more money.
"American Graffiti" proved to the gatekeepers that Lucas knew what he was doing and could direct movies that made money and earned awards. Now with funding from 20th Century Fox and acclaim, Lucas went on to write and direct one of the greatest movies of all time: "Star Wars."
I resonate deeply with Lucas's journey of dreaming and frustration. There is nothing quite as soul-crushing as knowing who God has called you to be when a system/denomination of gatekeepers decide what is correct, right or successful. Unfortunately in church planting, many do not have the chance to create their dream as Lucas did. Funding gets cut as the seeds begin to grow or different leadership is chosen that will see things their way and not yours.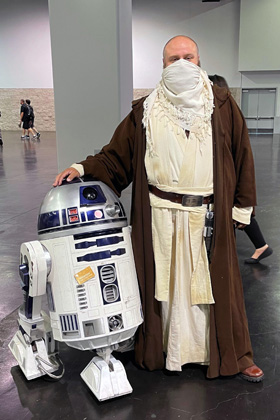 The Rev. D.G. Hollums, aka Obi-Wan Kenobi, poses with R2-D2. Photo courtesy of the Rev. D.G. Hollums.
The world's imagination was forever expanded and history for the movie industry was made only after the system supported the dreamer. The dreamers were allowed to push through the fear of making mistakes, and formed a scrappy network of people with connections and diverse skills from all over who created revolutionary and groundbreaking magic. They were unafraid to make mistakes — in fact, they knew they had to make them so they could push forward.
I am a dreamer and I've caught myself wondering if I have been waiting for just such a time as this, a time where we have no choice but to dream and innovate in the church I love so dearly.
What if this time of pruning and ripping apart in The United Methodist Church could be a time of renewal and dreaming? What if this sad time of exodus and heartbreak is taken as an opportunity of invigorating freshness? Where inclusive community is created and formed that transforms the world with love, grace, forgiveness, justice and relationships in revolutionary approaches? What if, when the shackles are removed, we can truly to be a blessing to all the nations of the Earth? Could this be a time of pruning and death that would allow for new life to grow?
As I see friends and family choose to disaffiliate from The United Methodist Church, I have grieved deeply and I wish them well, I really do, but the newness of Christ can and will be the future of love and inclusivity. This is the future I have chosen to be a part of. I simply have hope the renewed United Methodist denomination will allow for the prophets and dreamers to live into their dreams with God and not stifle them with the way things "ought to be," "should be" or "need to be."
Could now be the time we've been waiting for to breathe radical love and inclusivity into the fruit of The United Methodist Church? I'm excited about the future of our denomination. Join me in seeing what could be for us and this world.
Hollums is pastor at Zia United Methodist Church in Santa Fe, New Mexico.
News media contact: Tim Tanton or Joey Butler at (615) 742-5470 or [email protected]. To read more United Methodist news, subscribe to the free Daily or Weekly Digests.
---
Like what you're reading? Support the ministry of UM News! Your support ensures the latest denominational news, dynamic stories and informative articles will continue to connect our global community. Make a tax-deductible donation at ResourceUMC.org/GiveUMCom.