---
Key points:
In 1970, after Hurricane Celia, the First United Methodist Church of Aransas Pass, Texas, became the temporary hospital for its battered community.
Accounts vary, but either 85 or 86 babies were born at the church over four months.
The church held a special service and luncheon Aug. 14 to remember the hospital period and welcome back some of the Hurricane Celia babies.
---
Fifty-two years ago, in the immediate aftermath of Hurricane Celia, First United Methodist Church of Aransas Pass, Texas, became the temporary hospital for its battered community.
Pneumonia and other serious illnesses got treated there. Surgeries were performed. Ambulances came and went.
And while historical accounts vary, either 85 or 86 babies — including three sets of twins — were born in Sunday school rooms converted to delivery rooms, all within wailing distance of the sanctuary.
Angelina "Angel" Childs' mother gave birth to her in one of those rooms.
"She named me 'Angel,' being the fact that I was born here," Childs said in an interview at the church.
On Aug. 14, First United Methodist Church of Aransas Pass held a reunion service and luncheon, commemorating the four-month stretch when the church filled in as the community hospital.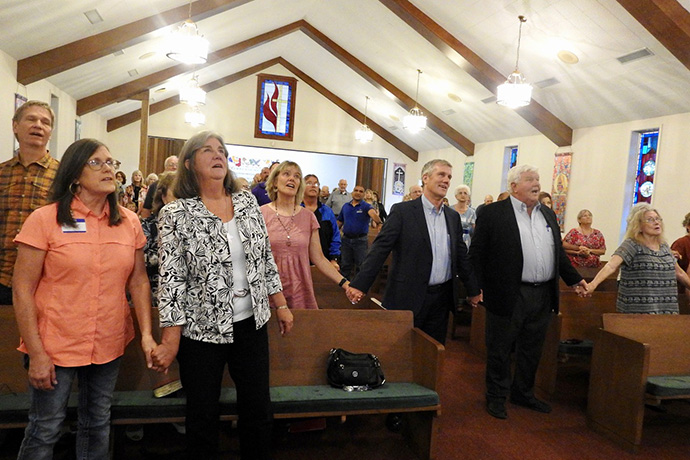 Attendees included Childs, two fellow Hurricane Celia "babies" born at the church and others who shared stories and lessons from a hard but inspiring time.
"You did what you had to do. It was an emergency," said Ernestine "Ernie" Brown, 80, who shifted from her regular hospital nursing job to care for patients at First United Methodist of Aransas Pass.
Billie Robinson got laughs from the reunion service crowd, describing her experience at the church on Nov. 7, 1970.
"I had my little one here — well, she wasn't so little. Ten pounds and 8 ounces," said Robinson, 79.
Jeannie Zirkel came to the reunion, having lost her husband, the Rev. Milford "Zeke" Zirkel, earlier this summer. He was the pastor when the church served as a hospital.
"I don't ever remember Zeke coming back and saying, 'Oh, somebody doesn't want to do this,'" she said. "Everybody was willing to help, and everybody was willing to give up a little bit of their space, a little bit of their time, in order to help the community."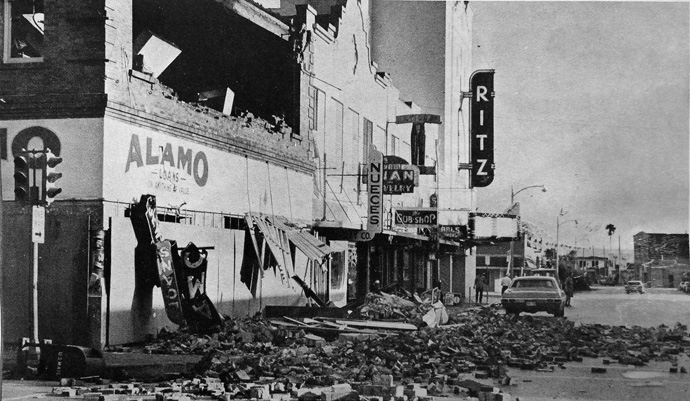 Hurricane Celia has faded in national memory, but when it hit Corpus Christi and nearby coastal towns like Aransas Pass on Aug. 3, 1970, it was a category 4 storm, with 140 mph winds. Fifteen people died in Texas, and thousands of homes, businesses and commercial fishing boats were destroyed or badly damaged.
Both hospitals serving Aransas Pass were out of commission. But First United Methodist Church fared better.
The steeple came loose and blew up into the air, coming down spire first to puncture the roof like a dart. That was the worst of it, and patchable.
Zeke Zirkel agreed to a request by Dr. William Tinnerman, the local public health officer, that the church become a temporary hospital. Conditions in Aransas Pass were desperate, requiring the National Guard and Red Cross.
"No power, no water, no telephone for three weeks," said Red Barker, 98, a longtime church member.
Dewey Holden, also 98 and Barker's friend since seventh grade, as well as a church trustee in 1970, recalled, "They hooked up a humongous generator to the church."
The fellowship hall became a communications center and hospital administration area, with ham radio operators handling dispatch. The church's education wing was turned into an 18-bed ward. The nursery room — with its large observation window — took on extra cribs for newborns.
Subscribe to our
e-newsletter
Like what you're reading and want to see more? Sign up for our free daily and weekly digests of important news and events in the life of The United Methodist Church.
Patients' meals were cooked in the church kitchen, and a storage room became a darkroom for developing X-rays.
The church hospital took in its first registered patient — a man with a heart condition — just three days after the hurricane, the Corpus Christi Caller-Times reported. But the church already was the scene of a frantic effort to prevent tetanus and typhoid.
A nurse recruited Carl Rohlfs, then the 19-year-old youth director at First United Methodist Church of Aransas Pass, to give injections.
"She let me practice one time on an orange, and from then on, it was one arm after another," said Rohlfs, who would have a long career in United Methodist ministry and preached at the reunion service.
The first baby born at the church arrived on Aug. 8, 1970. More births quickly followed.
On September 26, Cheryl Coronel — then Cheryl Weide — had her daughter Sheila at the church via cesarean section. She remembers lying on a cot, with a bright lamp looming over her.
"It was really, really strange, but we did fine," she said by phone. "Thank goodness they set that little hospital up."
The church's Sunday school classes met in the sanctuary, to make room for medical care. Worship services continued, but not without distractions, including meal preparation for the patients.
"We could smell that good food cooking," Holden said. "I think everybody got a little anxious, a little hungry, before the sermon was over."
Church members were officially discouraged from going into the hospital wing, but there was no keeping them from sneaking in to look through the big window into the maternity room.
That included the pastors' kids.
"The three of us would race back there and count the babies and see which ones were boys and which were girls," said Dr. Louise Zirkel Forrister.
She grew up to be a physician and credits the church's hospital time as influencing her career choice.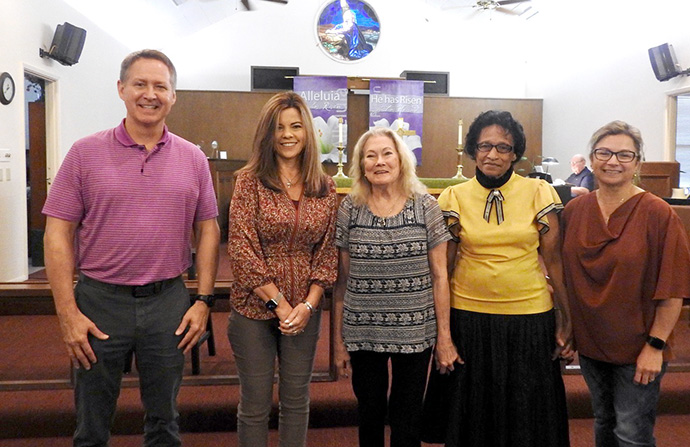 The Hurricane Celia babies born at First United Methodist Church of Aransas Pass are all 51 or 52 now. While they can't remember their births, they have stories.
Angie Rodriguez, born at the church on Sept. 11, 1970, returned there as a girl for vacation Bible school.
"I would walk up and down the halls wondering which room I was born in," she said.
Jere Allen, who traveled from Georgia for the reunion, recalls asking for details about his birth at the church on Sept. 20, 1970. In remarks at the reunion service, Allen quoted what his father told him:
"I remember walking up and down the halls and all of a sudden you cried out, and I knew you'd been born and I knew you'd got your first spanking."
It wasn't his last, Allen assured the reunion crowd.
Timothy Dickey didn't make the service but shared by phone about being one of the twins born at the church. He grew up hearing from his mother that she didn't know she was having twins.
"I was born and the nurse hollered at the doctor, 'Hey, there's another one,'" Dickey said.
The Corpus Christi paper's Sept. 6, 1970, edition ran a photo of his happy but clearly exhausted mother holding him and his twin sister, with their father and Dr. Gladys Auten, the hospital administrator, standing nearby.
"I remember seeing that clipping at my Mom's house," Dickey said. "It was sacred to her."
First United Methodist Church served as a hospital through Dec. 12, 1970, when the Aransas Pass Hospital was up and going.
The church's important role is illustrated by a black-and-white group photo taken around that time, showing young mothers with 31 of the Hurricane Celia babies. Zeke Zirkel is beaming on the back row.
Zirkel was many years past retirement age in 2019 when he again became pastor of First United Methodist of Aransas Pass, on a part-time basis. Weekends found him and Jeannie commuting from their home in Medina, Texas, three hours away. He preached one last sermon at the church on June 26, and died July 13, at age 92.
Though Zirkel didn't live to attend the reunion, he helped church member Bobbie Lettiere plan it. And, frail but determined, he gave an interview to the Aransas Pass Progress for a June 29 article previewing the reunion and describing the church's months as a hospital.
"We didn't see it as a monumental event," he told the paper's Mark Silberstein. "We saw it as something we wanted to do for the community."
But lives were changed, including Billy Ellis'.
Ellis, who catered the reunion luncheon, was an 11-year-old regular at First United Methodist Church of Aransas Pass when Hurricane Celia hit. Like so many, he was reeling from the widespread destruction.
But at church, he could slip into the education wing and peer through the big window into the room with the newborns.
"Probably one of the best lessons I ever got in life was from those babies," Ellis said. "I don't care how bad something is, something good's going to come out of it. Those babies taught me that."
Hodges is a Dallas-based writer for United Methodist News. Contact him at 615-742-5470 or
[email protected]
. To read more United Methodist news,
subscribe to the free Daily or Weekly Digests.
---
Like what you're reading? Support the ministry of UM News! Your support ensures the latest denominational news, dynamic stories and informative articles will continue to connect our global community. Make a tax-deductible donation at ResourceUMC.org/GiveUMCom.