Thirty-five families from Kayole St. John's United Methodist Church in Nairobi were left homeless after excavators demolished their apartments at Nyama Villa Estate.
More than 600 families were displaced following the demolition. The 35 church families have refugee status from the Congo after fleeing tribal clashes there.
The demolition at the 20-acre piece of land took place in late December and early January after the alleged owner secured a court order to reclaim his land. He alleged that the owners of the demolished flats had acquired the land fraudulently and did not have the title deeds.
Tenants who occupied the flats frantically tried to salvage their belongings as police chased them away to prevent looting. A huge crowd also milled around the roads that lead to the site making it hard for those moving their items to navigate through.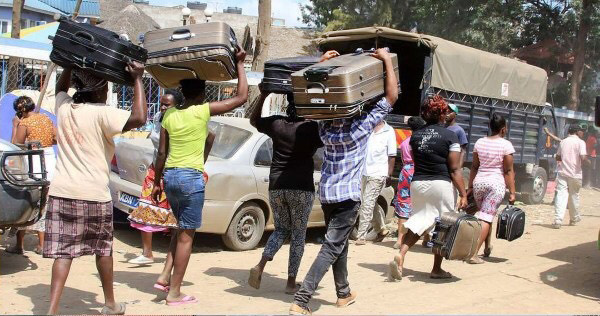 As he watched a crane flatten a school behind him, Runama Jeanpierre, a Congolese who has lived in Kayole for more than four years on refugee status, wondered how he would find a new home for his family.
"I've lost all my belongings. My wife and kids have moved to the United Methodist church to stay there for the time being. I don't know where to start from, they have taken us by surprise," he said.
Nyarange Joseline, a member of Kayole St. John's United Methodist Church, could not hide her tears as she explained how she was forced to stay out in the cold.
Joseline, from South Kivu, Congo, lives in Kenya on refugee status with her husband and 11 children. She said her young children were taking it especially hard. er chHH The children range from 3 to 28 years old.
"It is so sad that we had to stay out in the cold the whole night and for sure I'm not even aware of when I will be leaving this place. We are in a bad situation and we are asking for well-wishers to assist with food and shelter," she said.
Joseph Rurayi, also from Congo, said he is struggling to come to terms with the fact that his belongings are buried in the rubble.
He said that he was not around when the demolition started and by the time he returned, he could not believe his eyes. He said for a time he was unable to locate his seven children.
Rurayi is an associate pastor at Kayole St. John's, where he has been serving for the past five years. He came to Kenya after surviving a series of tribal clashes in his home country.
"I'm yet to come to terms with what is happening. Why they are really doing this to us remains a mystery," he said.
Kayole St. John's United Methodist Church responded to the disaster by organizing a food and shelter drive with local businesses, charity organizations and neighboring churches.
The Rev. Patrick Wandera, resident pastor, urged church members to pray for the refugee families affected by the demolitions and the entire 600 families who lost their homes.
He said the church premises should be used to provide shelter to the homeless, and he encouraged congregants to spend time caring for families and individuals at shelters.
He reiterated that time and comfort are the two most important things that can be given free of charge.
"Spend time listening to the victims with a compassionate ear," Wandera said during a special Sunday service dedicated to the victims. "Open your homes to displaced friends and family. Disasters bring the best out in many people who really want to help."
The Rev. Thomas Wilton Odongo, Nairobi District superintendent and episcopal secretary for the East Africa Conference, said aside from financial donations, volunteering is the best way to give.
"As we show our support to the victims of house demolitions, let's think of the children. Children's needs are important during disasters. As families impacted by this disaster try to shield their children from the effects, they seek to supply them with the entertainment, toys, snacks, juices, candles and other treats and comfort items they are accustomed to," he said.
He urged church members to bring books and read to the children to help them take their minds off the situation. He also welcomed disaster response and relief from local and international organizations.
Claudine Mutesi, a psychotherapist with the Women's Centre for Legal Aid and Counseling in Nairobi, helped the church to understand the effect of the demolition on family life.
She said the way the situation was handled resulted in a loss of privacy for victims, in addition to the loss of personal items.
"The total invasion of privacy that is experienced — having one's private life opened to the eyes of the world in a culture that has strong boundaries between what is appropriate for public view and what is for a family's inner world alone — is deeply damaging to the delicate fabric of family relationships," she said.
Mutesi, a member of Kayole St. John's United Methodist Church, said perhaps worst of all for the victims is a sense of being rejected by others, calling into question their own personal sense of identity and self-worth.
"The daily humiliations suffered by an average Kenyan on many different levels reaches its climax in the experience of having one's home demolished before one's very eyes," she said. "The terror and fear experienced by young children may leave lasting scars if not handled with great care."
Maiga is a communicator for the Kenya-Ethiopia Conference.
News media contact: Vicki Brown at (615) 742-5470 or [email protected]. To read more United Methodist news, subscribe to the free Daily or Weekly Digests.