Key points
The Connectional Table, a denomination-wide leadership body that helps decide how United Methodist money is spent, met Feb. 22-26 in Atlanta.
Voters approved an 18% cut to the base percentage — a key component of calculating the budget — and hit church agencies and boards with about 40% in cuts.
The Connectional Table rejected the plan to cut the base percentage by 25%, the number preferred by the General Council on Finance and Administration.
---
A denomination-wide leadership body set in motion some changes that will guide The United Methodist Church as it ministers in an uncertain time.
The Connectional Table, which helps decide how United Methodist money is spent, met Feb. 22-26 in Atlanta. Among the discussions:
A sobering look at denomination finances in the wake of long-term declines in church membership and ongoing disaffiliations by congregations who disagree about the role of LGBTQ people in church life.
Another round of deep and painful budget cuts is coming, in the 40% range for denomination-wide agencies that already have been substantially trimmed in recent years.
A proposal for regionalism, giving U.S. conferences the same control over their affairs as United Methodists elsewhere, is moving forward with momentum.
The Connectional Table itself is looking to streamline from 49 to 31 voting members.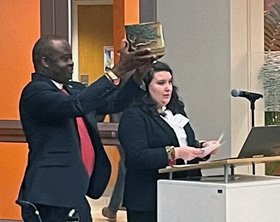 Bishop Mande Muyombo, chair of the Connectional Table, holds up a drum created by potter Terance Painter of Maggie Valley, N.C., gifted to him Feb. 23 during the Connectional Table's meeting in Atlanta. Photo by Jim Patterson, UM News.
"It has been wonderful, just reviving," said Bishop Mande Muyombo, chair of the Connectional Table. He also leads the North Katanga, Tanganyika and Tanzania conferences in Africa. "For me, it's a positive message that this church is moving forward."
The Connectional Table met at the headquarters of the United Methodist Board of Global Ministries, on property shared with the congregation of 150-year-old Grace United Methodist Church.
A room full of stakeholders, not all voters, were on hand, plus about 17 participating online. There were long discussions and debates, worship, hymns, on-boarding of new Connectional Table members, tours of the Global Ministries offices and more intimate meetings of the executive committee. There was an early morning Zoom meeting of the executive committee with the Standing Committee on Central Conference Matters, who were convening in Germany, to discuss regionalization.
Most decisions made at the meeting are subject to further approvals before being implemented. The oft-delayed General Conference, now set for April 23 to May 3, 2024, in Charlotte, North Carolina, will have the final word.
Finances
Expenditures by local churches are declining fast as U.S. congregations shrink and churches leave the denomination, said the Rev. Moses Kumar, top executive of the General Council on Finance and Administration, the denomination's finance agency. Trends show that church expenditures will decline 13.2% in 2023, 18.7% the next year and 21% in 2025, he said.
U.S. local church expenditures are a key component of how the denomination calculates what apportionments — shares of giving — it requests to fund the denomination's budget. Local churches pay apportionments out of their offerings to church regional bodies called annual conferences, which in turn pay apportionments that fund denomination-wide ministries.
Put another way, lower local church expenditures mean lower apportionments are sought.
"That's the trend we're in, brothers and sisters," Kumar said. "That's the denomination circumstances we have. The giving is going down."
The number of active local churches in 2022 was 27,866, down from 33,458 in 2013, Kumar said. More are positioning to go independent or join the Global Methodist Church or another denomination in the Wesleyan family. All of this portends that contributions will continue to decline.
The Rev. Emanuel Cleaver III preaches Feb. 25 during the Connectional Table's meeting in Atlanta. Cleaver is senior pastor of St. James United Methodist Church in Kansas City, Mo. Video by Jim Patterson, UM News.
Budget cuts
Local church expenditures are just one part of calculating the denomination's budget.
The formula for determining an annual conference's apportionments is its total local church net expenditures multiplied by a base percentage. The denomination's financial leaders agree that the base percentage also needs to go down. But the Connectional Table and General Council on Finance and Administration are at odds about how low the base percentage should go.
After considering two budget plans, one that cut the base percentage by 18% and the other by 25%, Connectional Table voters chose the first option. The vote was 28 for 18%, one for 25% and one abstention.
The General Council on Finance and Administration has already announced it prefers to cut 25%. There will be negotiations to settle the matter with the hopes that a plan supported by both will go to General Conference for approval.
"I don't believe GCFA can give another entity, CT or anybody else, decision-making authority on the apportionment formula," said Bryan Mills, general counsel of GCFA. He said doing so would be inconsistent with the denomination's Book of Discipline.
But he added that the GCFA can take input from "whatever source it thinks is appropriate."
The 18% base-percentage reductions would cut by about 40% the budgets of the United Methodist Board of Global Ministries, the United Methodist Board of Higher Education and Ministry, the Central Conference Theological Fund, the United Methodist Board of Church and Society, United Methodist Discipleship Ministries and United Methodist Communications.
Some smaller agencies would emerge unscathed, such as the United Methodist Commission on the Status and Role of Women and the United Methodist Commission on Religion and Race.
The Interdenominational Cooperation Fund would be cut by 71.1%, and 37.7% would be trimmed from the Ministerial Education Fund, Black College Fund and Africa University.
A budget from a 25% cut to the base percentage would be much harder to implement, said Greg Bergquist, the top executive of Higher Education and Ministry.
"In my case, and I think in many cases, we've already accounted for option A, and I think most of us have already taken steps to adjust our budgets and our staffing and things like that," he said.
"So, if you're asking about the impact, I think many of us are already positioned," Bergquist added. "If you vote option B, we're going to have to go back and look at it again, and we're certainly willing to do that because we're team players.
"For some of us, there's two major components in your budget. You have staffing and ministry program costs. There's a point where, if you cut program costs, you may have staff with no money from which they can do the work."
Roland Fernandes, top executive of Global Ministries and the United Methodist Committee on Relief, also spoke up for the 18% plan.
"This is a really hard reality that trying to make it as good as possible for our agencies is still going to mean that they're going to have to draw back drastically, and people are going to lose their jobs," he said. "It is without joy, but necessary."
Dave Nuckols, a member of the Connectional Table's executive committee, said it might make sense to look elsewhere than the agencies for further budget cuts.
Subscribe to our
e-newsletter
Like what you're reading and want to see more? Sign up for our free daily and weekly digests of important news and events in the life of The United Methodist Church.
"It seems by the way (GCFA) rolled that out, they're pointing at the agencies and saying, 'We need you to restructure.' That's something we're working on, but … we've had continued cuts to the agencies."
A philosophical conversion about the nature of The United Methodist Church might be in order, Nuckols said.
"How much do we feel we're connectional, and to what extent are the general agencies an important part of the connection?" he said. "There's a hyper focus on general agencies, but we need to look at episcopal funds, which is just now being cut for the first time in quite some time. … We need to do things in annual conferences, as well. It can't be all bounced on the back of our general connectional church commitment, unless we're saying we don't want to be that."
About 2.04 cents of every dollar in a United Methodist offering plate goes to support denomination-wide ministries. The 25%-cut budget would lower that amount to 1.8 cents, Nuckols said.
Currently, about 90 cents of every dollar remains in the local church.
Regionalism
Ongoing efforts to create a U.S. regional conference with the same legislative authority and adaptability that central conferences enjoy got a boost when the executive committee and Standing Committee on Central Conference Matters agreed during a Zoom meeting to form a task force to negotiate a plan with which both can live. Central conferences are church regions in Africa, Europe and the Philippines.
Two proposals for such regionalization have been submitted to the coming General Conference — the Christmas Covenant proposed by some central conference leaders and the Connectional Table's U.S. Regional Conference plan. Both would require amendments to the denomination's constitution — a high bar.
Both bodies must communicate clearly that the Connectional Table plan and the Christmas Covenant are not in conflict, it was agreed. Meeting attendees also agreed the effort should be about alignment, not choosing one plan or the other.
A good regionalization plan would avoid even a hint of colonization, not become bogged down with U.S. matters and preserve respect for different contexts, said the Rev. Deanna Stickley-Miner, executive director of mission engagement for Global Ministries. She was attending the Standing Committee on Central Conference Matters meeting in Germany.
"We had some very rich conversation," Stickley-Miner said. "In the end, it was a unanimous vote with one abstention that we would enter into this conversation."
The goal is to work quickly enough to take one strongly supported regionalization proposal to General Conference in 2024 for consideration.
"We need to consider unintended consequences," said Judi Kenaston, interim chief connectional ministries officer of the Connectional Table. "How will we connect the regions? How do we not make this too complicated and avoid silo-ing? How do we hold in connection conflicting values as we move forward? And how do we talk about finances?
"Those were all areas that we identified as concerns that the task force could address," she said.
Reducing Connectional Table membership
A proposal to restructure the Connectional Table was approved. Under the plan, voting members would include six bishops, five representatives of racial-ethnic caucuses and five members each from Africa, Asia, Europe and North America. Non-voting members include all the top executives of denomination agencies, the secretary of the General Conference and two ecumenical partners.
"We believe that if this body is to discern, articulate and steward the vision of the church … there's a need for a strategic, holistic focus on the whole church, rather than the members coming together just to represent their constituencies," said the Rev. Amy Coles, assistant to the bishop in the Western North Carolina Conference and member of the CT steering committee.
"Not that we don't all have constituencies to go back and talk to, but that those that would be a part of the CT would be willing to move up to that 30,000-foot view.
"(Members need to look) at the whole church and represent the whole church."
Western Pennsylvania Conference Bishop Cynthia Moore-Koikoi, a Connectional Table member, said the meetings "went marvelously well."
"People with diverse and different opinions felt that this was a brave place where they could share them," she said. "We helped each other understand our different perspectives, and then we make decisions about things.
"This is what the church is about."
Patterson is a UM News reporter in Nashville, Tennessee. Contact him at 615-742-5470 or [email protected] To read more United Methodist news, subscribe to the free Daily or Weekly Digests.
---
Like what you're reading? Support the ministry of UM News! Your support ensures the latest denominational news, dynamic stories and informative articles will continue to connect our global community. Make a tax-deductible donation at ResourceUMC.org/GiveUMCom.