---
Key Points
Actress Sheila Carrasco is the daughter of the Rev. Oscar Carrasco, a retired United Methodist pastor and superintendent.
She began performing as a child, writing plays that featured her brother and sisters and also singing in church.
She plays Flower, a hippie ghost, on the hit CBS sitcom "Ghosts."
---
The story of Flower, the hippie ghost with scars from a bear mauling, is incrementally coming together on "Ghosts," the CBS sitcom in the enviable positon of following "Young Sheldon" on Thursday nights.
United Methodists will also want to know the story of Sheila Carrasco, the actress who plays Flower. She's a lifetime United Methodist and the daughter of the Rev. Oscar Carrasco, a retired pastor.
"My parents have been really devoted to the Methodist church my whole life," said Carrasco during an interview with United Methodist News. "They set a really wonderful example for me of what it means to be a member of the community, what it means to help people and lend an empathetic ear."
Now in its second season, "Ghosts" reached an impressive 5.9 million viewers with its Oct. 20 episode, according to TVLine.
The premise of "Ghosts" matches a couple who buy a country home with a bunch of ghosts who formerly resided there. In addition to Flower, there's a Native American, jazz singer, Scout leader, socialite, businessman, Viking and more.
"The show — based on a British sitcom that's streaming on HBO Max — is like 'Friends,' if most of the friends were dead," Kelly Lawler from USA Today wrote in a review. "And it's precisely the series' mix of classic sitcom tropes with a ghostly mythology that makes it a winning and very funny formula."
The large cast means there are a lot of stories to be told, but also limited time in a 30-minute show to reveal new information. So far, viewers know that Flower was once a member of a cult, participated in a bank robbery and had a chain of coffee shops named after her by a boyfriend after she died. As a ghost, she can make people stoned by ghostly walking through them. Flower died at the hands of a bear when she tried to give it a bear hug.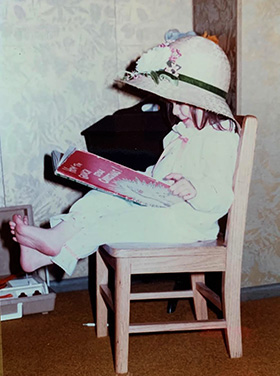 Sheila Carrasco reads a Dr. Seuss book. Carrasco, one of the stars of the CBS show "Ghosts," began performing as a child, starring in community theater productions of "Annie" and "Oliver!" Photo courtesy of Joyce Carrasco.
"She ran off to live in a commune and committed her life to the hippie lifestyle," Sheila said. "I think it's really interesting how sometimes people who do that came up from very different extreme backgrounds, and we don't know exactly what that is yet.
"We've talked a little bit about what kind of background she had, so I'm excited to learn more about what that could be."
Sheila said that "Ghosts" is a "dream job" for her.
"I'm used to big ensemble work, coming from the theater and coming from sketch comedy," she said. "I've always wanted to be in a big ensemble, kind of a workplace comedy. That's really what this feels like to me."
Growing up, Sheila was the classic youngest child, working to get attention from her parents and brother and sisters.
"All of my siblings are incredibly accomplished and hilarious," she said. "But I also was very in my own world. … I had an imaginary friend. I preferred to play alone in my own imagination."
The seemingly contradictory traits of attention-seeking and living in her own world worked together to help shape her into a performer, Carrasco said.
Growing up in her father's churches in the Northern Illinois Conference also presented opportunities to perform.
"We would be the acolytes if an acolyte didn't show up or sing the solo if we needed a soloist that week," she said. "It really got us used to public speaking and not being afraid of being up in front of people. It definitely helped me a lot."
Her mother, Joyce Carrasco, said that Sheila would sing along to records as a child, and when she got older she began writing scripts for her siblings to perform.
"She would write scripts about each of our animals," Joyce Carrasco said. "She would personify them (so) each of the kids would be one of those animals also."
Sheila started performing publically very young, said Joyce. She starred in "Annie" twice in community theater productions and also in a production of "Oliver!"
"I remember very distinctly when Sheila was in the middle-school theater program, a secretary at the school came and told me that I had a phone call," said Joyce, who worked at the school. "It was a casting agent in Chicago that had seen Sheila … and they were interested in representing her to be in 'The Untouchables.' I had to step away from the phone to get a breath."
Sheila earned her first professional acting credit (except for commercials) as a guest star on two episodes of the short-lived 1993-94 "Untouchables" television series. She studied at New York University and Harvard and staged a one-woman show called "Anyone But Me" last year at the Pico Playhouse in Los Angeles. She has guest starred on many television series, including "Life in Pieces," "Jane the Virgin," "The Good Place" and "American Housewife."
She performed in two showcases for "Saturday Night Live," but wasn't hired.
"That was definitely my North Star for a while because I didn't really know in the comedy scene like, what do you shoot for?" she said. "I knew that if I shot for that, it would lead me somewhere, and it really did."
She landed industry powerhouse Creative Artists Agency to represent her, and ultimately the role on "Ghosts."
A native of Curacautín, Chile, the Rev. Oscar Carrasco retired after serving several churches and eight years as the superintendent of the Elgin District in Illinois. He had hopes that Sheila would become a doctor.
"Each one of our children were gifted, in my view, and we did not know exactly what the gifts were," said the Rev. Carrasco. "One of the things I mentioned to them when they were very little, was that I wanted them to be happy in life."
When Sheila declared that she wanted the life of an artist, he had to keep his word.
"Well, I have to be true to what I said," he said. "What I love about what she's doing now is that she is a happy person. … Now, I have a sense of peace in my heart, and a happiness that I did not push her to be something that I wanted her to become.
"It's all about how good God has been, and I'm grateful."
Patterson is a UM News reporter in Nashville, Tennessee. Contact him at 615-742-5470 or [email protected] To read more United Methodist news, subscribe to the free Daily or Weekly Digests.
---
Like what you're reading? Support the ministry of UM News! Your support ensures the latest denominational news, dynamic stories and informative articles will continue to connect our global community. Make a tax-deductible donation at ResourceUMC.org/GiveUMCom.