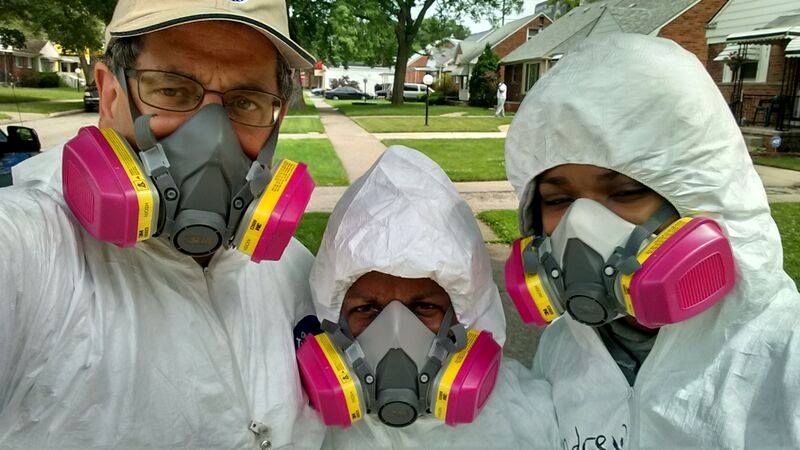 When United Methodists in Michigan decided to work with Detroit homeowners hit by floodwaters in 2014, they were able to draw upon connections established all the way back to Hurricane Katrina.
The key was an organization called National Voluntary Organizations Active in Disaster, which had 28 members before Katrina but expanded afterward and now represents about 125 different faith-based, secular and governmental groups.
Greg Forrester, who heads U.S. disaster response for the United Methodist Committee on Relief, sits on the executive committee of NVOAD's board of directors. "For me, Katrina created the atmosphere where those collaborations now exist," he said.
A year after the Aug. 11, 2014 flooding, the recovery is just beginning in Detroit, with hundreds of homes awaiting cleanup, but the caseload is growing.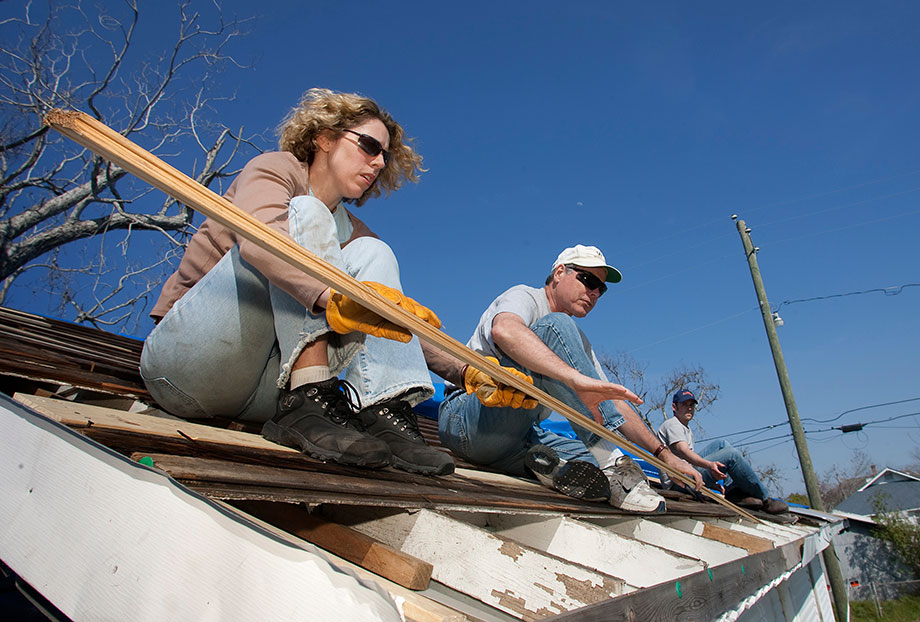 The Northwest Detroit Flood Recovery Project opened an office this April at Second Grace United Methodist Church, coordinated by the Rev. Becky Wilson, with case management funding and training from UMCOR and support from the Detroit Conference and Renaissance District.
UMCOR helped All Hands Volunteers — a loose knit group that Forrester first met down in Gulfport, Mississippi, after Katrina — become licensed contractors in Detroit so they could work with the project to rehabilitate flooded homes.
Mennonite Disaster Service, which has had a long relationship with UMCOR, was able to come into the project by piggybacking on case management from United Methodists. "Now, the Mennonites are being handed those homes that haven't even been muddied out yet," Forrester said.
This summer, the families being served by the project were able to participate in Camp Noah, a Lutheran initiative funded by an UMCOR grant.
Camp Noah provided "new reasons to laugh and smile" for the 38 campers who endured the trauma of a major disaster that has remained "under the radar" for people outside the Detroit area, Wilson wrote in a blog.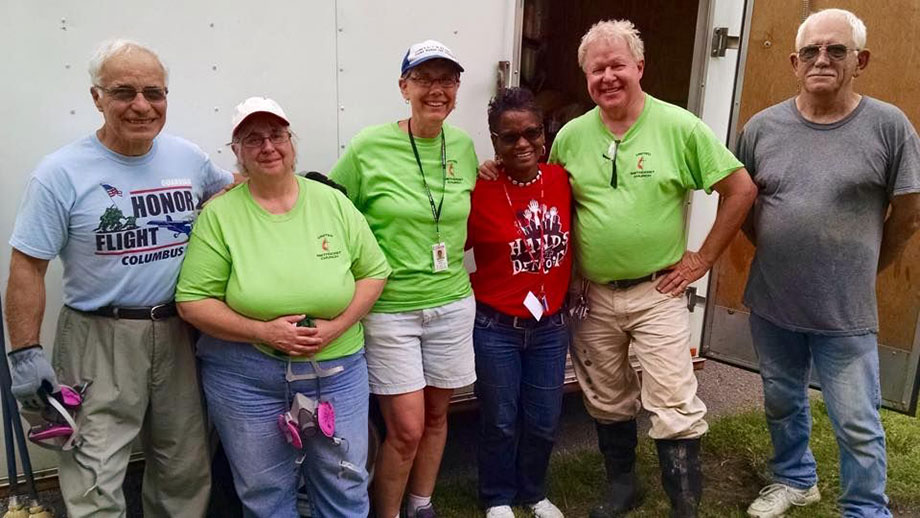 Katrina effect on disaster response
When Katrina struck the Gulf Coast 10 years ago, United Methodists had no formal training or early response programs for volunteers. "There was absolutely no integration between disaster response and volunteers in mission," said Forrester, who was the Northeastern Jurisdiction coordinator for United Methodist Volunteers in Mission in 2005. "They were totally separate entities."
The Southeastern Jurisdiction, particularly the Carolinas, did have some experienced teams because of previous responses to hurricanes. But it was not until January 2006 that many of the Gulf Coast recovery sites had established housing and identified projects for volunteers. "Even some of that was haphazard at best," Forrester recalled. "Sometimes, the first thing we did was just walk the neighborhood and see who needed help."
Initial collaborations often were spontaneous and word-of-mouth. In the Gulfport, Mississippi, area, an ad hoc group formed God's Katrina Kitchen and began feeding all the volunteers. The Baptists coordinated housing and "ran just a top notch materials and tools distribution through the armory," he said. "A lot of times if we didn't have placements in our own system we would actually send people through the Baptists."
Slowly, the process came together. By early 2006, more than 900 volunteer teams from nearly every United Methodist conference came to assist cleanup and repair in Louisiana and Mississippi, with another 570 teams booked through July of that year.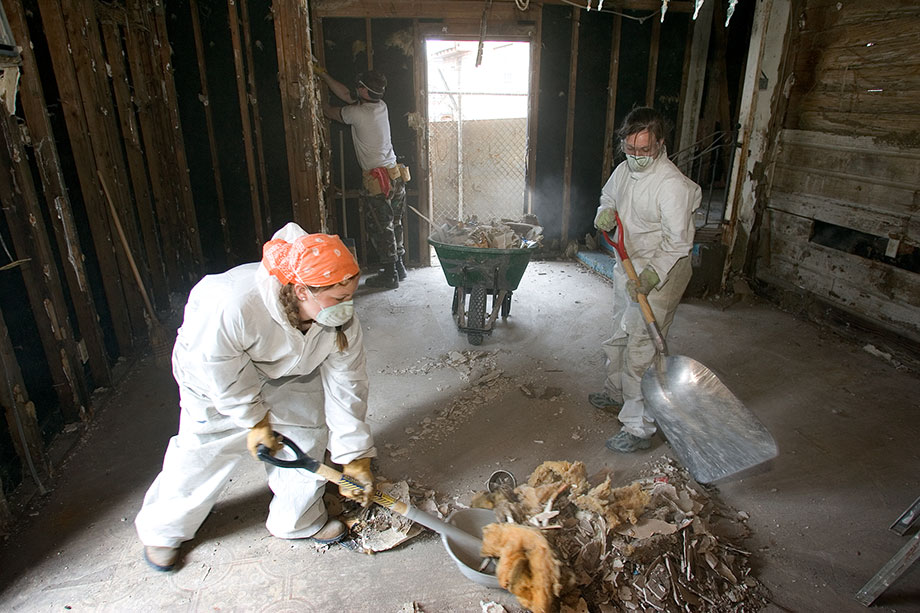 Working in partnership
When United Methodists respond to disasters now, they immediately look for partners, Forrester pointed out. After the 2013 tornadoes in Moore, Oklahoma, an ecumenical long-term recovery group was formed to respond and raised $60 million from local resources.
"I see that happening all over," Forrester said about the collaboration. "Where it fails sometimes is where the community doesn't rise up like that."
One example, he noted, is in Napa, California, where a year after an earthquake the recovery is "still in its infancy" because when the government set up a disaster center it didn't establish a partnership with community groups.
"The government can't do long-term recovery," Forrester said. "They're not equipped, they're not staffed and their mandates are not the same."
Relying too much upon federal funding could diminish the work of voluntary agencies, cautioned Catherine Earl, UMCOR executive secretary for disaster response in the U.S, Caribbean and Central America.
Another danger is to overcomplicate the response to any particular disaster. "We need to be more careful about assuming that what works in one community will work in another," she explained, adding that one lesson voluntary groups had learned even before Katrina was to be attentive to the needs of each individual community.
"Our job as national partners is not to fly in and fix it," Earl said. "Our job is to support a community and help it find its wings."
Bloom is a United Methodist News Service multimedia reporter based in New York. Follow her at https://twitter.com/umcscribe or contact her at (646) 369-3759 or [email protected]
---
Like what you're reading? Support the ministry of UM News! Your support ensures the latest denominational news, dynamic stories and informative articles will continue to connect our global community. Make a tax-deductible donation at ResourceUMC.org/GiveUMCom.