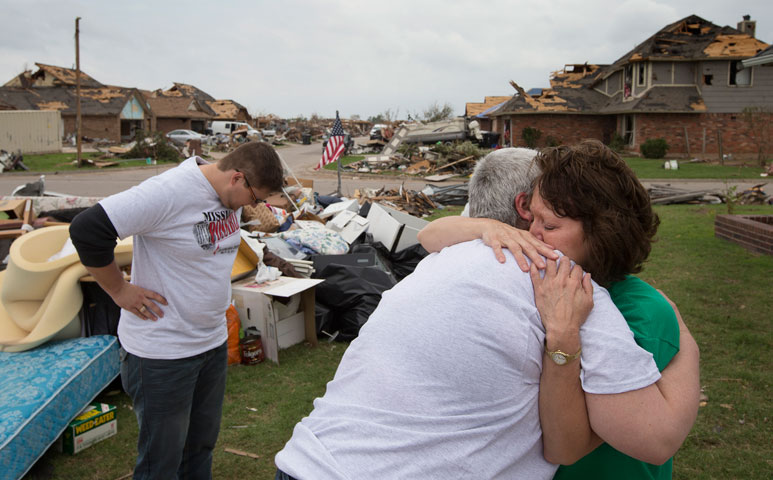 The shelter at St. Andrew's United Methodist Church in Moore, Okla., set up for survivors of the previous week's tornado, shut down at 4 p.m. May 31.
Six hours later, the shelter reopened after yet another twister swept through the Oklahoma City metropolitan area.
"They really had not gotten everything out of the door when the storm started hitting," said the Rev. D.A. Bennett, St. Andrew's pastor.
To the west of Oklahoma City, his cousin, the Rev. Barry Bennett, had no doubt the approaching storm would be bad.
"I grew up in Oklahoma, and I've seen many tornadoes," Barry Bennett, the pastor of Wesley United Methodist Church in El Reno, explained. "But I've never seen the sky so dark. I knew this thing had to be huge."
He and others crowded into the shelter at the El Reno church, which escaped with minor damage as the twister veered from the center to the south side of town. Several church members did lose their homes, he said.
On the north side of Moore, the Rev. Richard Norman was ushered into a shelter in FEMA's joint field office. The tornado skipped over the mostly shuttered shopping mall where the office is located.
For Norman - serving in twin roles as the United Methodist Oklahoma Annual (regional) Conference's disaster coordinator and president of the statewide Voluntary Organizations Active in Disasters - the new storm just complicated the situation. "It slowed down the response effort we were doing for the previous disaster," he said.
Widest tornado on record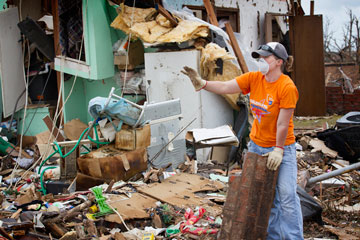 Mel Rogers clears tornado debris at a home in Moore, Okla. Rogers was part of a volunteer team working out of First United Methodist Church in Moore.
The El Reno tornado later was confirmed as the widest U.S. tornado on record.
The cycle of extreme weather, which drew national attention with the May 20 tornado that destroyed a good part of Moore and accounted for 24 storm-related deaths, has continued with torrential rains and flash floods. On June 5, the death toll from the May 31 tornadoes and subsequent flooding was estimated at 20 by The Associated Press.
"It wasn't just one tornado, it wasn't just one day and it wasn't just one area," noted the Rev. Jeremy Basset, the Oklahoma Conference's director of mission.
As a result, Oklahomans, generally accustomed to tornado season, are on edge. The Rev. David Wilson, superintendent of the United Methodist Oklahoma Indian Missionary Conference, is among the many who admit to being rattled even as he assists those whose homes were damaged or destroyed.
"Normally, we are used to this," he said. "But just because there have been so many... it's been very challenging for us to deal with."
Oklahoma's United Methodists are appreciative of support from the United Methodist Committee on Relief as well as the financial donations and prayers that have come from across the country and as far as Japan.
Busy with the relief efforts, D.A. Bennett said he's thankful to hear that other churches are praying for Oklahoma because "they're really praying in our place."
Relief efforts
As of June 4, 5,500 of the 6,600 relief cases registered with FEMA were in Cleveland County, where Moore is located, with the other cases scattered through four other counties. The final tally could range from 10,000 to 12,000 cases, Basset estimated.
A May 20, 2013, tornado killed 24 people and damaged thousands of homes in Moore, Okla.
Working with other community and faith-based groups, United Methodist are taking the lead in the Oklahoma tornado response. Already, the two state's conferences are:
Opening long-recovery offices at First United Methodist Church in Moore and St. Paul's United Methodist Church in Shawnee, which will coordinate aid to outlying areas.
Dispatching local teams for debris removal and, by June 10, having accommodations and transportation in place to receive out-of-state volunteer teams.
Participating in multi-agency resource centers that provide "stopgap" assistance to storm survivors.
Coordinating with FEMA and working with other volunteer organizations on donations management, volunteer placement, project management and spiritual care.
UMCOR visit
Greg Forrester, U.S. disaster response coordinator for UMCOR, joined conference officials early this week to survey the "unbelievable" damage.
A power outage at First United Methodist Church in Moore, courtesy of Friday's tornado, had not halted the response there.
Forrester watched newly hired staff of the conference's long-term recovery center, now based at the church, work with homeowners needing assistance and coordinate local cleanup teams. He helped load supplies shipped by UMCOR a week ago. "The bedding kits and cleaning buckets were going out the door," he reported.
He had discussions with Norman, Basset and Wilson about how UMCOR could collaborate with the two Oklahoma conferences, led by Bishop Robert Hayes Jr., for long-range recovery work.
The conferences plan to make a joint grant application to UMCOR, which is raising funds for this year's U.S. tornadoes. As of June 3, donations to the Oklahoma Conference's own "2013 May Tornado Relief" fund totaled nearly $283,000.
Moore has been in the spotlight because of the extent of devastation and the deaths of schoolchildren there, but some congregations also are aware of small rural communities that are hurting and may not have immediate access to services.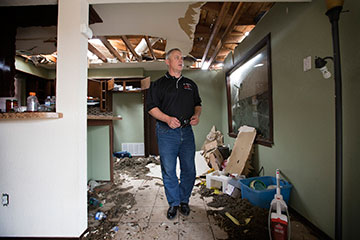 The Rev. D.A. Bennett surveys tornado damage at the home of parishioner Trent Steward in Moore, Okla.
On the west side of Oklahoma City, the Rev. Bob Younts, pastor of Yukon First United Methodist Church, is concerned about tornado damage in nearby Banner. "Most of the people lived in trailer homes, and they're just totally destroyed," he explained. "Many of them didn't have insurance."
A church member who teaches at the Banner school "put us in touch with a number of the families in that community who lost everything," Younts said. "We started sending teams out Sunday afternoon to clean up. People are responding with cash and with gift cards and that helps."
The tribal area of the Absentee Shawnee tribe also is very rural, but an estimated 20 to 25 homes were damaged or destroyed by the tornados. In past disasters, native people "often have been left out of the equation," Wilson noted.
The Oklahoma Indian Missionary Conference, experienced in disaster relief, is networking within the native community and making initial needs assessments. "Every day, I think we get a couple of new calls," he said.
In El Reno, it's taken a few days to get over the shock of Friday's massive tornado, said Barry Bennett, who also chairs the Oklahoma Conference's mission and service ministry team.
The multi-agency recovery center set up in the high school gym is playing a critical role in the aftermath. As Bennett visited the center June 4, "we were able to put some funding and supplies in the hands of families," he said.
But that's just the beginning of United Methodist participation in Oklahoma's recovery. "We will be here until the last shingle is laid," he predicted. "We will be here through to the end."
*Bloom is a United Methodist News Service multimedia reporter based in New York. Follow her at http://twitter.com/umcscribe.
News media contact: Linda Bloom, New York, (646) 369-3759 or [email protected].
---
Like what you're reading? Support the ministry of UM News! Your support ensures the latest denominational news, dynamic stories and informative articles will continue to connect our global community. Make a tax-deductible donation at ResourceUMC.org/GiveUMCom.