When one woman began offering free food from a simple wooden cart during COVID-19, she probably never imagined her small act of generosity would grow into a massive community-pantry movement in the Philippines.
"Inspired by the simple, seminal, yet noble, act of kindness started by Ana Patricia Non, this movement brings hope to the hopeless," said Cristina N. Manabat, Harris Memorial College president.
"This generates compassion and generosity," she added. "It inspires, empowers and transforms individuals, families, churches, organizations, groups and communities to do the same."
From Maginhawa Street, Quezon City, Non invited people to take as much food as they needed and to donate whatever they could.
"We see it as a timely response to the need of Filipinos, especially those who lost their jobs or means of livelihood, or whose earning capacity has been severely diminished because of the pandemic," said Liza A. Cortez, executive director of Asuncion A. Perez Memorial Center Inc., a ministry of the Philippines Central Conference.
Cortez noted the absence of immediate government assistance.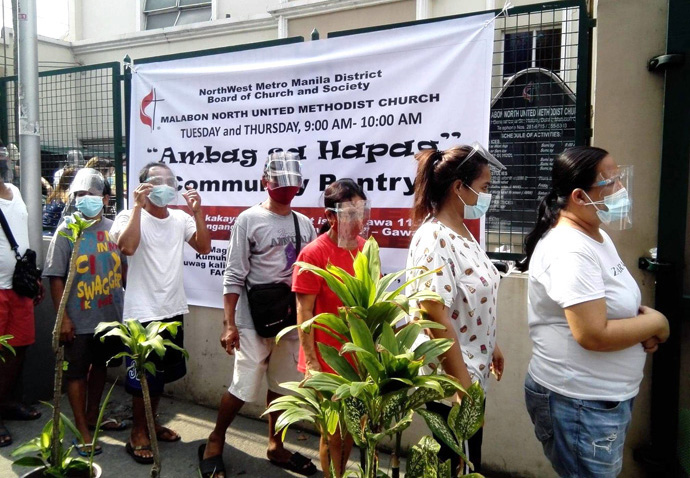 "In response to our faith, we need to attend to peoples' needs," Cortez said. "We started putting up (a pantry) in front of Central United Methodist Church in Manila to encourage the host church. Enormous support poured in." The center helped to build additional pantries around Manila, Quezon City, Laguna and Pampanga.
Darlene Marquez-Caramanzana, Asia-Pacific Area liaison for the United Methodist Board of Global Ministries, expressed appreciation for the community spirit of biblical compassion and solidarity. It "informs our theology and the way we do mission," she said.
She explained that the community pantry is a contemporary expression of bayanihan, or working together as a community to achieve a common goal.
Manabat also affirmed that this bayanihan spirit is alive, particularly during calamities.
"This simple act of kindness is rooted in the deep spirituality of the Filipino people who care for the commonweal of fellow Filipinos," she said, "in simple, yet very profound, ways."
As early as 4 a.m., many people, mostly women, came to Harris Memorial College to get their food for the day. More than 500 needy families benefited from the three-day community pantry.
Manabat believes the church is called to be a beacon of light and hope in uncertain times.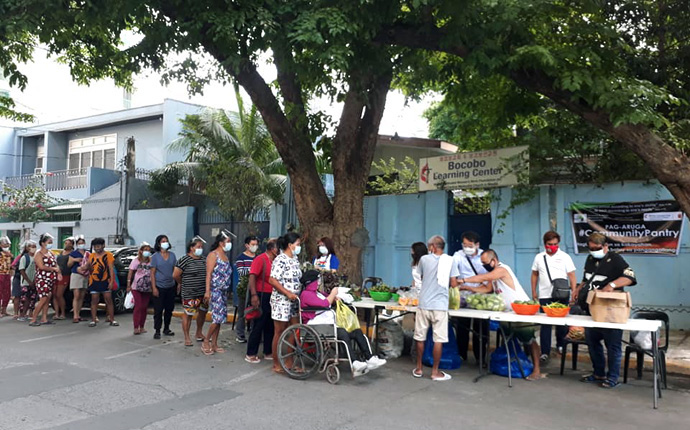 "Millions of Filipinos lost their jobs," she said. "Education has been very difficult and challenging for the students and the teachers. Cases of suicide and depression among young people are high and have been increasing. The poor majority of the Filipino people became poorer, while those who are well off have been struggling financially."
The Rev. Elijah G. Lorenzo, North East Nueva Ecija District superintendent, said several local churches, inspired especially by youth and young adults in his district, created community pantries.
"It is a shining opportunity," he said, "for us to … share the unchanging, eternal, lifesaving, life-giving word of God (with a) spiritually deficit world."
The Rev. Bryan M. Esmeria, Talabutab Norte United Methodist Church, said his congregation's outreach ministry also was adapted from the Maginhawa community pantry. Focusing on doing works of piety as well as preaching the gospel, he said, "When worship ends, service begins."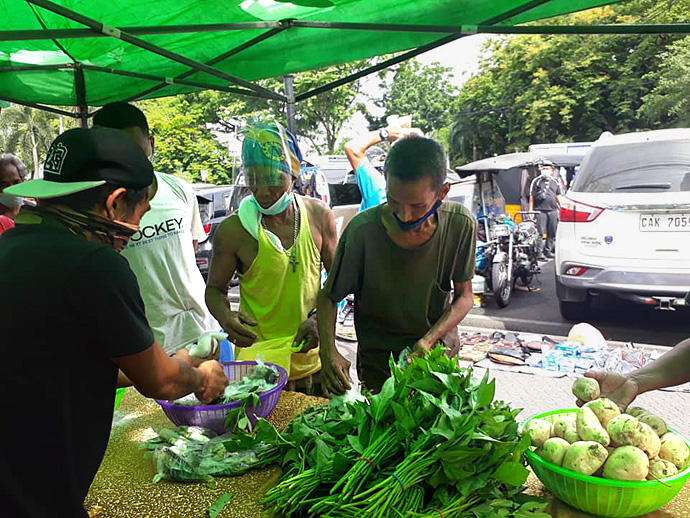 The Rev. Arnold Castillo, Bibiclat United Methodist Church, admitted he was moved to tears by two boys who were waiting in front of their Maginhawa-inspired community pantry one day.
"We were not able to set up because we ran out of food supplies," he said. "I asked the kids if they were there to get supplies." To his surprise, they said "No" and gave him two pieces of squash that they had harvested. The next day, they invited along a friend who donated sweet potatoes and eggplant.
"God touched the hearts of the community leaders, church members and friends," Castillo said, "and our pantry table has had more."
Cristina Antonio-Naraval, Middle Philippines auditor, loves delivering food supplies to people and communities beyond her annual conference.
Addressing food insecurity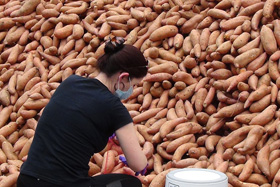 Volunteer Elyssa Bollinger packages gleaned sweet potatoes for distribution during a Society of St. Andrew "potato drop." Photo by Michael Binger, Society of St. Andrew.
Food-related ministries, a mainstay of United Methodist mission work, have provided a way for the church to respond to food access problems created by the coronavirus pandemic and the continuing economic effects of the crisis.
"It has been an overwhelming joy to help people in the communities," she said, "Giving is God's will, and I give for nothing in return." At the beginning of the 2020 lockdown, she brought food supplies to homes. Today she supplies vegetables, eggs and chicken to community food pantries.
The Rev. Ronnel G. Roque said the South Bulacan District and area communities pooled their resources. He is administrative pastor of Good Shepherd United Methodist Church, South Bulacan District. United Methodists and their neighbors handed out rice, spinach and other vegetables "right from their yard," he said.
Roque reflected on giving and living as a community.
"Giving is right when it is done voluntarily," he said. "Giving from the heart is part of worship that God approves.
"We need a community that supports and helps us," Roque added. "As a church, we need to be part of helping others for no other reason but the love of God. Through this, we can build a community of grace and love."
The Rev. Charles Jenkin Mendoza, board of church and society chair, NorthWest Metro Manila District, noted that Filipino people, despite scarcity in resources, can — and will — help.
"This community pantry," he said, "is a way for the churches to reconnect to communities, providing experiences where they can draw hope, joy, peace and love of God."
"In the midst of scarcity and tremendous crisis among our people," Marquez-Caramanzana said, "we are ready to carry each other's burden and be in solidarity with those who need resources the most.
"In the end," she continued, "it's still the people — that sense of being a community — that will save people from hunger."
Mangiduyos is a communicator from the Philippines.

News media contact: Julie Dwyer, [email protected]. To read more United Methodist news, subscribe to the free Daily or Weekly Digests.
---
Like what you're reading? Support the ministry of UM News! Your support ensures the latest denominational news, dynamic stories and informative articles will continue to connect our global community. Make a tax-deductible donation at ResourceUMC.org/GiveUMCom.