In rural Zimbabwe, farm-based communities are often associated with high illiteracy, early marriages, alcohol abuse and increased HIV prevalence.
To combat some of those problems, The United Methodist Church has helped to establish and support churches on two farms in the region.
The owners of Pagejo Rarubi Farm in Harare East District and Brooklands Farm in Mutasa Nyanga District have planted preaching points on their properties.
"My husband (retired Army General Happyton Bonyongwe) and I always wanted land to call ours," said Willia Bonyongwe. "We saved up enough money, spent almost two years looking for a farm and got one about 8 kilometers from Old Mutare Mission."
She said as devout United Methodists, they would attend services and revivals at Old Mutare Mission or Inner City Mutare circuits. "That meant taking our family and leaving the farm workers to the farm life of voodoo (rituals) and other denominations," she said.
"As our farm grew into a full commercial enterprise, we employed more than 500 workers and had a population of 1,500 people on the farm. We could not ignore the duty to share the Gospel with them. We started with monthly all-night prayers inviting speakers from all over The United Methodist Church family."
Zimbabwe Area Bishop Eben K. Nhiwatiwa said taking the Gospel to farms is in harmony with the denomination's mission.
"(The farm churches) came up as a result of a convergence of interest between the owners and the interest of the church collectively. The owners of these farms are our United Methodist Church members, and by establishing churches at their farms, they are indeed evangelists in their own right."
The Rev. Tiriwanhu Stephen Magomo is the first pastor at Brooklands Farm. He was appointed in 1999. "Then, there were only two members," he said. "The church has grown with a total of 600 people being baptized and 40 confirmed since then."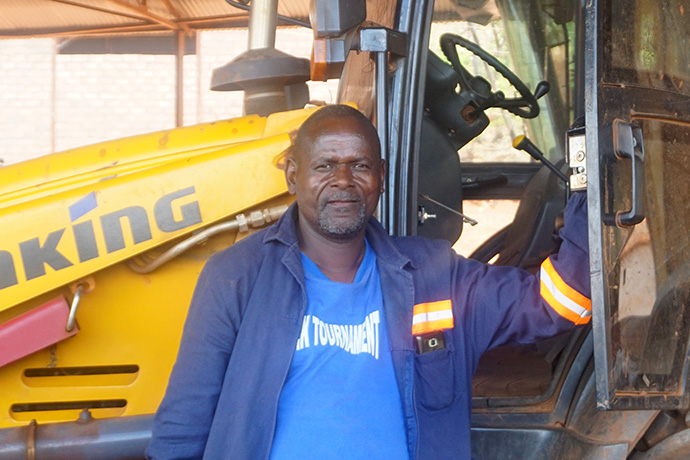 He said the United Methodist farm owners felt guilty to know God while their workers were unaware of the goodness of the Lord.
"People were physically abusing each other and killing one another. They had no formal marriages but would exchange wives. There were high divorce rates, high prevalence rates of HIV and AIDS and sexually transmitted infections. Children were not going to school and there were early marriages. The farm was a rendezvous for voodoo religion."
He said he began door-to-door evangelism to preach the word of God.
"Demons were cast out and some would testify all the ills they were doing. Through that, weddings were held, the cults disappeared, children started to go to school and there was a complete overhaul in the transformation of lives."
Elasto Musakanda, headmaster for the primary school on Pagejo Rarubi Farm, said the church — established in 2005 — has been paying school fees for 20 pupils annually since 2007. Members also have provided uniforms and school supplies.
"These have improved the transition rate from early childhood development up to grade 7, and the dropout due to early marriage has dropped," he said.
Church leaders and members follow up with students to provide counseling and assess school performances. Tadiwa Muzarabani, 14, one of the church's scholarship beneficiaries, scored near the top of his class in 2019 because of the efforts of the church, Musakanda said.
The boy's mother passed away and his father is in prison. "I was staying with my young father's brother and the church would come, pray and counsel me. I used to open up to them and this helped me to achieve these good results," Tadiwa said.
Malvern Kunjuta, 12, who is in grade 6, is grateful for the church's support. "My father used to fail to pay for my school fees, but I would continue to go to church. While there, I became one of the church scholarship beneficiaries. Since then, my problems have disappeared."
Subscribe to our
e-newsletter
Like what you're reading and want to see more? Sign up for our free daily and weekly digests of important news and events in the life of The United Methodist Church.
Georgiana Musendo, teacher in charge at Pagejo Rarubi Primary School, said most beneficiaries are poor, orphaned or from child-headed families.
"We are grateful for the intervention of the church and we are witnessing positive results in class, in the society and at church," she said.
Chipo Mapiye, the acting headmaster for Pagejo Rarubi Secondary School, said the main challenge facing the school has been early marriages.
"Annually, we lose about three to four girls to early marriages," she said, adding that many pupils from surrounding farms also drop out because they can't pay school fees.
The owners of Pagejo Rarubi Farm, Ray and Patricia Kaukonde, pay the fees for children whose parents work at the farm.
"As they help us with labor in our farm activities," said Patricia Kaukonde, "we feel obliged to subsidize their education. This will motivate them. As Christians, we are one body with different parts; hence, we should live as brothers and sisters."
Vusumuzi Ndlovu 52, a construction supervisor and machine operator at Pagejo Rarubi Farm, shared how the church has transformed his life.
"I used to drink beer, and at one time, I became very sick and was hospitalized," he said, adding that Patricia Kaukonde and an evangelist visited and prayed with him.
"They asked me to join The United Methodist Church. From that time, I stopped beer and joined (the church) in 2007 together with my family. Since then, I have witnessed the grace of God. I have (married) and am now a full member of (the church's) men's organization."
He said his children are excelling in school, including a daughter who is pursuing a rural and urban planning degree at the University of Zimbabwe "wholly sponsored by Ray and Patricia."
Aquilina Makurunje, sister in charge at Pagejo Rarubi Farm Clinic, noted changes to the farm since the establishment of the church.
"When the clinic opened in 2008, the HIV prevalence rate was 10 percent, but has since dropped to 5 percent. There are a number of contributing factors, which include intensified health education from the clinic and evangelism from the church. Both changed the behavior of the community. They now have formal marriages, respect for each other and are being tested before treatment," she said.
Tsawayo Taurai, vice lay leader at Pagejo Rarubi Preaching Point and teacher at Pagejo Rarubi Primary School, said the church now has a pastor, the Rev. Winnet Mupara, who resides at the farm. In the past, a pastor had been traveling from the Chisipiti Circuit.
"The farm owners support our needs at the church and life in general, which has enabled our lives to be much easier," Taurai said. "We appreciate all the collective efforts … Those who are willing have transformed physically, spiritually, socially and morally to the glory of God."
Chingwe is a communicator for the Zimbabwe East Conference.
News media contact: Julie Dwyer, [email protected] or 615-742-5489. To read more United Methodist news, subscribe to the free Daily or Weekly Digests.
---
Like what you're reading? Support the ministry of UM News! Your support ensures the latest denominational news, dynamic stories and informative articles will continue to connect our global community. Make a tax-deductible donation at ResourceUMC.org/GiveUMCom.