---
Key points:
Sharing from their abundance, the Mukandis of Chisipiti United Methodist Church give clothing and food baskets to people from six congregations.
"Through this Christmas party," said Faith Siyakurima, "we have managed to fellowship together, console each other, and shake off stress as we dance, mingle and socialize."
A lay leader said, "Many people have joined The United Methodist Church because of the giving from the Mukandi family."
---
With joy and jubilation, the Mutoko East 2 United Methodist women's organization received an early Christmas surprise from the Mukandi family.
During the Nov. 27 festivities at Bwanya United Methodist Church, the family thanked God for protection and healing from COVID-19 and shared their joy with 250 United Methodists from six local churches. Each member of the women's group Rukwadzano RweWadzimani received church clothing, lunch and a food basket.
Charity, Elison and Christwish Mukandi distributed the goodies.
"My name affirms, strengthens and resonates with what I do," Charity Mukandi said. "But I believe it all started in the Bible. God pricelessly gave us his son to die for our sins, so when God blesses us, we also plow back to the community.
"It is our hope," she added, "that as we give, someone will be inspired and reciprocate. Love is not love until you give it away. As a family, we have a lot to be thankful for and share our joy."
When Charity's mother was hospitalized in intensive care with COVID-19, Charity asked the Mutoko Mudzi District to join her in prayer for healing.
"God was faithful," Charity Mukandi said. "He answered our prayers, and she is alive. I have every reason to thank him and celebrate our joy with others."
She noted that the family's company, Bokwest Investments, was not affected during the pandemic, and none of the 85 employees succumbed to COVID-19.
"For this reason and more," Charity Mukandi said, "we agreed to give 70% of our profit to charity. We have completed the Bwanya sanctuary, the parsonage is under construction and we have started another sanctuary in Chitungwiza Marondera District.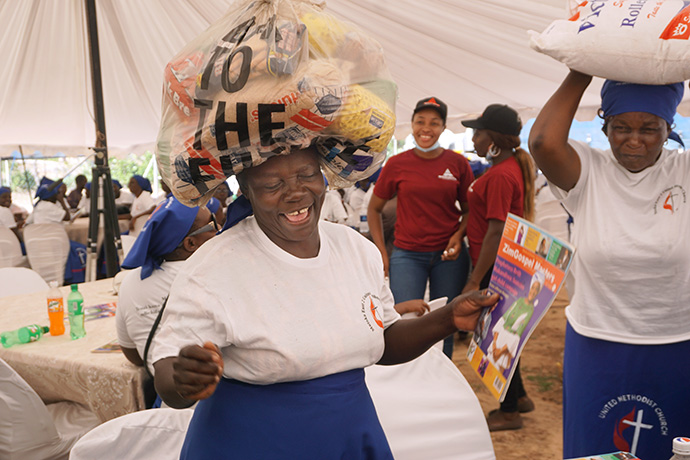 Some of the company's employees accompanied the family during the distributions.
"You give, not because you have, but because you have a willing heart," said Elison Mukandi, Charity's husband. "Giving is inborn for me, and luckily, I married a giving wife. Both of us came from a humble background.
"We are what we are today because of other people and hope to continue to contribute to others. Putting a smile on someone's face brings joy to me."
The couple is nurturing a seed of giving in their children, who also helped with the distribution. "We pray that the legacy will live forever," Elison Mukandi said. "We are stewards of God's resources. Life is about sharing."
Christwish Mukandi, the couple's second child, said: "There is greater joy in giving than in receiving. I attribute this to teachings from my parents."
The Rev. Agasha Siyakurima, pastor-in-charge of Mutoko East 2 United Methodist Church, expressed gratitude. "Here, in rural areas," he said, "people can lack even salt. Such a program restores the faith of members in prayer.
"Giving is a sermon on its own and can be a vehicle to win souls to Christ because here all were given indiscriminately. The first thing was to remove barriers, and everyone was given new clothes."
Through giving, Siyakurima said, people share God's word. As people became sick with COVID-19 and lost loved ones to the virus, they often had no one to console them. Some became bitter.
"Many were suffering quietly without being able to seek counseling," he said. "The coming together of different local churches created a platform to socialize and unite as one family. This strengthened the circuit."
Faith Siyakurima, who chairs Rukwadzano RweWadzimai, explained that women often bear the load of meeting household challenges.
"We thank God for being remembered," she said. "This generous giving of grocery items has reduced that burden. Through this Christmas party, we have managed to fellowship together, console each other, and shake off stress as we dance, mingle and socialize. More so, everyone was branded the same by the outfits given."
Higgs Shambira, Mutoko East 2 United Methodist Church lay leader, said the Mukandi family has a history of giving generously.
"Such type of giving," he said, "makes people love God more. Many people have joined The United Methodist Church because of the giving from the Mukandi family.
"Due to the impact of COVID-19 and the harsh economy climate," Shambira said, "no one had the resources to prepare for Christmas."
Many communities and church members had doubts about their ability to celebrate Christmas this season, said Rosah Chapakama, women's organization advisor.
"Mary never expected to give birth to Jesus Christ, but it happened. God is faithful, and here we are today," she said.
Cathrine Chiripanyanga, 78, from Tibu village, was thrilled with the food baskets.
"This is a sermon on its own," she said. "We had not prepared anything for Christmas. What is important was life. COVID-19 destroyed our culture of celebrating events."
"The sermon was very powerful," said Bwanya village head Zvikomborero Muchemwa.
"This is a celebration after a sorrowful journey as many people passed on due to COVID-19. God saved us; hence, this celebration."
Theresa Mashero, a women's group member, said, "Blessed is the hand that gives, rather than receives. Blessed are those who give to their neighbors. (Blessed are) those who, when asked for a plate of meal, will give without demanding it back.
"Some people curse widows and single mothers, but the Mukandi family loves and encompasses everyone. May God bless them."
Beneficiary Theodora Nyikayaramba said it is a blessing to wear something new.
"It is like a wedding day," she said.
Virginia Chabvamuperu, a Chatiza local church member, said, "I came thinking there is a revival, not knowing that there is a revival of giving.
"I am very happy with what I have received. My heart has been revived spiritually, socially and physically."
Chingwe is a communicator for the Zimbabwe East Conference.
News media contact: Julie Dwyer at
[email protected]
. To read more United Methodist news,
subscribe to the free Daily or Weekly Digests
.
---
Like what you're reading? Support the ministry of UM News! Your support ensures the latest denominational news, dynamic stories and informative articles will continue to connect our global community. Make a tax-deductible donation at ResourceUMC.org/GiveUMCom.