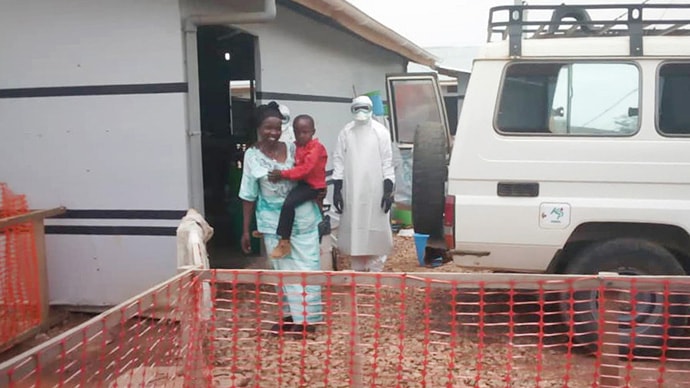 While Ebola cases have decreased in eastern Congo in recent weeks, families are still feeling the pain inflicted by the epidemic. For some survivors, including United Methodists, reintegrating into the community has been hard.
Since the outbreak began in August 2018, more than 3,000 Ebola cases have been confirmed and more than 2,100 people have died, according to the World Health Organization. That includes at least 12 United Methodists, according to Dr. Damas Lushima, general coordinator of health for the East Congo Episcopal Area.
This is the 10th Ebola outbreak in the country and the second largest ever recorded, surpassed only by the 2014-16 West Africa outbreak that killed more than 11,000 people.
Mummy Muhindo, a mother of five, has struggled since her husband, Kazimirif Muhindo, died of Ebola. The family attends Mangango United Methodist Church in Mangango village, which is about 35 miles from Beni.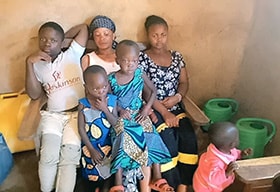 Mummy Muhindo lost her husband, United Methodist evangelist Kazimirif Muhindo, to Ebola. The mother of five said she has had difficulty coping on her own after her husband's death. Photo by Nathanaël Mussa.
"It's not easy since my husband left us following this monstrous epidemic. Taking care of children is not easy. Everything in my life is getting complicated. I do the fields alone. I am helped by some people from our local church," she said.
The Ulangi family feared their 6-year-old had Ebola in February.
Emile Ulangi and his family attend Jerusalem United Methodist Church in the Kivu Conference. Their 6-year-old son, David, was taken to a transit center in Beni with symptoms of Ebola.
"During the whole period spent in this transit, we could not have physical contact with our child. We imagined how hard it was for him to get through that moment. It hasn't been easy for us," Ulangi said.
He said by the glory of God, after a few days at the center, David's tests were negative for Ebola. But in his home community, things have still been difficult.
"At school, his friends no longer wanted to stay next to him…. Everyone was running away from him. His friends marginalized him," Ulangi said, adding that friends feared David would infect them.
"Even the friends of the family didn't want to come near us anymore. Everyone had to be afraid of us. … Relatives were running away from us. It wasn't easy at all."
David's mother, Masika Bahati Nehema, said the disease traumatized her whole family.
"Since Ebola has a high percentage of killing a patient, we were afraid and thought we were going to lose our son. My husband was traumatized," said Nehema, adding that Ulangi's blood pressure was abnormally high throughout the incident.
Nathanaël Moussa, pastor at Jerusalem United Methodist Church, said he was afraid of Ebola and had some friends who died from the virus.
"I was most afraid when my grandmother caught Ebola," he said.
His grandmother, Bernadette Kavira, was cured of Ebola two months ago and returned to live with her family, Moussa said.
The United Methodist Church continues to work to combat the stigmatization of survivors of Ebola. In Beni, pastors remind the faithful that people who have survived the disease are not a danger.
Moussa said he and evangelists in his area preach about not stigmatizing people who have recovered from Ebola.
"The Bible in the book of 1 John 4:7-8 recommends that we love each other. We remind the faithful that stigmatizing survivors of Ebola disease is not a good thing," he said.
As for young David, Ulangi said he is doing well and his situation has improved at school.
Ulangi and Nehema now are raising awareness among local communities about the dangers of the disease and measures to prevent its spread.
According to Lushima, the security situation in the Beni and Ituri region, where the epicenter of the Ebola epidemic is located, is a major factor in the outbreak.
"The fight against Ebola is taking place as armed groups swarm in the region. This situation does not facilitate disease control," Lushima said.
On Nov. 2, a Congolese journalist involved in the fight against Ebola was killed by armed men, according to authorities.
Papy Mahamba Mumbere, 35, who hosted an Ebola program on Radio Lwemba, was killed at his home in the Ituri province.
Journalists at the community radio station where Mumbere worked said they have been in hiding because of death threats they received from Mai-Mai fighters.
East Congo Area Bishop Gabriel Yemba Unda condemned the murder. "It is not normal for an agent voluntarily involved in the fight against Ebola virus disease to be murdered," he said.
The United Methodist bishop called on all Congolese to focus on the epidemic.
Subscribe to our
e-newsletter
Like what you're reading and want to see more? Sign up for our free daily and weekly digests of important news and events in the life of The United Methodist Church.
"I call on all actors involved in the fight against Ebola to redouble their efforts to stop the spread of the virus. While remaining vigilant, they should not be intimidated by intimidation," he said.
"The fight against Ebola must be everyone's business. I also call on all my colleagues responsible for religious denominations to follow in the footsteps of The United Methodist Church in the fight to protect our faithful," he said.
On Oct. 31, health authorities noted a decrease in Ebola cases. "In recent weeks, there has been a significant reduction in cases from 100 per week around July to around 20," said Steve Ahuka, general coordinator of the response to the Ebola epidemic in Congo, in a statement.
The World Health Organization confirmed the downward trend in its most recent report, but said there is notable daily fluctuation of cases. There were 15 confirmed cases reported Oct. 30-Nov. 5. At peak transmission in April 2019, there were 126 cases in a week, according to WHO.

Londe is a communicator for the East Congo Conference. News media contact: Vicki Brown at (615) 742-5470 or [email protected]. To read more United Methodist news, subscribe to the free Daily or Weekly Digests.