The Rev. Stan Copeland strongly favors the One Church Plan, which would give United Methodist churches and pastors in the U.S. leeway on such currently banned practices as hosting and performing same-sex weddings.
But one part of the plan doesn't thrill Copeland: A congregation must have a majority vote in favor of hosting same-sex weddings before holding one on church property.
Copeland would rather the pastor and other local church leaders make that call.
"Any time we have a (congregational) vote it's potentially divisive," said Copeland, longtime pastor of Dallas' Lovers Lane United Methodist Church.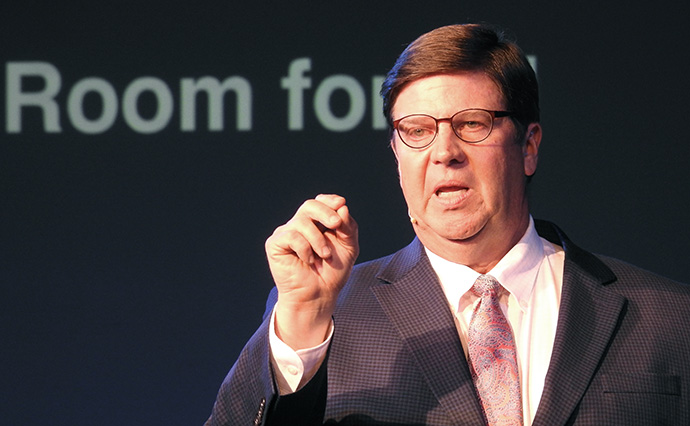 The special called session of General Conference, set for Feb. 23-26, 2019, in St. Louis, will likely consider three plans for helping The United Methodist Church cope with the decades-old conflict over homosexuality that has worsened and threatens to break up the denomination.
The One Church, Traditional and Connectional Conference plans all hold the potential for wrenching votes by congregations and conferences.
Dave Nuckols was a member of the Commission on a Way Forward that worked with the Council of Bishops in coming up with the plans. He recalls the input he and other commission members got from pastors and other local church leaders.
"The voting is a big deal," Nuckols said.
Others aren't sure that's the case now, as the special General Conference looms.
Michigan Area Bishop David Bard has been having town hall meetings to explain the plans, and he's been surprised at how little talk there's been about the potential for local votes.
Philadelphia Area Bishop Peggy Johnson has had the same experience, with One Church a modest exception.
"One of the criticisms of the One Church Plan I've heard is that it brings the argument (about homosexuality) down lower, and it makes the local churches have to grapple with that," she said.
The One Church Plan drew a majority recommendation from the Council of Bishops and has gotten much of the attention in town hall meetings.
Backers have stressed that the plan would allow for more "contextualization" but would not require any local church votes.
While that's true, no church could have a same-sex union without the congregation voting in favor by a simple majority.
Nuckols said the commission, in crafting legislation, sought to reassure "center right" U.S. congregations.
"We want to make it explicit that they're welcome and that things aren't going to happen to them (without a congregational vote)," he said.
The Rev. Dan Johnson thinks support for One Church is strong in the Minnesota Conference's Twin Cities District, where he is superintendent.
But he also detects concern about congregations having to give their OK to same-sex weddings on church property.
"I think most clergy would say churchwide votes on this issue are unnecessarily divisive," Johnson said.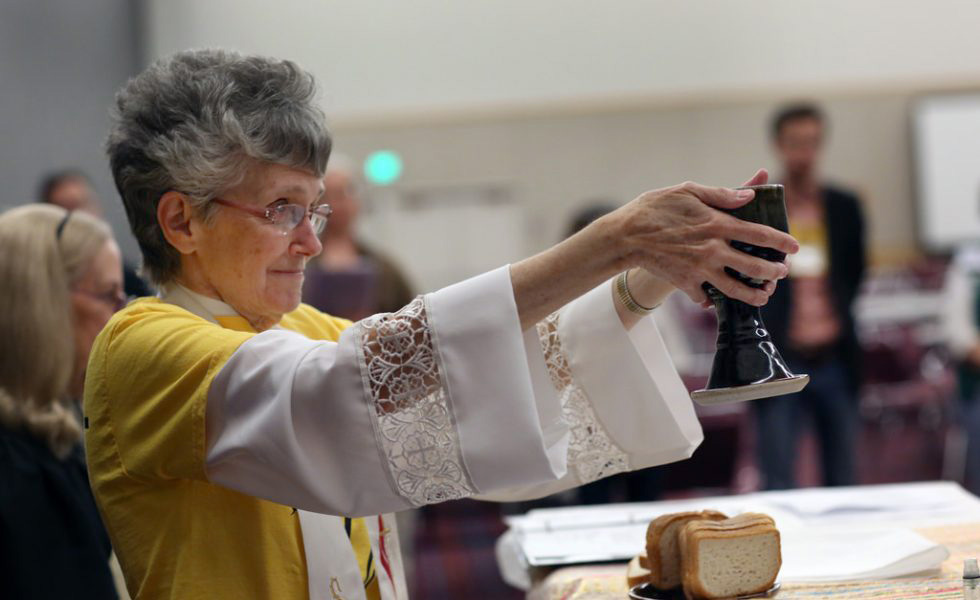 The denomination's Judicial Council meets Oct. 23-26 to consider the constitutionality of the plans, and some United Methodists have already challenged the congregational vote on same-sex unions as encroaching on a pastor's right to decide what services can be held at the church.
The One Church Plan also would allow a bishop to ask the non-binding advice of an annual conference session on ordination standards tied to human sexuality. While the plan opens the way to LGBTQ people getting ordained, an annual conference clergy session could thwart that by approving restrictive language — another opportunity for conflict over a vote.
The Traditional Plan would keep the ban on churches and clergy hosting and officiating same-sex unions, continue to prevent the ordination of gay clergy and toughen enforcement against violations, which have been widespread in some conferences.
Every conference would have to vote on whether it is prepared to uphold fully those church law provisions, and if it is unwilling, it would be pushed to withdraw from The United Methodist Church and form another, self-governing Methodist group.
The Traditional Plan would let an annual conference leave by a simple majority vote to do so.
Local churches in a departing conference could elect to stay in The United Methodist Church, again by a simple majority vote.
And local churches that support same-sex marriage, but are in a conference that chooses to uphold the current Discipline, could vote to leave The United Methodist Church and join a like-minded group. That vote would have to be by 55 percent.
Under the Traditional Plan, any group of 50 or more churches could vote to leave and form a self-governing group, though each would have to pay its share of their conference's unfunded pension liability.
Advocates stress the Traditional Plan's "gracious" character, an effort to avoid court fights over property and other assets.
"It provides a way for those who cannot live together to go their separate ways with blessing, allowing both to pursue ministry in faithfulness to their consciences without coercion," wrote the Rev. Thomas Lambrecht, a Commission on the Way Forward member, in a column for Good News Magazine.
But the constitutionality of this plan too is under challenge, with Thomas Starnes, representing a group of conference chancellors, arguing in a brief that it's outside the "call" for the special General Conference. Alaska Conference layman Lonnie Brooks takes aims at the plan, including the idea that a conference can vote to go.
"An annual conference, as provided in the Constitution as a matter of its creation, may not discontinue or dissolve itself, which would be the full effect of its withdrawal from the Church for any purpose," Brooks wrote in a brief.
Assuming the Traditional Plan survives constitutional scrutiny and passes at the special General Conference, there will be lots of churchwide votes in the Northeastern Jurisdiction, predicts the Rev. Tom Lank.
"Some folks who have been able to get by uncomfortably in the situation we have now are going to be forced to make a decision they didn't really want to make," said Lank, a General Conference delegate from the Greater New Jersey Conference. "You're going to see more churches in liberal or progressive areas having votes to leave the denomination."
The Connectional Conference Plan would eliminate the five U.S. jurisdictions, which are geographical and include the annual conferences within the jurisdictional boundaries. There would instead be three connectional conferences — progressive, unity, traditional — based on theology, including as it applies to ministry with LGBT persons.
Voting opportunities abound in this plan, beginning with jurisdictions deciding by a simple majority which connectional conference to join. Central conferences — church regions in Africa, Europe and the Philippines — could become their own connectional conference or choose to align with a U.S. connectional conference.
Annual conferences that aren't happy with their parent group's decision could vote to join another connectional conference.
And if a local church disagrees with its annual conference's alignment, it too could vote to join a different connectional conference.
The Arkansas Conference's Bishop Gary Mueller noted recently that under this plan "three United Methodist churches in close proximity to each other might all be part of different annual conferences."
The Rev. Tim Overton-Harris worries about the traditional-minded rural churches of the Oregon-Idaho Conference's Cascadia District, where he is superintendent. Those churches have found connection with other United Methodist churches in the area, even if they don't agree on homosexuality, he said.
Overton-Harris wonders whether those traditional churches, some quite isolated geographically, will find any degree of United Methodist connectionalism if they're part of another conference.
"How are they going to be able to do that if they're an hour and a half from anybody (in their new conference), three hours from an airport, days away from being able to be with folks who have that similar (theological) understanding?" he said.
But Overton-Harris also questions the idea that church votes are likely to be divisive.
"By and large, churches would already know what the vote (result) is going to be," he said.
Lisa Maupin, a Great Plains Conference delegate to General Conference, believes the large crowds at town hall meetings about the plans means many United Methodists understand it is time for hard decisions.
The challenge now, she believes, is to inform and support them.
"You have to think about how to love people through that process," Maupin said.
Hodges is a Dallas-based writer for United Methodist News Service. Contact him at 615-742-5470 or [email protected]. To read more United Methodist news, subscribe to the free Daily or Weekly Digests.
---
Like what you're reading? Support the ministry of UM News! Your support ensures the latest denominational news, dynamic stories and informative articles will continue to connect our global community. Make a tax-deductible donation at ResourceUMC.org/GiveUMCom.