For a United Methodist deacon, the Rev. Mike Friedrich has a whole bunch of crime and violence in his past. That includes Thanos, the world-destroying villain in Marvel Comics and movies.

Friedrich also mysteriously pops up at the occasional Hollywood film premiere. And then there are those unexpected royalty checks in his mailbox from time to time.

"I'm an emerging ministries specialist for the Bay District of the California-Nevada Conference," Friedrich said in an interview with UM News.

"I'm the one dealing with all the redevelopment ideas," he said. "I'm in a district, which is a really urban district, so I'm dealing with what it means for churches to exist in an urban environment."

But lately, Friedrich is getting attention again for his first career, launched as a teenager.

On July 19 in San Diego, Friedrich will receive the Bill Finger Award for Excellence in Comic Book Writing at the Will Eisner Comic Industry Awards 2019, held at Comic-Con International. The award honors writers who have thus far not received their rightful reward or recognition.

Friedrich wrote stories for both DC and Marvel Comics as a young man, collaborating with illustrators weaving stories about Batman, Robin, The Flash, Green Lantern, Iron Man, Ant-Man, Captain Marvel and others.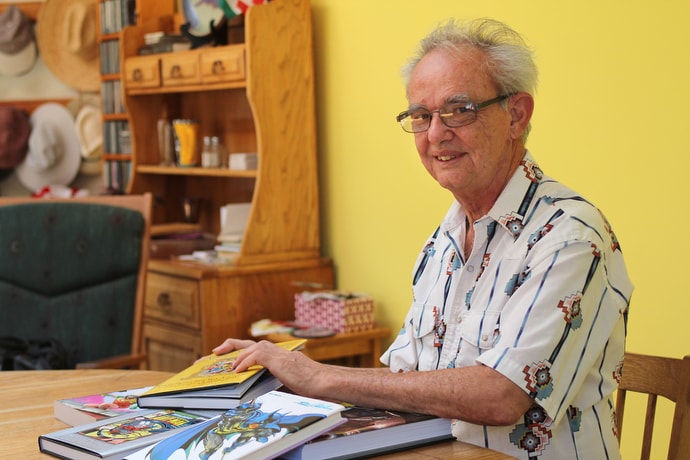 While attending Santa Clara University, Friedrich wrote "Robin the Teen Wonder" stories set at college, incorporating his college experiences.

"We had a suicide prevention hotline at school, and Mike had Dick Grayson (Robin's real life identity) volunteering for the hotline," said Joe Ferrara, a friend of Friedrich's from college. "(Mike) put himself through college by writing comic books, which is pretty amazing."

While writing for Iron Man, Friedrich collaborated with his roommate, Jim Starlin, who was looking for his first break in the business.

"He had these characters he had created and … we did a story together that introduced Thanos and Drax the Destroyer," Friedrich said.

Thanos has been a villain in at least five Marvel Comics' films, in four played by actor Josh Brolin. The most recent was the blockbuster "Avengers: Endgame" this year, which as of June 19 had a box-office take of $2.7 billion worldwide.

"My name is listed as the writer on the very first stories of those characters, and that's why I get invited to movie premieres now," Friedrich said. "It's where I shake my head and say, 'Life is strange.'" He also gets a "small check" for royalties every time Thanos or Drax the Destroyer is featured in a film.

Friedrich got started in the comic book business at 17, by writing letters to the editor of his favorite comic books. That generated a relationship with legendary DC Comics editor Julius Schwartz. By the time Friedrich was 18, he sold Schwartz a script about Robin.

"I was enthusiastic and loved the characters and loved being able to tell stories about these characters," Friedrich said.

Adults didn't speak publicly about their love of comic books then, Friedrich said.

"It was still kind of embarrassing at that point because it was still treated as a kid's medium," he said.

"Now of course, I say it and people get totally fascinated by it."

Besides the Iron Man-Thanos comic books, his own favorite story features Batman.

"(It) was a very short Batman story set at Christmas time that actually has a very spiritual underpinning to it," Friedrich said.

In the story, Batman gets Christmas off because there is for once no crime to fight in Gotham City.

"It's the idea that everything is cool on Christmas because of the Christmas spirit of Batman," he said.

After eight years writing comics, Friedrich became a leader in the emerging field of independently produced comic books with his Star*Reach series, which expanded to other successful titles in the 1970s. Star*Reach was closed down as a publisher in 1979, and Friedrich opened a talent agency of the same name for comic book illustrators and designers. He also did some lobbying work for the Graphic Artists Guild.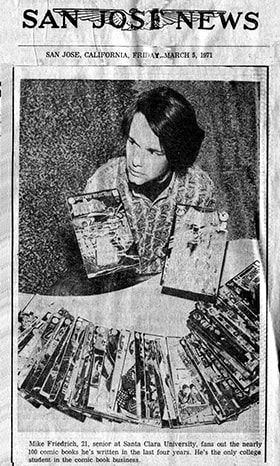 Comic book writer Mike Friedrich, now a United Methodist deacon, was featured in the San Jose News early in his career. As a college student, he wrote stories for Robin the Teen Wonder set during the superhero's college years. Photo courtesy of Mike Friedrich.

Some go so far as to say Friedrich "saved" the comic book business by showing that it was possible to successfully market directly to comic book stores rather than newsstands.

"Mike Friedrich started independent comics before the big boom of the 1980s," said Alex Grand, co-host of the Comic Book Historians podcast.

Other independent publishers copied his business model.

"This commerce saved the industry from financial collapse and helped bring financial prosperity for artist creators that has rarely been seen since," Grand said.

As an agent, Friedrich was also a pioneer in securing copyrights for comic book writers and illustrators, and improving their pay scale.

"Mike was a visionary," said Ferrara, who now owns the prominent comic book store Atlantis Fantasyworld in Santa Cruz, California. "He was always figuring out new ways to approach this business."

Friedrich and four partners launched WonderCon in 1987 and operated the annual pop culture event in San Francisco until 2001, when it was sold to Comic-Con International.

After leaving the comic book business, Friedrich parlayed his Graphic Artists Guild union work into a job with the University Technical and Professional Employees union, doing training and lobbying work on behalf of research scientists and technicians at the University of California-Berkeley.

"I always made a reference to the comic I wrote for DC Comics called '"The Justice League of America,' where all the superheroes work together to battle whoever they were battling," Friedrich said. "You're forming your own Justice League, you see?"

Brought up a Roman Catholic, Friedrich was interested enough in religion to minor in religious studies while attending Santa Clara University, a Jesuit school.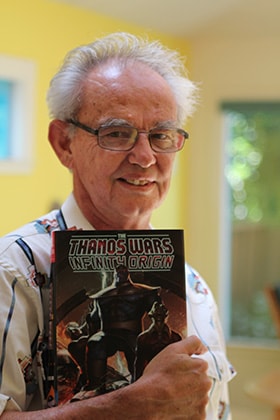 United Methodist deacon Mike Friedrich displays a comic book featuring the Marvel Comics villain Thanos. Friedrich wrote the first stories for the character, created by his roommate Jim Starlin. Photo by Spud Hilton.

"I never had a desire to go into ministry," he said. "It was just fascinating to me that I know there is this connection that we call divine between all of us, and between us and everything else. And I like exploring what that means."

Attending the seminary graduation of a friend at a United Methodist church, Friedrich had a breakthrough.

"I walked into this church with 300 totally happy people in it," he said. "The band strikes up the Mark Miller version of 'O for a Thousand Tongues to Sing,' and … I found myself just saying, 'I've got to be part of this.'"

At first, Friedrich said he "had no idea" what that meant, except that he wanted to be part of a larger community.

"What it turned out to mean was a call to retire from my job, go to (Pacific School of Religion) and become an ordained deacon in the Methodist Church," he said. "I still to this day have no clue where that call came from. I've described it to my longtime domestic partner since then as 'Walking backwards toward God.'"

Mountain Sky Area Bishop Karen Oliveto was one of Friedrich's professors at Pacific School of Religion.

"Mike was an engaged student who loved the Wesleyan understanding of personal piety and social holiness," Oliveto said. "He sought to embody this as completely as possible in his life and ministry. When one looks at his body of work in the comic industry, one sees this strand throughout. Mike's characters, when they lived out their most authentic selves, increased justice in the world. Mike does the same in his own life!"

Friedrich has always been "an action-oriented guy," said the Rev. Michael Yoshii, pastor of Buena Vista United Methodist in Alameda, California, who is a friend.

"His entrance into ministry and coming into the Methodist Church gave him spiritual grounding in what he was doing," Yoshii said. "So now he is both an action-oriented person but also a reflective person as well, reflecting on the bigger picture of things."

The need for God arises from the same impulse that makes superheroes popular, Friedrich said.

"I think superhero characters address the same concerns that religion addresses," Friedrich said. "I think that the desire for a better world is expressed in superhero stories in the same way that there's a desire for a better world in any organized religion, including our own."

"I think the Methodists have a lot to offer in that context."

Patterson is a United Methodist News Service reporter in Nashville, Tennessee. Contact him at 615-742-5470 or

[email protected]

. To read more United Methodist news, subscribe to the free Daily or Weekly Digests.