Editor's note: This is the first of three commentaries about life as a gay United Methodist.
One of the many difficult things about being gay is the stress of being talked about behind your back. It usually starts in the family in the form of whispers and suspicious gazes. You sense being the topic of disapproving, secret conversations. In some families — including mine — this continues even after the person has come out and offered the possibility of healthy dialogue.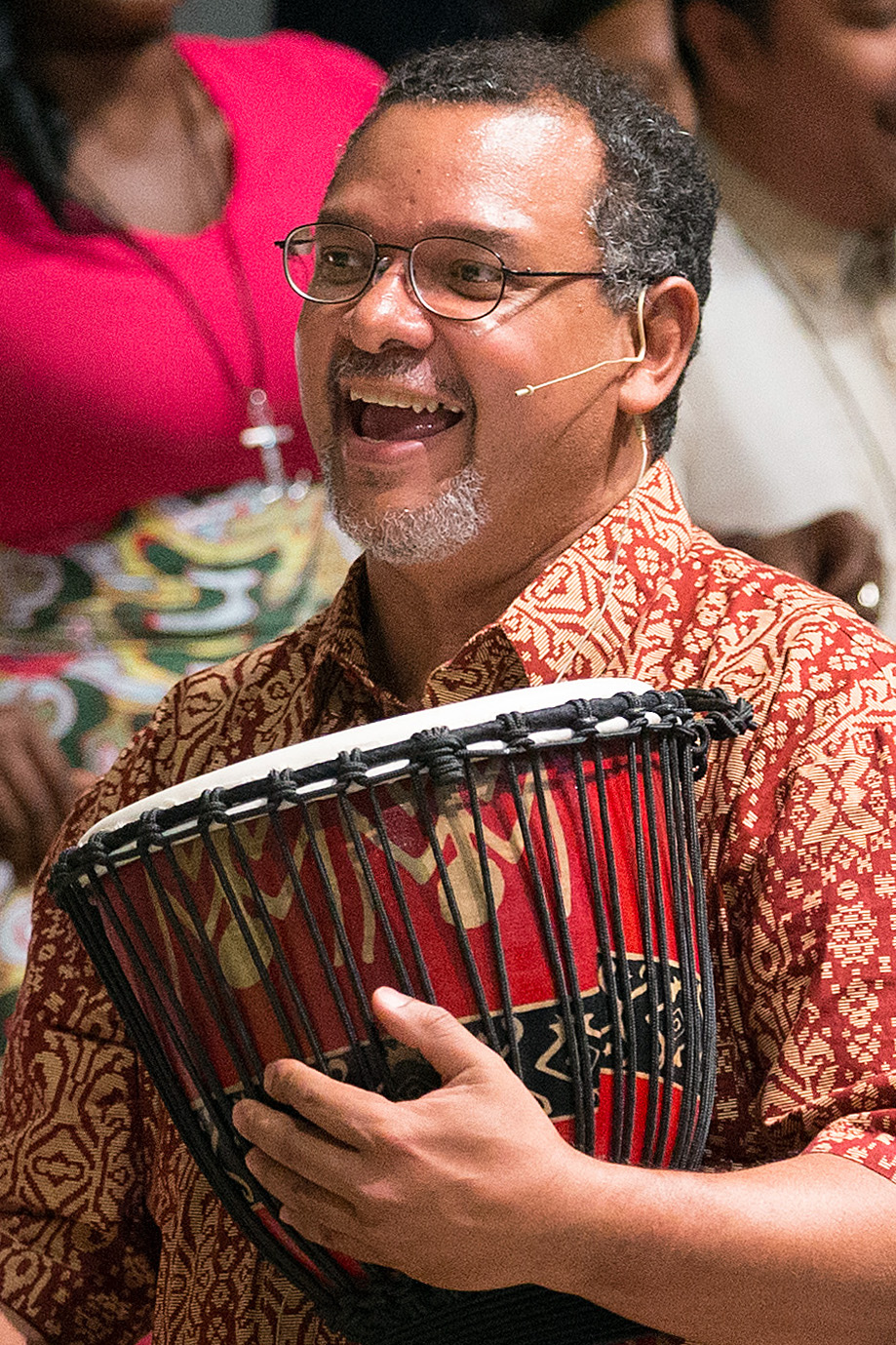 Jorge Lockward
File photo by Mike Dubose, UMNS
The impact of this behavior is hard to describe. There is the loss of dignity and agency. There is the risk of internalizing the shame of others. There is the pain of being reduced to being an issue. A problem to be fixed. An eyesore to be hidden. The worst is the betrayal of bonds of love and affection.

When your own church dedicates precious resources of spirit, time and finances to gather from around the world to talk about you, without you, the harm is augmented and compounded. In the church, we are bound by baptism, where our basic belovedness is manifest. We are bound by the Eucharistic meal, where we share One Bread and One Cup. These are deeper bonds. And because they are deeper, the betrayal hurts more.

Don't get me wrong: Some of us have been privileged to be present at the highest levels of church life. I have served as delegate to several General Conferences and as member of the Commission on the General Conference. And yet, even this participation has come with caveats, limitations and even the familiar whispers and disapproving behind-the-scenes conversations. All was well as long as my gay identity stayed just enough in the background to avoid the discomfort of others.

A group of LGBTQI United Methodists and straight allies in the New York Conference worked diligently to elect new delegates for the 2019 Special Conference. They yearned for the conversation to be with, not about LGBTQI persons. After all, wouldn't we want clergy to be involved in conversations that would deeply impact clergy lives? Wouldn't we want women to be central in processes that would affect women? Why not do the same with lesbian, gay, bisexual, transgender, queer or questioning and intersex (LGBTQI) persons?

It was not easy. It took a lot of letting go of power and privilege. But in the end, with much celebration, a new delegation was elected that included seven LGBTQI voices out of a total of 16 delegates and alternates.

This historic achievement was followed by a Spirit-led moment. The cis-straight allies who had been the first elected clergy and lay delegates opened the conversation for the delegation to elect a gay lay person — myself — as chair and a gay clergy woman, the Rev. Kristina Hansen, as vice-chair. Cis is an abbreviation for cisgender, a term for people whose gender identity matches the sex that they were born with or assigned at birth.

The impact of these decisions became apparent almost immediately. LGBTQI voices and experiences were no longer merely being talked about. They were central to the process. Paradigms shifted. Everything changed.

Since 1972, the General Conference of The United Methodist Church has been debating the lives of LGBTQI persons. For the most part, conversations have happened about us, without us. We have been reduced to "issues" to be discussed in committees and subcommittees. Even worse, when we have attempted to make our voices heard, the accusation of being "disruptive" has been leveled against us.

A quote attributed to W. Edwards Deming perfectly describes the church's situation: "Every system is perfectly designed to get the results it gets." The results we have been getting since 1972 are a perfect result of the system we created and sustained. A system that ignores the incarnate nature of the gospel of Jesus Christ.

It's time for a new way, a new system, a new way of being together. The Gospel integrity and Spirit potential of the 2019 special General Conference depends on our letting go of talking about people without them.

Some of you may say, "It's too late for that. The die is cast. The machine is already set in motion."

And yet, the Spirit speaks:

See, I am doing a new thing!
Now it springs up; do you not perceive it?
I am making a way in the wilderness
and streams in the wasteland. (Isaiah 43:19, NIV)


Salvation is the work of the Spirit of God. All we can do is enter it. Here are some ways to enter:

● Engage in conversations with LGBTQI folk. Call for their presence when conversations are being held about them. Ask open-ended questions, such as "What has been your experience as an LGBTQI person?" or "How can I best walk alongside you in this journey?"

● Use your privilege to create space for LGBTQI voices. If you are asked to speak about LGBTQI persons, rather than quoting them, elicit their actual voices.

● Center LGBTQI voices in delegations. If there are LGBTQI voices on your delegation, prioritize them. If there is none, engage LGBTQI voices from your community as advisers. Bring them in to speak at meetings. Secure funding to bring them along to General Conference 2019 as your advisers.

Will you dare?

Jorge Lockward is minister of worship arts at The Church of the Village in New York.

News contact: Vicki Brown at (615) 742-5470 or [email protected]. To read more United Methodist news, subscribe to the free Daily or Weekly Digests.
---
Like what you're reading? Support the ministry of UM News! Your support ensures the latest denominational news, dynamic stories and informative articles will continue to connect our global community. Make a tax-deductible donation at ResourceUMC.org/GiveUMCom.