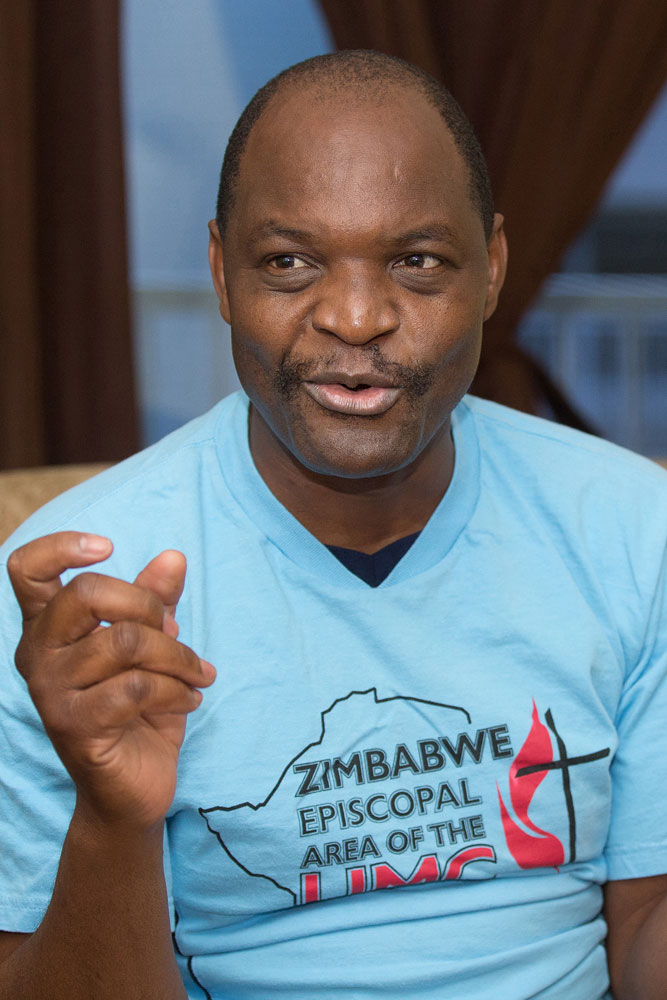 The Rev. Lloyd T. Nyarota.
Photo by Mike DuBose, UMNS.
As we approach the special session of General Conference, I believe the exit plans before the delegates are an attempt to dissolve The United Methodist Church.
Given the significance of the African vote at this conference, there is widespread misinformation going around about exit plans. In the past few days, I have come across messages sent to delegates claiming that exit plans should be passed first. Some advocacy groups have supported this, while others have argued that all exit plans should be deferred until 2020.
I find it shocking and see this as a backdoor to the dissolution of the church. At this time, it is helpful for us to engage in honest conversations about the impact of the proposed legislation.
The church in Africa is committed to being the church for everyone.
To assume that the African church is at the same point as the church in the U.S. with regards to polarization is wrong. A lot of sensationalism and fear mongering has been taking place, with some claiming that if nothing other than the Modified Traditional Plan with an exit provision passes, the church in Africa will split. I find that misleading.
The African church may share a particular point of view, but we value our unity and collective witness to the world. This has been articulated by our bishops as well.
I am inviting our brothers and sisters from Africa to consider this: Any talk about exit is intended to support a slow dissolution of our beloved church.
When we had people who moved away from The United Methodist Church in Africa and formed their own new denominations, there were no exit plans for them. Individuals withdrew their membership and saw no need to drag others around as our individual understanding and faith differs.
It is dishonest and unjust for one individual to lead a congregation or a group of churches away because of his or her moral leanings. We joined the church individually, and if my convictions go contrary to the position that the spirit moves the church to, personal integrity would compel one to withdraw their membership and not mislead others.
When I joined The United Methodist Church, there were many like me touched by God through the church. Why would I deny others the opportunity to experience God through the church that has been passed onto us from generations? General Conference cannot be used to fund or reward those who choose to not live and worship in community with others — we are church all together.
One should not hide behind Christian words like "gracious exit" when what is really meant is dissolving our beloved church. How can I trust someone who was talking about dissolving the church because they think our church is so bad?
There is nothing gracious about kicking people out of the denomination simply because they share a different point of view. Furthermore, there is nothing gracious in failing to uphold and treasure the ministries and resources left to us by saints who ministered before us in this church.
I am sure there are many United Methodists of goodwill who wonder why is it necessary to break from our connection simply because of disagreement on non-doctrinal realities in an ever-changing world. In our families, we share different points of view, but that has not stopped us from being a family. Our differences cannot stop us from being the church, especially as we are called to minister to all, with no exception.
As people shift their language to fit developments across the connection, we ought not to forget what I believe are the real intentions of the leadership of some caucuses such as the Wesleyan Covenant Association and Good News: to create a hostile environment for those who support LGBTQ people in our church. I believe they ultimately want to dissolve The United Methodist Church.
Our beloved church, its mission, ministry and witness to the world are all cherished collective efforts of being God's hands and feet. Dissolving our denomination will be a disservice to Christ and the universal church.
I would like to reiterate and support the view articulated by our African bishops that Africa will not support any plan to dissolve The United Methodist Church.
I, too, am convinced that we are better together, even in our differences, and called to model Christian unity to the world. We have a lot to do together, and the mission is yet alive. I urge our delegates from central conferences not to support the dissolution of the denomination through "gracious exit" plans.
I see the One Church Plan as the only plan seeking to resolve the challenges of the disputed over homosexuality that has faced our denomination since 1972. We in the central conferences will be free to exercise ministry in our context — responding to our realities without having to be involved in the divisions created in the U.S. Our church in the U.S. will be able to respond to the realities of their missional needs and context. I stand for the unity of The United Methodist Church. I believe in one God, one baptism, one global connection and one United Methodist Church through the One Church Plan.
Nyarota is a United Methodist elder from Zimbabwe who is now serving a two-point United Church of Canada charge in the province of Alberta. He has served as a consultant for the United Methodist Board of Church and Society.
News media contact: Vicki Brown, 615-742-5470 or [email protected]. To read more United Methodist news, subscribe to the free Daily or Weekly Digests.