As many states have begun to ease restrictions after weeks or months of shelter-in-place orders due to the coronavirus, United Methodist churches in the U.S. by and large will remain closed a while longer.
Some churches began holding scaled-back services
in the past several weeks, which required safety measures including limited attendance, no passing of offering plates, either no choir or a smaller choir spaced 6 feet apart, and thorough cleaning and disinfecting of every surface before and after the service.
Since every conference is in a different state of dealing with the virus, there are no guidelines that apply to the whole denomination. Each conference's leadership is determining the best course of action for their area.
In a number of conferences, United Methodist bishops are telling churches not to meet in person even when the state government has approved small gatherings.
Alaska, one of the states in the Greater Northwest Episcopal Area, has declared itself "fully open for business," meaning that any business or event — including houses of worship — could operate at 100% capacity.
Bishop Elaine JW Stanovsky, who presides over the Greater Northwest Area, is maintaining a suspension of in-person worship through June 15, citing an abundance of caution and a Wesleyan desire to "do no harm."
A statement put out by the Alaska Conference reads: "As an act of radical hospitality and Christian love, we will not go back until we have a thorough, well-communicated plan that we are all committed to put in place and follow to ensure both the safety and the quality experience of all who will come through our doors."
The Rev. Jim Doepken, director of communications for the conference and pastor of Seward and Moose Pass United Methodist churches, said his churches are likely to wait until after June 15 before resuming in-person worship.
"It's not going to be like flipping on a light switch," he said, pointing out that each church will have a different set of questions to address, and differing levels of sensitivity between members ready to come back and others still hesitant to do so.
"We need it as comfortable as we can for people to return," Doepken said. "No church wants to be on the news as the place where a bunch of people got sick."
Other conferences are following the guidelines set by their state governments. Bishops Peggy Johnson of Eastern Pennsylvania and Cynthia Moore-Koikoi of Western Pennsylvania advised their churches wishing to worship in person to use the state's regulations to formulate a plan to reopen. The state began a phased re-opening May 8 and some United Methodist churches in approved regions opened for worship several weeks ago.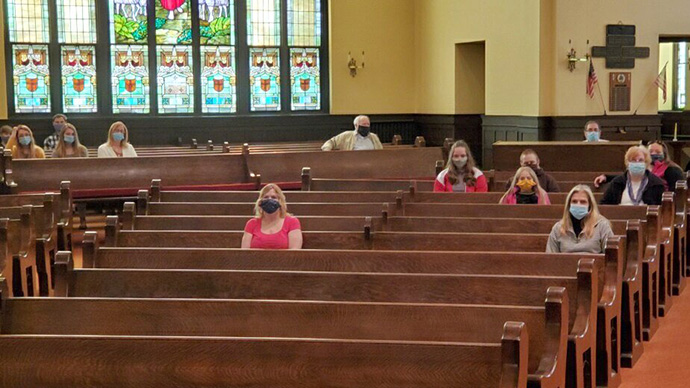 When parts of Virginia re-opened over Memorial Day weekend, a number of United Methodist churches held their first in-person worship services in two months. Approximately 82 churches hosted drive-in worship services on their properties and 17 others, dubbed "pioneer churches," opened their buildings to a maximum of 25 congregants.
Virginia Conference Bishop Sharma Lewis attended the May 24 service at Providence United Methodist Church in Quinton, Virginia.
"The worship service was very inspiring in the face of this pandemic," Lewis said. "They carried out the requirements correctly, and I felt very welcomed, comfortable and safe."
Many other conferences are continuing to suspend in-person worship as they develop action plans for churches to follow before reopening:
• In the Holston Conference, Bishop Mary Virginia "Dindy" Taylor's order that churches remain closed is still in effect despite some states in the conference beginning to ease restrictions. She is currently meeting with a task force and
expects to announce a reopening plan by June 1
.
• Tennessee Conference Bishop Bill McAlilly
extended his suspension order
to June 21.
• California-Nevada Conference Bishop Minerva G. Carcaño said she is awaiting the release of protocols from both state governments on safely reopening before finalizing protocols for the conference. Until then,
churches are to remain closed
.
• Iowa Conference churches are currently closed until May 31, at which time their status will be reassessed. The conference has released
a set of guidelines
for church re-entry when the time comes.
• North Texas Conference Bishop Michael McKee said some churches in the East and Northwest districts
may reopen for worship beginning June 1
, but that any future increase in COVID-19 cases in the region could force another closure. As cases continue to increase in the Greater Dallas area, McKee said those churches are to remain closed and he cannot currently predict a date when they may open.
A May 22 statement from President Donald Trump calling for state governors to designate churches as "essential" institutions, allowing them to reopen for Memorial Day weekend, prompted several United Methodist bishops to respond.
New York Conference Bishop Thomas Bickerton
issued a video message
saying that churches are to remain closed until at least June 15. Referring to Trump's dissatisfaction that churches aren't being classified as essential, Bickerton said, "We can be essential without being in person. We're not being essential when we're in person because we're throwing caution to the wind with regard to people's health."
Indiana Conference Bishop Julius C. Trimble said that he shared the president's belief that churches are essential, but insisted that
Indiana churches remain closed until June 14
.
Texas Conference Bishop Scott Jones joined other Houston ecumenical leaders in a
video response
to Trump's statement. In the video, Jones said, "I believe in religious freedom. This freedom includes the right to decide when is the right time to gather, when it's safe for our people."
Currently, only Texas Conference churches with attendance below 50 are permitted to hold in-person worship, and the conference has created
a set of guidelines
for doing so. Churches larger than 50 will remain closed for at least a few more weeks.
In a
letter posted to the conference website
, North Georgia Conference Bishop Sue Haupert-Johnson urged churches to remain closed until at least June 22.
The letter stated: "As we consider President Trump's plea to open churches soon, the cabinet and I ask you all prayerfully to consider the question, 'Are we prepared to open in a way that makes our church campus as safe as possible?' rather than 'Are we going to open simply because we can?'"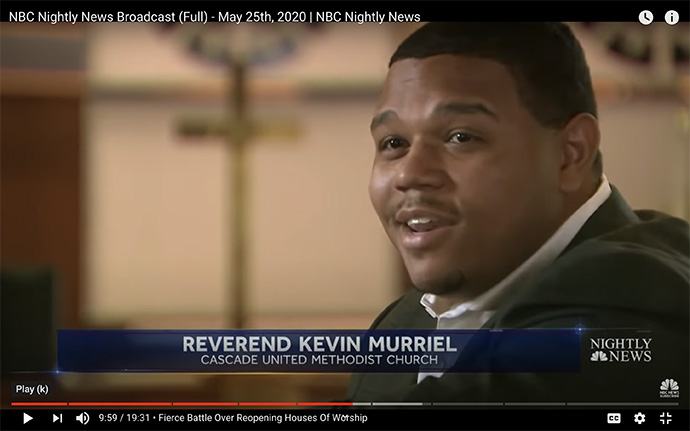 The Rev. Kevin Murriel, senior pastor of Cascade United Methodist Church in Atlanta, agrees with his bishop.
In a
May 25 interview with "NBC Nightly News,"
Murriel said, "Right now, it's truly irresponsible to open the doors of our church. If we can ensure that any member or any visitor that comes to Cascade is safe without any opportunity for the coronavirus to spread within our church, then that's when we'll come back."
Louisiana Bishop Cynthia Fierro Harvey, president of the United Methodist Council of Bishops, also pointed out that despite their doors being closed, churches' ministries never stopped — they simply moved online.
"While many of our churches have not been gathering in-person, they have continued to worship online and to make a great impact in the communities they serve. In many instances, ministry has flourished," Harvey said.
Butler is a multimedia editor for UM News. Contact him at 615-742-5470 or

[email protected]

. To read more United Methodist news, subscribe to the free daily or weekly digests.
---
Like what you're reading? Support the ministry of UM News! Your support ensures the latest denominational news, dynamic stories and informative articles will continue to connect our global community. Make a tax-deductible donation at ResourceUMC.org/GiveUMCom.