---
Key points:
For more than a year, the pastor of Seke East United Methodist Church in Zimbabwe has been leading a worship service in the First Street neighborhood.
The church's outreach has inspired a community where women often work as commercial sex workers, and alcoholism and substance abuse are rampant.
Some First Street residents have expressed their wishes to be baptized and become professing members of The United Methodist Church.
---
A group of people of different ages huddles together in the front yard, some holding hymnbooks and Bibles that appear to be new.
They are directed to the page containing the Apostles' Creed and read together with the Rev. Susan Manyange of Seke East United Methodist Church, who is leading the worship service.
It is 7 a.m. on Sunday morning and this is First Street Group. The 1-year-old church gathering has transformed a community where women often work as commercial sex workers, and alcoholism and substance abuse are rampant.
"This church group started as a result of our community outreach program," said Manyange. "Our church and society committee had identified a needy resident … who suffers from cerebral palsy, and brought groceries and other goods to assist her."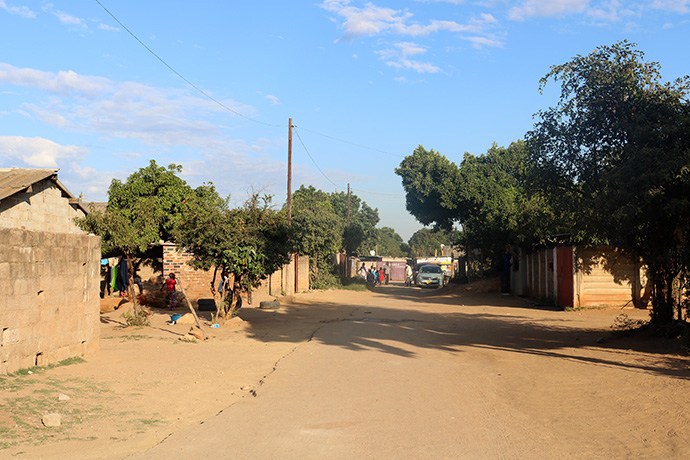 Bridget Chikunguwo is the mother of 20-year-old Gamuchirai, who suffers from cerebral palsy. Gamuchirai was the catalyst for the church's outreach, and her face lights up whenever Manyange visits. She can understand but is unable to respond to conversations.
"She is not getting any medical attention," her mother said. "I used to take her for physiotherapy when she was younger."
However, Chikunguwo is no longer able to take her to the hospital because she cannot carry her and does not have a wheelchair to assist her mobility.
The presence of the church vehicle with its United Methodist emblem attracted the residents who gathered and asked the pastor to pray for them.
Irene Kwangwara offered her home to be used for worship services. Some of the women have since joined the main church and attend service after the First Street Group gathers.
"I wish to find better ways of earning a living. I am asthmatic, and roaming the street at night looking for clients is not good for my health," said Cecilia Jasi, 38.
Exposure to the cold has resulted in her consistently suffering from asthma attacks, and the single mother of five is hoping to find a better line of work.
"After attending the church services held in our street, I am willing to transform my life and need capital to start a project such as selling clothes or find work as a shop assistant," Jasi said.
Fazila Fero, 28, is also ready to leave commercial sex work after two years and find other means to look after herself and her two children. She said the work is risky and the money she makes is menial, averaging $40 U.S. per month.
"I used to drink a lot (of alcohol) but now I have renewed faith in the Lord and do not drink as much," Fero said.
"The pastor loves us. She kept coming back and encouraging us to attend church services even when we couldn't get up due to hangover," she said.
Initially, Manyange would knock on doors and invite the residents to church services, but now members alert others when they see the church vehicle on their street.
"This is a unique ministry, which now has over 50 members. We encourage those who have transformed to join the main worship service at Seke East sanctuary some 800 meters (about half a mile) away," Manyange said.
Some First Street residents have expressed their wishes to be baptized and become professing members of The United Methodist Church.
"We appreciate the assistance we have received from the church, including groceries, school fees and stationery for our children," Fero said.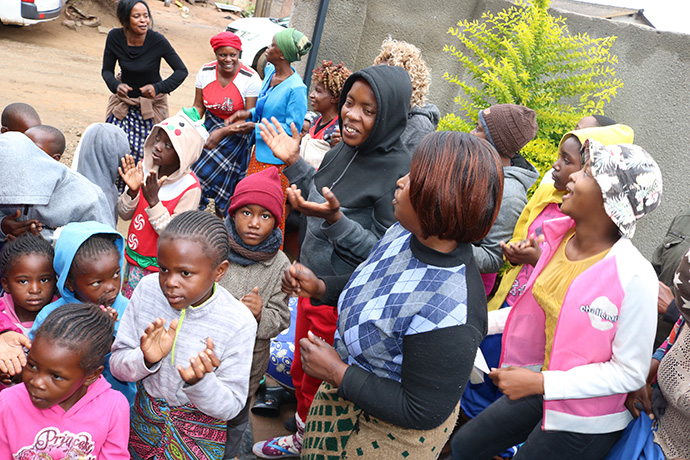 Kwangwara, whose home is used for First Street worship services, said the community has warmly welcomed Manyange.
"I now have renewed faith following the church services held here. I want all my neighbors to repent and also join the main church," she said.
On Sunday mornings, Manyange ensures she has sweet treats for the children who attend the service, and also elderly members such as Flaxion Rambiki, 92, who has a sweet tooth.
Rambiki is unable to walk the distance to the nearest churches and is grateful for the worship services next to his home, and also the food relief he has received.
"I was given basic foodstuffs and the pastor regularly prays for me. I am grateful for the presence of the church in our community," Rambiki said.
Miriam Chipiti, Seke East church and society chairperson, said the church has extended various gifts to the First Street residents.
Subscribe to our
e-newsletter
Like what you're reading and want to see more? Sign up for our free daily and weekly digests of important news and events in the life of The United Methodist Church.
"We have provided food hampers and clothing for the needy and vulnerable. The residents here love the church," she said.
Rutendo Tivaringe, the church's connectional ministries chairperson, said she was happy with the evangelism program spearheaded by Manyange.
"We are grateful to God because some of the First Street members are now attending the main church services," she said. "We look forward to winning more souls in the area. We need to set up income-generating projects for them to get a stable source of income."
The church has brought messages of love, faith and hope to a shunned community and Manyange believes the residents are ready to engage in better ways of looking after their families.
"We are now seeking partners to assist with capital for projects," Manyange said.
The Rev. Godknows Risinamhodzi, Chitungwiza Marondera District superintendent, praised Manyange and the church's outreach after visiting a First Street service.
"The program is according to the dictates of the Great Commission, which means we have got to move into communities. Jesus was known for reaching out to the people, looking at their demands and responding to their wishes," he said.
"One writer said the church is not an archive of saints but a hospital of sinners. In this respect, we see the church moving out to ensure that people receive the goodness of the gospel and the love of Christ so that in turn they enjoy whatever God wishes for them."
Chikwanah is a communicator of the Zimbabwe East Conference.
News media contact: Julie Dwyer, news editor,
[email protected]
or 615-742-5469. To read more United Methodist news, subscribe to the
free Daily or Weekly Digests
---
Like what you're reading? Support the ministry of UM News! Your support ensures the latest denominational news, dynamic stories and informative articles will continue to connect our global community. Make a tax-deductible donation at ResourceUMC.org/GiveUMCom.