Key points:
A powerful storm killed at least 25 people in Mississippi and one man in Alabama, nearly wiping one Delta town from the map.
United Methodists are helping people to mourn and pick up the pieces in the devastated communities of the lower Mississippi Delta.
The United Methodist Committee on Relief already has given one grant and expects to be there for the long haul to help with recovery. But for now, the agency is warning people not to self-deploy to the disaster areas.
---
As a deadly tornado roared across her Mississippi Delta town, Laura Hollis took shelter in a bathtub fearing that her house in Rolling Fork would break apart around her.
Her terror lasted only for about a minute. Afterward, she learned that the late March 24 storm had left much of the town of 2,000 in ruins. The tornado had flattened multiple town blocks and nearly all of the town's businesses. Yet her home and her home church, Rolling Fork United Methodist, had withstood the winds.
She, her husband and about two dozen other people — many of whom had lost their homes — gathered for worship Sunday morning on the United Methodist church's steps. Hollis described the brief service as filled with tears and hugs.
"We hadn't really seen each other since the tornado happened on Friday," said Hollis, the chair of the church's Nurture, Outreach and Witness Committee.
"It did our hearts good, I think, to just sit in front of that church that meant so much to us and feel the presence of God while we sat there."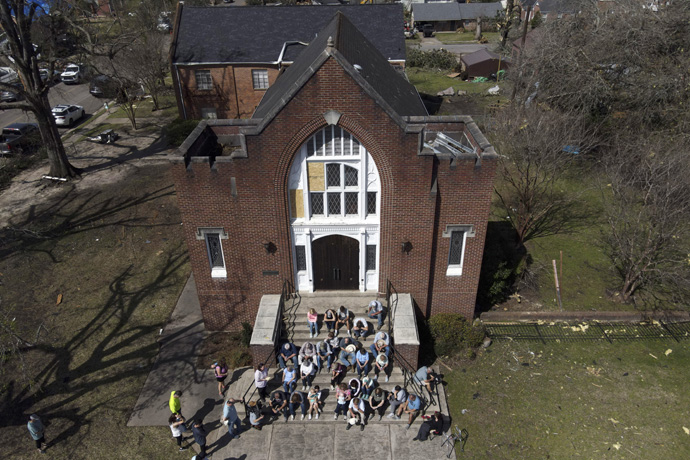 At least 25 people died and dozens were injured in storms that cut a path of destruction across the lower Mississippi Delta — one of the poorest regions in the U.S. South. Of those deaths, 13 were in the town of Rolling Fork.
The Mississippi Conference, which encompasses the state's United Methodist churches, is still getting in reports about damage to its churches and parsonages. At least one church, Tranquil United Methodist in Wren, Mississippi, is completely destroyed with three others and a parsonage damaged. The 172-year-old congregation of Tranquil has rebuilt before after the destruction of another tornado 101 years ago.
Elsewhere, a man in Alabama died after the same powerful band of storms flipped over his mobile home multiple times. At least two United Methodist churches in the North Alabama Conference — Forrest Chapel United Methodist in Hartselle and North Wood United Methodist in Florence also experienced damage.
The National Weather Service's office in Jackson, Mississippi, has given the tornado that pummeled Rolling Fork and neighboring Silver City a preliminary EF-4 rating — meaning it had top wind gusts between 166 mph and 200 mph. Officials estimate the tornado was on the ground for about an hour.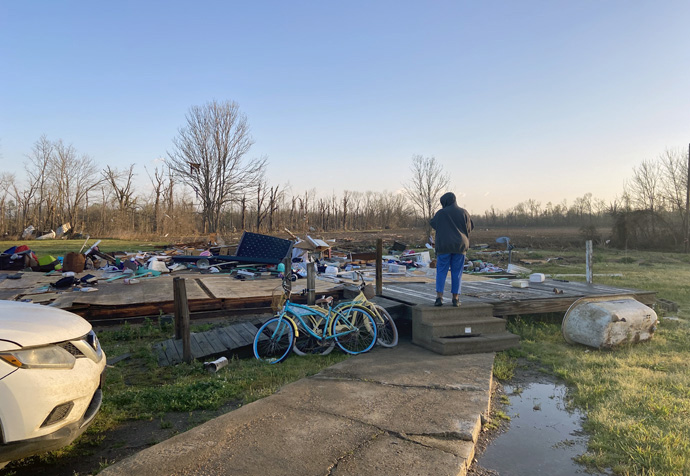 Mississippi Gov. Tate Reeves has declared a state of emergency, and President Biden's administration has in turn ordered federal aid to supplement recovery efforts.
The United Methodist Committee on Relief, the denomination's relief arm, has already given the Mississippi Conference a $10,000 solidarity grant and expects to provide support for the recovery for the long haul. The Mississippi Conference is also organizing early response teams and assessing long-term needs of its communities. The conference expects to ask for more assistance from the United Methodist connection in the coming months.
UMCOR also has given permission to the North Alabama Conference to use unused funds previously awarded to the conference in 2020 to address the current disaster. The conference's United Methodist Disaster Warehouse in Decatur also is ready to distribute needed supplies. The conference also expects to work with local volunteer groups.
For now, UMCOR urges people not to self-deploy but to wait for conferences to invite Volunteers in Mission teams to serve.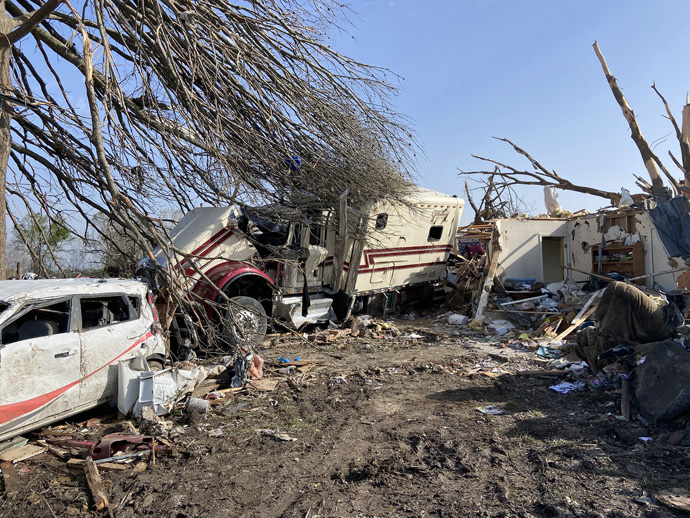 The town of Rolling Fork, which is largely a farming community, faces a long-term rebuilding process unlike any in its long history.
For Hollis and others, it felt right to begin that process with prayer at the church, which will celebrate its 175th anniversary in June this year.
"We're grateful, Lord, that you brought us through this storm," the Rev. Mary Stewart preached at Rolling Fork United Methodist Church's outdoor Sunday service, The Associated Press reported.
She had spent a harrowing night during the storm, clinging to a door in her hallway and shielding herself from flying debris. By the time the storm passed, she knew she could not remain in the unstable house, nor was her car usable.
"We have a lot to do and a lot of rebuilding, and there are people that we've lost in our town," she preached Sunday, adding that she and the worshippers pray for their families.
Hollis said it's a miracle her pastor was uninjured. New members of the church have taken in both Stewart and an elderly woman who also lost her home.
"Everybody in this town helps everybody," Hollis said. "That's just kind of the way we are."
United Methodists elsewhere in the state also are looking for ways to help.
Stacye Trout said her Sunday school class at Senatobia First United Methodist Church, about 25 miles south of Memphis, discussed ways to serve immediate needs after the storm.
Trout is the development director for the Community Foundation of Northwest Mississippi, which has been receiving hourly updates on the needs in the tornado-stricken areas.
She stressed that used clothes or shoes are not helpful to people in the disaster areas. Donations of food and baby supplies also aren't desired since area food pantries as well as a diaper bank started by the community foundation are already meeting those needs.
However, foundation staff have been collecting from area faith communities the supplies that are needed and transporting them to the foundation's emergency response center in Rolling Fork.
"As I speak, Keith Fulcher — the community foundation's president — is literally en route driving a U-Haul of supplies down there," Trout said.
Among those houses of worship that contributed supplies is Senatobia First United Methodist Church.
Subscribe to our
e-newsletter
Like what you're reading and want to see more? Sign up for our free daily and weekly digests of important news and events in the life of The United Methodist Church.
But for people outside the foundation's area of service, the best way to help at this point is financial donations.
The need for donations will not end anytime soon in Rolling Fork.
Hollis spoke with sorrow of other churches in town that were not spared the storm's fury. Among the destroyed buildings is a historic Episcopal church, where she said only the altar is likely salvageable.
Rolling Fork United Methodist Church's main structure suffered little more than broken windows and busted gutters. As soon as water and power are restored, Hollis said the church should be safe for people to worship indoors.
However, the church's family life building next door is likely a complete loss.
The United Methodist church, which averages about 30 or 40 in worship, has been through multiple ups and downs since it was chartered in 1848, and had recently started growing again by attracting young families. Hollis is hoping that can continue even as the town rebuilds.
"We went years without any children," she said. "And now people are having babies, and it's just wonderful."
The Rev. Vicki White, the Mississippi Conference director of connectional and communications ministries, said she sees the recovery work as an opportunity for United Methodists to put their Christian faith into action.
"My prayer for the United Methodists in Mississippi is that we will come together as people of God," she said, "and help our brothers and sisters recover and heal utilizing the gifts of the Great Physician, Jesus Christ."
Hahn is assistant news editor for UM News. Contact her at (615) 742-5470 or [email protected]. To read more United Methodist news, subscribe to the free Daily or Friday Digests.
---
Like what you're reading? Support the ministry of UM News! Your support ensures the latest denominational news, dynamic stories and informative articles will continue to connect our global community. Make a tax-deductible donation at ResourceUMC.org/GiveUMCom.