The United Methodist Church in Kenya is offering camps and counseling for girls in an effort to fight against female genital mutilation.
Though against Kenyan law, female genital mutilation — also known as female genital cutting or female circumcision — remains rampant, especially in rural areas where girls are forced to undergo the cutting or removal of some or all of the external female genitalia as an alternative rite of passage. The girls also are sometimes pressured into early marriages.
However, Trinity United Methodist Church in Gilgil has created a new way of allowing girls to move ceremoniously from childhood to adulthood without undergoing the cut.
At an annual youth camp hosted by the Central District of the Kenya Conference, the girls are issued certificates and gifts during a special graduation ceremony.
The Rev. Josam Kariuki, Central District superintendent, said he has been working with local pastors and counselors to talk to girls about issues affecting their transition from childhood to adulthood.
Female genital mutilation was one of the topics at the camp, which brought together 350 youths ages 9-20 — more than 200 of whom were girls. The attendants were from churches across the Central District.
"We train them that they are still women enough, even without the cut, and that no one should force them to undergo this rite, either as children or even in their adulthood," says Virginia Nyokabi, a community health volunteer and member of Sogonoi United Methodist Church in Nakuru County.
The girls also were taught about the sections of Kenyan law that make this ritual illegal.
Other topics that the children learned at camp included hygiene, spiritual growth, womanhood and manhood, self-awareness and self-esteem.
The camp was held in December, the longest school holiday of the year, with children home for about two months.
"During this time, many children are influenced by their peers and lured into vices like sex, drug abuse and alcoholism," said the Rev. Ruth Mwangi of Ngorika United Methodist Church.
Pre-teens and teenagers often experience changes in their bodies, she said, and therefore need guidance on how to handle these changes. The United Methodist camp marks a crossover for the girls but also cautions them against practices that can ruin their lives, she said.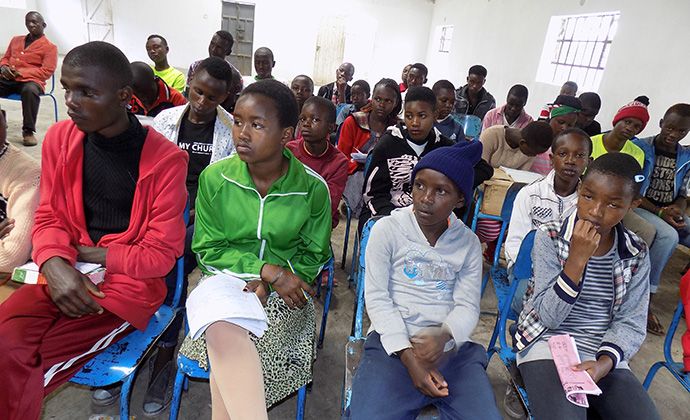 The camp offers an opportunity for spiritual nourishment and development. The children are trained to be ambassadors of Christ and the church while at home, in school and with their peers.
Male campers learn about sexuality, their role as men, respect for girls and women, how to avoid gender-based violence and retrogressive cultures.
"We also bring in experts who talk to them about mental health and the need to be aware of and in control of their feelings," said the Rev. Simon Kimani of Miti Mingi United Methodist Church in Narok County.
Although boys undergo circumcision as a way of crossing over from childhood to adulthood, they still need a lot of guidance in matters of life and Christianity, Kimani said.
According to the Rev. Stephen Maina of Olkalou United Methodist Church in Nyandarua County, many young men mistake circumcision for maturity.
"Most boys are circumcised at around the age of 12 to 14 years, and the society assumes that they are then ready to face the world, without necessarily preparing them for the challenges and opportunities ahead," Maina said.
Young men are faced by a unique set of challenges, he added, including being targeted by older women who introduce them to premarital sex and sometimes-illicit business engagements.
Subscribe to our
e-newsletter
Like what you're reading and want to see more? Sign up for our free daily and weekly digests of important news and events in the life of The United Methodist Church.
He said boys are often rejected by society, especially if they are from poor families, perform poorly in school or are brought up by foster fathers.
"Some of the young people attending this camp have come to church as a last resort, having given up on ever finding peace in their families," Maina said.
At the camp, the boys are taught about the challenges ahead of them in their adulthood and how to overcome them and become fruitful Christians.
Although the number of young people attending the annual camps has been rising steadily, Kariuki said there is still a need to reach out to more children, especially girls.
"The girls are at risk of being taken for (female genital mutilation) … As a church, we are committed to ensure that we drive them against outlawed cultural practices and make them stand firm in Christian faith," he said.
Kariuki said the church has produced a training manual, with assistance from people in the medical field, pastors and local leaders, titled, "Journey to Manhood and Journey to Womanhood." They use the book during the youth camps, seminars and meetings.
Trinity United Methodist Church, in partnership with the local community, also runs a high school where victims of female genital mutilation and those rescued from the practice are enrolled. Currently, the school has 250 girls and 182 boys, mainly from the Maasai community.
The school offers shelter, education, medical care, clothes, counseling and mentorship to needy children, said Janet Komen, the school's principal.
Wanjiru is communications director for the Central/Narok District of the Kenya Ethiopia Conference.
News media contact: Vicki Brown at (615) 742-5470 or [email protected] To read more United Methodist news, subscribe to the free Daily or Weekly Digests.
---
Like what you're reading? United Methodist Communications is celebrating 80 years of ministry! Your support ensures the latest denominational news, dynamic stories and informative articles will continue to connect our global community. Make a tax-deductible donation at ResourceUMC.org/GiveUMCom.