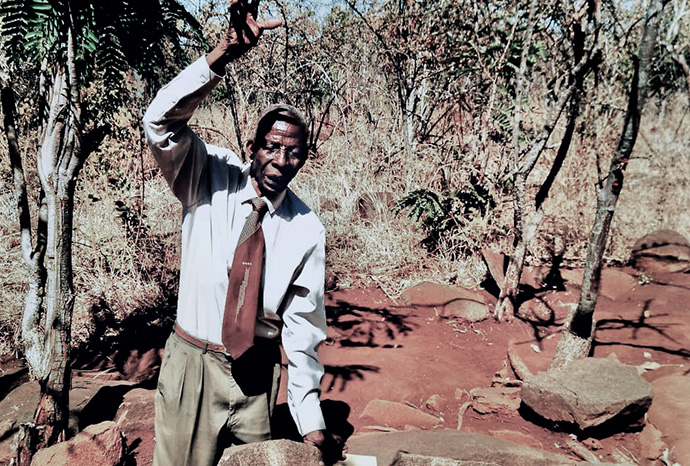 Mincing his steps and staggering as he ascends his prayer shrine, centenarian Joel Makombe recounts his journey of faith.
A Methodist for over 85 years, Makombe said he is 112 years old, although the dates on birth records are often estimates prior to Zimbabwe's independence in 1980.
The prayer shrine is a stone's throw away from his home in Hoyuyu, about 75 miles northeast of Harare.
"This was just a bushy area with a few rocks and I was drawn to this place in the same way Moses was drawn to the burning bush," Makombe said.
"My first spiritual experience was during a revival at Chanetsa. I saw vivid images of what I considered the face of God on all sides, and whenever I come to this shrine, I see and hear more of God than ever," he said.
At the humble site with a few rocks marked with a cross, Makombe has had spiritual moments that he describes as "God-encounters."
"In the midst of a dry season, we went up this hill and the miracle happened: There was a downpour of heavy rains," he said of one such experience.
For most United Methodists in Zimbabwe, setting up of prayer shrines draws inspiration from the
historic Chin'ando prayer site at Old Mutare
.
Mainly United Methodist women in Zimbabwe have kept the tradition of setting up prayer altars in the forest following the example of Mbuya Lydia Chimonyo, who set up Chin'ando with the help of other pastors' wives.
"It is amazing how this humble place of prayer has inspired many to come for prayers whenever they want to submit petitions to their God," said the Rev. John Chinyerere, pastor of Chitowa Hoyuyu circuit.
Beyond the inspiration drawn from the shrine, Makombe's age does not deter him from supporting the church. "He rides on his bicycle to church and does not miss a church service, whether at Corner Store or at the circuit events," Chinyerere said.
Makombe is a founding member of Corner Store church, which was formed in 1986. He has contributed to the acquisition of the church and parsonage stand.
"He pledged his bull in order to secure the two stands and is now gathering (more) stones for building the foundation and slab than anyone else," Chinyerere said.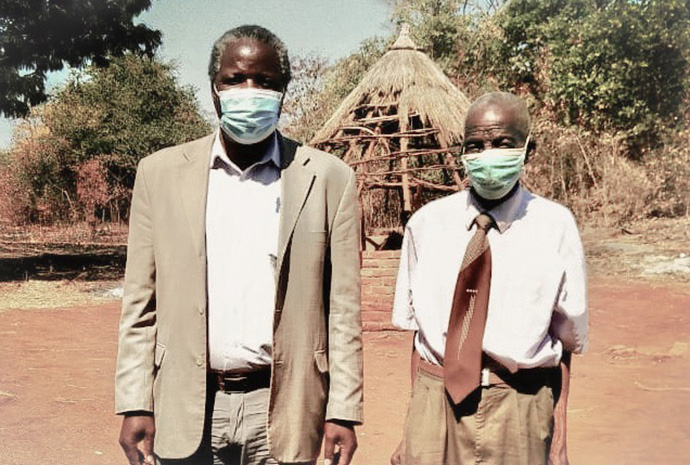 The Rev. Alan M. Gurupira, administrative assistant to Bishop Eben K. Nhiwatiwa, met Makombe while serving in Murewa as a district superintendent.
"Sekuru Makombe is an amazing man whose love for the church and presence defies his age," he said.
"He is an ardent participant in worship through singing hymns, and he recites the Apostles' Creed in a lively manner. In him, we have a living asset in keeping with the traditions and heritage of Methodism. He is a source of inspiration to the church in Murewa and the entire United Methodist Church family in Zimbabwe," Gurupira said.
Makombe has the institutional memory of how "American Methodism" entered the Murewa area in the early 1900s.
"The coming of the church changed our way of life and worship from the African traditional religions of ancestral worship through spirit mediums, but now we have a United Methodist church on every corner of our villages," Makombe said.
Subscribe to our
e-newsletter
Like what you're reading and want to see more? Sign up for our free daily and weekly digests of important news and events in the life of The United Methodist Church.
From these humble beginnings, the Murewa Uzumba-Maramba-Pfungwe District now boasts 26 circuits, five primary schools, four high schools and two United Methodist health centers.
Aside from his resilient faith, Makombe's life also connects two eras of dreaded pandemics: the 1918 Spanish flu and COVID-19.
"I was a child during the influenza pandemic, but stories are still vivid in my mind of people who died without finding any medication," Makombe said. "The only natural means at the disposal of many people was eating raw red pepper."
Makombe remembers the devastating sight of families who died in their homes.
"Whenever it took a day or two without seeing neighbors, there was a high chance that the entire family would have perished due to influenza.
"Somebody riding on a bicycle could simply fall and die on the spot," he said.
For Makombe, the information gap exacerbated the challenge of influenza because people would die without knowing what struck them.
"Villages died in numbers and were buried in shallow graves as the community could not keep up with the rate of infection and deaths due to influenza," he said.
Thankfully, he said, information on COVID-19 is more widespread, even in rural villages.
"Unlike during the days of influenza, communities now have a chance to seek medical attention and get quarantined."
Maforo is a communicator for the Zimbabwe Episcopal Area.

News media contact: Vicki Brown at (615) 742-5470 or

[email protected]

. To read more United Methodist news, subscribe to the free Daily or Weekly Digests.
---
Like what you're reading? Support the ministry of UM News! Your support ensures the latest denominational news, dynamic stories and informative articles will continue to connect our global community. Make a tax-deductible donation at ResourceUMC.org/GiveUMCom.