If United Methodist Men want to be fishers of young men, church leaders say they will need to cast their lines in new waters.
Workshops at the group's national gathering offered ideas for the best ways to get millennial men hooked on Christ.
It starts with meeting potential disciples where they are, said Joseph Strausbaugh.
"There's a mentality that men's ministry is a monthly meeting," he said at his workshop "Where Are They? Fishing for Men."
"Men's ministry needs to be more than a monthly meeting, and it needs to be something that doesn't just happen within the little room where you have breakfast."
Strausbaugh is the charter system administrator for the Commission on United Methodist Men. At 33, he is also part of the generation that many men's groups — and indeed many United Methodist congregations — struggle to get through the church door.
Throughout the gathering at St. Luke's United Methodist Church in Indianapolis, a frequent lament heard in the halls was the lack of younger members. Paul Williams of Willow United Methodist Church in Alaska, joked that at some churches: "If you got five 65-year-olds, you could start a youth group."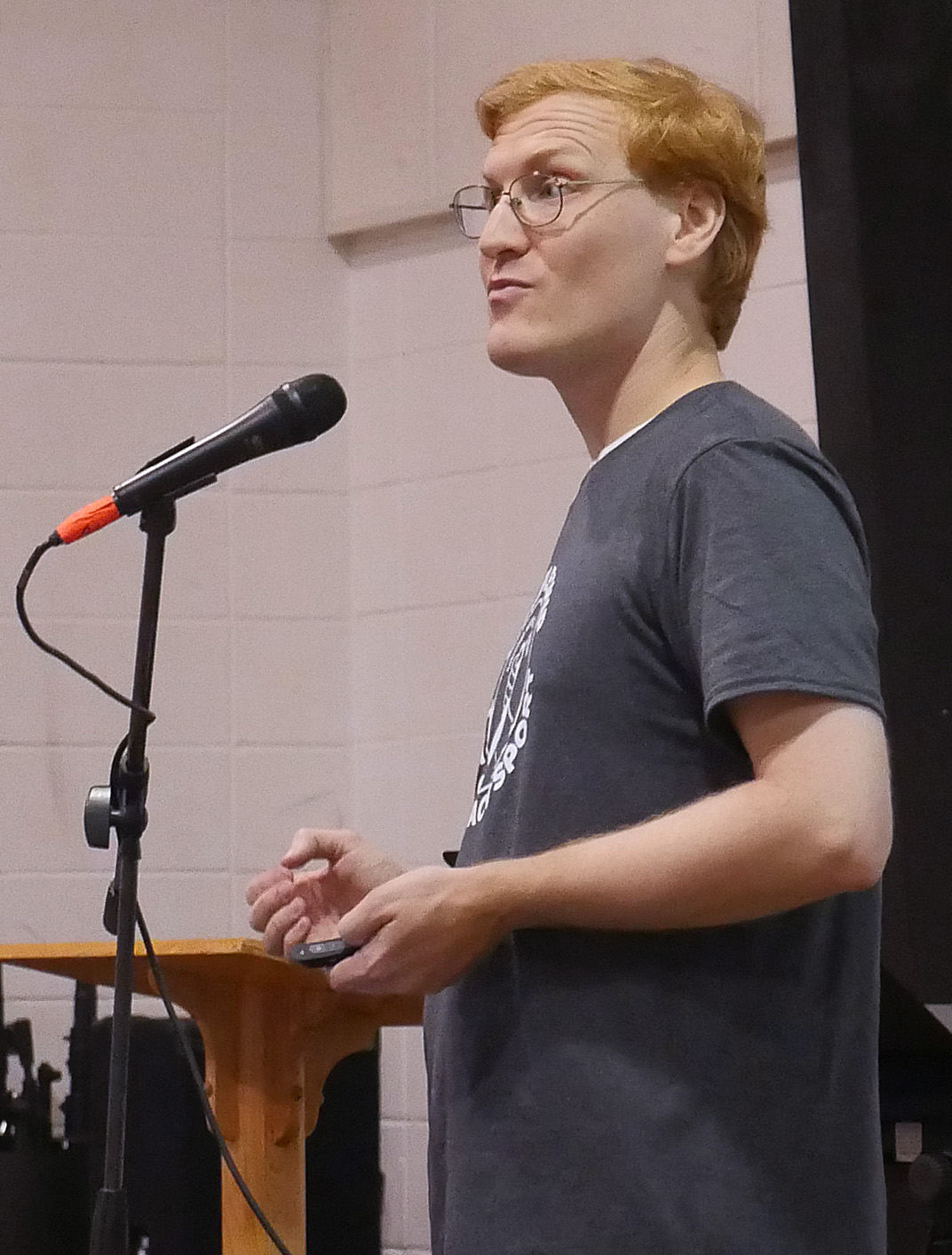 During his workshop, Strausbaugh gave an overview of who U.S. millennials are. He used data from Pew Research Center, a nonpartisan pollster, and the Barna Group, which collects data for Christian marketing.
The cohort born between 1981 and 1999 is the largest generation in U.S. history at roughly 83 million. Today's 20- and 30-somethings are more likely to be college educated and technologically savvy than previous generations. They also are more ethnically diverse than their elders. Less than 60 percent identify as white non-Hispanic, compared to 72 percent of Baby Boomers.
The vast majority — 81 percent — say they believe in God, and 59 percent report praying at least weekly.
However, more than half of this generation are missing from Sunday worship (52 percent of millennials are unchurched, according to Barna). Instead, they are sleeping in, meeting for brunch, heading to work or spending time with family.
However, that doesn't mean they are gone for good, Strausbaugh said. In many cases, he added, churches have exactly what wired and stressed-out millennials are seeking.
The typical millennial, he said, is "drowning in connections but thirsting for authentic relationships."
So how can United Methodist men begin building relationships with these potential disciples?
Strausbaugh suggested reaching the religiously unaffiliated by starting a gym group or a meditation group. "Quiet space is valuable to millennials," he explained.
He also suggested being visible at the events where millennials are likely to be, such as local festivals or community run/walks. "Get a booth and consider just handing out water bottles," he said. "When you do, say, 'May I pray for you?'"
Strausbaugh particularly emphasized the need for men's groups to be online, maintaining a Facebook page and possibly using sites like Meetup to promote events.
Still, forming a personal relationship is just the beginning. For United Methodists, the main mission is to nurture discipleship — that is, to help people recognize Jesus as their Savior and help them lead the life Jesus wants for them.
At another workshop highlighting successful men's ministries, the Southeastern Jurisdiction Young Men's Think Tank offered an overview of their research on what disciple-making entails.
They outlined five aspects to successful men's ministries: Small groups, recreational and social ministries, strong missions, leadership formation and, in these unchurched days, rebranding.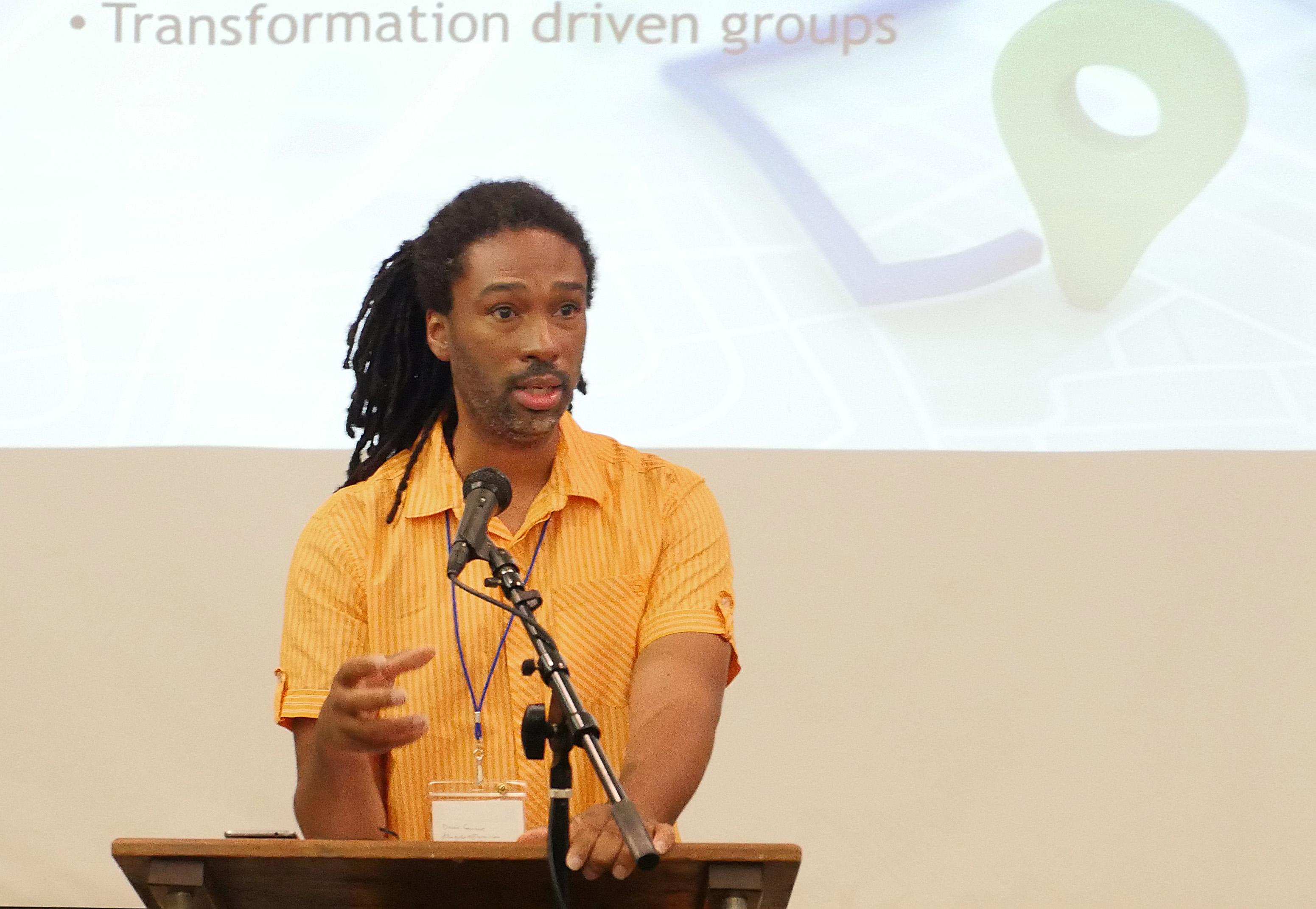 Odell Horne Jr., a think-tank member who attends Impact Church near Atlanta, said small groups that meet outside church walls have played a large role in his own congregation's rapid growth. They also can do the same for men's ministries.
He said the groups come in three forms — affinity groups based on shared interests, curriculum-driven groups such as Bible studies and transformational groups that follow John Wesley's model of spiritual accountability.
Horne also pointed to church sports leagues and social events such as Super Bowl or NBA viewing parties as ways to involve men in church.
Mission work and mentoring are additional ways United Methodists can help younger men lead a Christian life.
"With the mindset that no man should be left behind, your church should offer a number of opportunities to engage men," Horne said.
The think tank faced the most questions about its recommendation to rebrand.
By rebranding, the think tank means considering what works and changing what doesn't, said the Rev. Drew Oakley, associate pastor of discipleship at Immanuel United Methodist Church in Florence, Kentucky.
"We don't change our message. The message of Christ has stood for thousands of years and will continue to stand," Oakley said. "But do we change our program? Do we change our methods? Rebranding means embracing the need to adapt."
Ultimately, both Strausbaugh and the think-tank members cautioned older United Methodist Men against expecting young men simply to show up. Transforming men into Christ followers often requires casting a wide net and some heavy lifting.
Russell Mapfumo, a think-tank member from Millbrook United Methodist Church in Raleigh, North Carolina, puts it this way: "It's like this. You have to catch a fish before you can clean it."
Hahn is a multimedia news reporter for United Methodist News Service. Contact her at (615) 742-5470 or [email protected]. To read more United Methodist news, subscribe to the free Daily or Weekly Digests.
---
Like what you're reading? Support the ministry of UM News! Your support ensures the latest denominational news, dynamic stories and informative articles will continue to connect our global community. Make a tax-deductible donation at ResourceUMC.org/GiveUMCom.