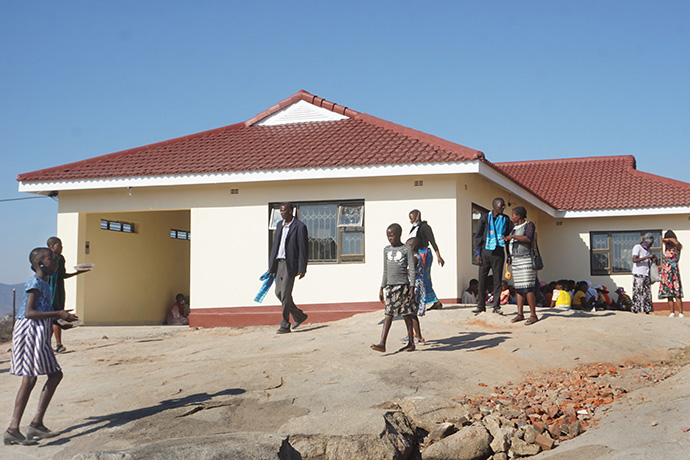 ---
Key Points:
The Mukandi family donated money to build a borehole, parsonage and sanctuary at Bwanya United Methodist Church.
The Mutoko Mudzi District will use the sanctuary for daily activities, as well as for district and annual conferences.
The electrically powered borehole allows both the community and the church to access running clean and portable water.
---
Amid severe economic adversity in Zimbabwe, a local family inspired overflowing joy as they shared their blessings.
The Mukandi family donated money to build a borehole, parsonage and sanctuary at Bwanya United Methodist Church. Zimbabwe Area Bishop Eben K. Nhiwatiwa dedicated the gifts — worth thousands of dollars — in August.
"What has happened here," he said, "is a great work in the name of God. This is God-inspired giving, no doubt, pure generosity from the heart."
The Mutoko Mudzi District will use the sanctuary for day-to-day activities, as well as for district and annual conferences.
"We have now an increase of modern facilities for the church," Nhiwatiwa said. "This is a typical example of what people of God can do, even at the family level. This is immense, indeed. Remember that things which are put in the hands of God have a legacy that lives forever.
"The Macedonian church (Acts 16:9) miraculously gave so much, far beyond their ability to give, and enjoyed doing it," he continued. "This church knew what would touch God's heart. They were after God's heart, and so is the Mukandi family, and God is going to bless them abundantly."
Bishop Edmore Chiota with the Methodist Church in Zimbabwe said it was a great honor to be invited to witness the even, made possible by God's grace.
"God works through his creation, but those created beings must respond, and that is what the Mukandi family has done," Chiota said.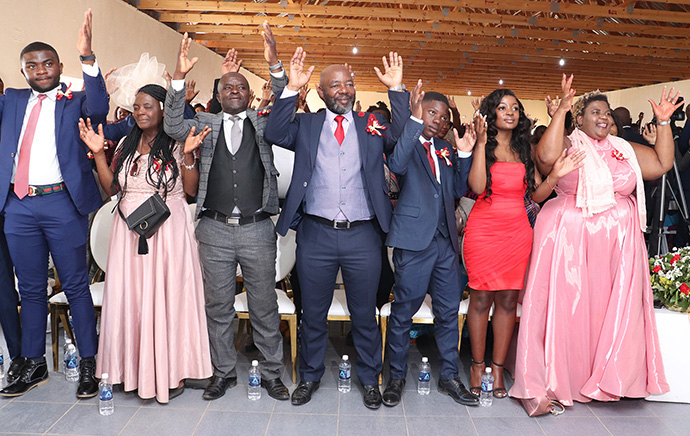 Charity Mukandi said she is proud to leave this legacy behind.
"The only legacy worthy to leave for my community, friends, relatives and children is investing in the house of the Lord. I do not think twice when it comes to investing in the house of God because what I am is because of God," she said.
"I come from a humble background, and my parents were not Christians, but I thank God for locating me and giving me the desire to work for him. I am forever grateful. Other people … are richer than me, but were not given the opportunity to construct a sanctuary; hence, I am thankful to the Lord for this opportunity.
She said her family's charitable giving will not end with Bwanya United Methodist Church, adding that they will reach out to other circuits and denominations. The family, which owns Bokwest Investments, is seeking God's guidance about future benevolent projects, she said.
Elison Mukandi, Charity's husband, said, "Charity has great passion for constructing the houses of the Lord. … This is ingrained in her blood.
"We are trying to involve our children, from the groundbreaking to the dedication of the projects. We know we do not live forever, but there is a generation which will live after us. For this act of grace to continue, the children must understand what we are doing today so that they can do the same thing tomorrow," he said.
Christwish Mukandi, 19, is grateful for the example set by her parents.
Subscribe to our
e-newsletter
Like what you're reading and want to see more? Sign up for our free daily and weekly digests of important news and events in the life of The United Methodist Church.
"I am happy to see my family accomplishing such a big thing and leaving a legacy for me and my siblings," said Christwish Mukandi. "I know I have big shoes to fill and to do greater things than they have done. They have set the foundation on which we need to build."
The Rev. Agasha Siyakurima, pastor-in-charge of the Mutoko East 2 Circuit that includes Bwanya United Methodist Church, said the Mukandi family has preached across the circuit.
"They have showed humility, service and concern for others," Siyakurima said. "In addition, they are paying school fees for orphans and other vulnerable children, have supported widows with poultry projects and the elderly with food hampers."
The family also distributed church regalia to everyone at Bwanya United Methodist Church and treated members of the women's organization to lunch, clothing and food baskets at Christmas.
Siyakurima said Bwanya had no sanctuary, and members used to worship in a rented classroom.
"The Mukandi family transformed everything. Many church activities are now being held at Bwanya due to the size of the sanctuary and the good facilities.
"The drilled borehole is electrically powered and benefiting both the community and the church to access running clean and potable water," Siyakurima added. "The water challenge is now a thing of the past. Every building has running water."
Describing the new parsonage as a blessing, he recalled staying in an old, dilapidated building. He looks forward to living in a modern, four-bedroom parsonage.
"Because of their generosity," Siyakurima said, "we have won many souls to Christ. Church attendance has increased numerically, while others are spiritually uplifted."
Mavis Marere who lives near the church, said she and her family used to travel long distances to fetch water, but the borehole has changed that.
"We are very happy. With the water available, we can do our gardening and feed our families," she said.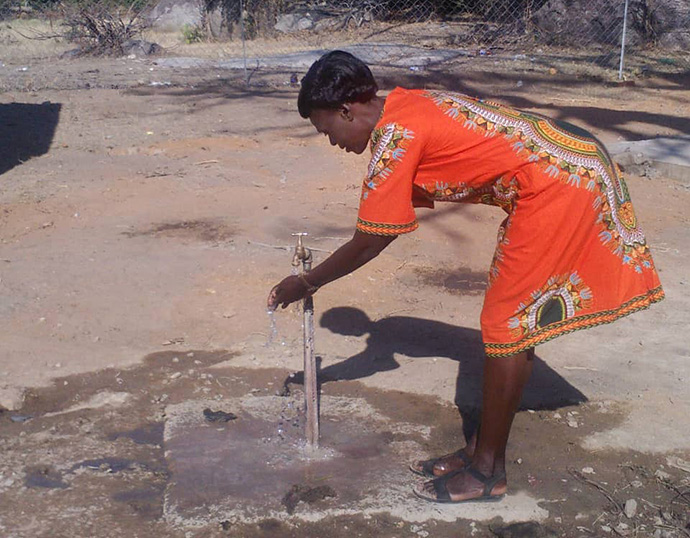 The Rev. Vienna Mutezo, deputy administrative assistant to the bishop and Zimbabwe West Conference connectional ministries director, said God has given the church the additional gift of three people receiving Christ during the dedication.
"The Bible said, 'If one person comes to Christ, the heavens will celebrate. If you lose one, he will leave the whole flock and look for the lost sheep,'" said Mutezo. "I thank God for those who are surrendering their lives to Christ today."
Forward Mujakachi, district board of trustees' committee chair, said the donation by the Mukandi family is more than a lifelong gift to The United Methodist Church and the Bwanya community.
"It is a great act of kindness and fulfills the doctrine of giving as supported by prophet Haggai (1:2-9) that emphasizes the importance of building and equipping the house of the Lord," he said. He pledged that the committee would ensure that "the property is well maintained to enhance its lifespan."
Chingwe is a communicator for the Zimbabwe East Conference.
News media contact: Julie Dwyer at [email protected]. To read more United Methodist news, subscribe to the free Daily or Weekly Digests.
---
Like what you're reading? Support the ministry of UM News! Your support ensures the latest denominational news, dynamic stories and informative articles will continue to connect our global community. Make a tax-deductible donation at ResourceUMC.org/GiveUMCom.