---
Key points:
The COP26 climate change summit provides a backdrop for spotlighting Wespath's socially responsible investment practices.
The United Methodist Church's pension agency emphasizes getting the best returns for its stakeholders and supporting the denomination's Social Principles.
The entire global economy must adopt sustainability best practices.
---
Dave Zellner.
Photo courtesy of Wespath.
Commentaries
UM News publishes various commentaries about issues in the denomination. The opinion pieces reflect a variety of viewpoints and are the opinions of the writers, not the UM News staff.
In the weeks leading up to the COP26 climate change summit, I have noticed increasing media coverage of climate-related finance issues and sustainable investing.
I expect the investment community will play a major role at COP26, which got under way this week in Glasgow, Scotland. From the Wespath perspective, this event provides a timely opportunity to explain our interest and involvement in sustainable investing.
As an agency of The United Methodist Church, Wespath's responsibilities are directed by the denomination's Book of Discipline, which outlines our role as an organization. It states that Wespath must "…discharge its fiduciary duties… solely in the interest of the participants and beneficiaries… with care, skill, prudence and diligence…" (¶1504.14).
The fiduciary responsibility influences everything Wespath does. We seek to make all organizational decisions, including investment-related ones, in alignment with the best financial interests of our participants, beneficiaries and institutional investors. At the same time, we endeavor to fulfill The Book of Discipline's call to invest in alignment with the church's values. The church asks that Wespath "…make a conscious effort to invest… with the goals outlined in the Social Principles" (¶717).
We refer to this as "values-based" investing.
Fortunately, we know that most of the values outlined in the Social Principles intersect with sound, sustainable business practices. For example, the Social Principles emphasize the importance of environmental health, human rights, diversity and reducing poverty — all of which are considered key sustainable investing themes.
The important point is that we support the Social Principles in our investment work, when possible, and we first and foremost always seek the best risk-adjusted returns for our participants and investors. This includes taking a holistic approach to sustainable investing that emphasizes not only values-based considerations, but also value-adding considerations.
Sustainable corporate behavior and policies can improve returns. About 88% of global sustainability studies demonstrate that companies with robust environmental, social and governance standards achieve stronger operational performance, while 80% of studies show that good sustainability practices strengthen stock price, according to "From the Stockholder to the Stakeholder: How Sustainability Can Drive Financial Performance."
Companies adept at managing sustainability issues tend to do a good job of limiting risks and capitalizing on opportunities, ultimately making them stronger investments.
For the same reasons, it's imperative that the entire global economy and its many financial markets adopt sustainability best practices. Wespath's sustainable economy framework describes our belief that investors must create and support a global economy that promotes long-term prosperity for all with equal opportunities for advancement; social cohesion, with reliable access to basic necessities; and environmental health, with resilient ecosystems.
We are convinced that a sustainable global economy is necessary to achieve the investment returns expected by our beneficiaries, and though we developed our sustainable economy framework through this fiduciary lens, it clearly aligns with the Social Principles' philosophy related to the Economic Community, the Social Community and the Natural World.
We frequently hear varying opinions about our approach from participants and institutional investors. Some say Wespath does not go far enough in its pursuit of values-based investing, while others feel we overstep our bounds and meddle in political and social issues unrelated to investing. We welcome these conversations, as it is important to engage with our stakeholders about our work.
Let's start with that first opinion we sometimes hear: Wespath does not do enough to uphold United Methodist Church values in its investments.
This observation often results from the inherent tension between our fiduciary duty and values-based investing. Let's be clear: As an agency of The United Methodist Church, Wespath fully supports the goals outlined in the Social Principles. However, we also realize that it may be difficult to aggressively promote all United Methodist Church values. There may be times where we want a company to align more with our values, but we are unable to demonstrate that doing so would align with our fiduciary mandate.
Our strategy is to consult the Social Principles as a guide for organizing our work. We prioritize sustainable investment stewardship activities that align with church values and our value-adding sustainable economy framework. I can best illustrate this with a Venn diagram: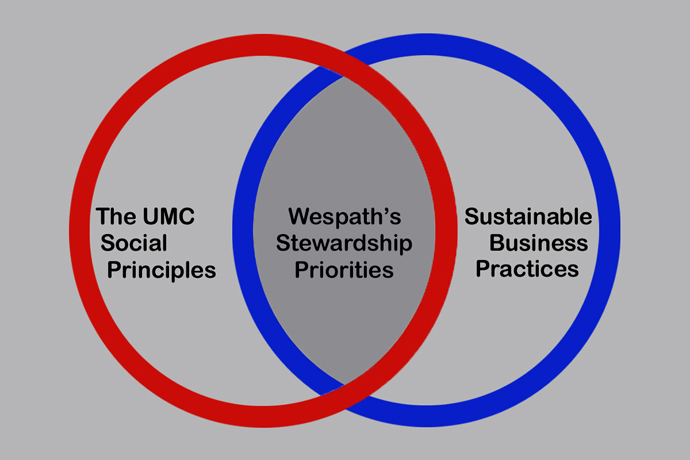 The main focus of our investment activities will always be the intersection of the Social Principles and sound sustainable business practices. However, we will also address sustainability issues that do not necessarily intersect with — or match the exact phrasing of — the Social Principles, in order to support a more sustainable economy.
Doing so opens us up to the second opinion noted above: Wespath engages in advocacy on unsettled political and social issues unrelated to investing.
It is true that we engage on sustainable business practices that overlap with political and social issues. It is also true that some of these issues cross political party lines in the U.S. and abroad.
On occasion, we may engage directly on these topics by writing letters to U.S. and world regulatory agencies or responding to invitations to engage with congressional staff on public policy. However, this activity is grounded in our fiduciary duty. We believe meaningful public policy responses are necessary to build a more sustainable global economy, and we will engage policymakers in support of changes that benefit our participants and investors.
For example, public policy can play a role in "leveling the playing field" for all companies in certain industries. Let's say we're engaging with a company on a sustainability issue, asking management to take action to reduce the likelihood that the issue affects its business operations.
We may hear in response, "We would like to, but taking this action will be expensive and put us at a competitive disadvantage unless the broader industry also makes changes." In this case, we recognize that asking one company to change, while its competitors do not, would not benefit our participants and investors. Therefore, we may ask that lawmakers consider public policy that accelerates industry-wide change.
I hope this commentary provides a helpful overview of the why regarding our sustainable investment stewardship activities. If you are interested in the what, please check out our latest Sustainable Investment Report.
These resources should help convey the importance of our work, its alignment with the values of The United Methodist Church and how it supports the finances of those whom we serve.
Zellner is chief investment officer for Wespath, the pension and health benefits agency of The United Methodist Church.
News media contact: Tim Tanton or Joey Butler at (615) 742-5470 or [email protected]. To read more United Methodist news, subscribe to the free Daily or Friday Digests.
---
Like what you're reading? Support the ministry of UM News! Your support ensures the latest denominational news, dynamic stories and informative articles will continue to connect our global community. Make a tax-deductible donation at ResourceUMC.org/GiveUMCom.