Whether a tornado, hurricane, flood, wildfire or earthquake, when disaster hits a community — or a United Methodist church — pastors and congregations need to be prepared. This is the first of two parts on how to be ready for sudden natural disasters. For more information, go to Churches Dealing with Disaster.
When Hurricane Katrina hit the Gulf Coast in 2005, United Methodists in Louisiana were in the process of writing their first disaster plan.
Now, more than 300 of the 500 churches in the Louisiana Annual (regional) Conference have participated in early response training, and a variety of other disaster-related training courses are being assembled that will be offered several times a year.
"People will be able to pick (a course), just like they're going to college," explained the Rev. Darryl Tate, the conference's director of disaster ministries and preparedness.
In Louisiana, disaster response has become a part of the United Methodist DNA, he said.
"This is as important as anything else that we do in the life of the church."
While spring traditionally marks the start of tornado season in the United States, it seems as if a multitude of disasters — tornados, hurricanes, floods, wildfires — increasingly occur year-round.
The good news is that The United Methodist Church is involved in disaster response at all levels. Across the denomination, the United Methodist Committee on Relief provides resources and training to conferences. Conferences are providing opportunities for congregations and individual church members to acquire the tools of disaster preparedness.
'Woefully unprepared'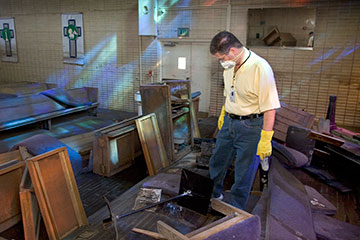 All U.S. conferences have a disaster coordinator, says the Rev. Tom Hazelwood, UMCOR's U.S. disaster response coordinator, but that was not always the case.
Hazelwood remembers being "woefully unprepared" when a deadly tornado struck Fort Smith, Ark., where he was serving as a pastor, in 1996. When he joined the UMCOR staff 15 years ago, Hazelwood was determined to provide training to allow conferences to develop a plan to resource local churches in times of disaster.
In 2004, when four major hurricanes struck Florida and affected other states, "it really became crystal clear that our focus needed to shift ... from just the annual conference being prepared to the local churches being prepared," he explained.
Experiences from Hurricanes Katrina and Rita along the Gulf Coast a year later accelerated the process. UMCOR was working as hard as it could, Hazelwood said. However, "when those hurricanes came ashore, it really was weeks before those local churches got any help from resources outside themselves."
Hurricane Katrina "was pure chaos," Tate remembered. In New Orleans, "the Methodist Church literally lost an entire district." Three weeks later, Hurricane Rita had the same effect on the Lake Charles District.
Tate, who had evacuated, lost both his parsonage and his church, St. Luke's United Methodist in the Lakeview neighborhood. A week after Katrina struck, then-Bishop William Hutchinson assigned him to be director of the Louisiana Conference Storm Recovery Center.
Seven and a half years later, the Louisiana Conference's disaster preparedness ministry provides multiple opportunities for training and is in the process of developing more. Conference representatives sit on the board of the state Voluntary Organizations Active in Disaster and participate in the governor's homeland security, he said, with access to a pass that "can get us into any disaster area of the state."
The conference also has invested in an emergency communications system, which was first used in 2008 when Hurricane Gustav occurred as Hutchinson was coming back from renewal leave, allowing him to send ahead a personal message to clergy and lay leaders.
Bishop Cynthia Fierro Harvey, who now leads the Louisiana Conference and formerly served as UMCOR's top executive, has that same ability to communicate instantly with everyone during an emergency. "It reassures the churches that the conference is on top of it and that the bishop is definitely on top of it," Tate said.
When You Donate...
Are you sometimes confused when disaster occurs and you are asked for donations? Sometimes the request is for the United Methodist Committee on Relief, and sometimesthe request may be for a fund your conference is handling.
One hundred percent of funds donated to the United Methodist Committee on Relief to a disaster-response advance goes directly to support for annual (regional) conferences, not to administrative costs or fundraising. That support includes disaster preparedness training. Money raised by UMCOR is spread out among all the conferences that have been affected by a particular disaster.
Some conferences may choose to raise their own funds for a specific situation, but giving to the broadest disaster response advances - U.S. or international - allows UMCOR to have funds on hand for emergency grants and other immediate needs when a disaster happens.
Donate to UMCOR, US Disaster Relief
Advancements since Katrina
UMCOR's expertise with disaster case management, volunteer deployment and early response training has improved and expanded since Katrina, Hazelwood pointed out.
Early response training was developed as a way "to credential and manage those who wanted to volunteer in the immediate aftermath of the disaster," he said.
UMCOR also nurtured a partnership with United Methodist Volunteers in Mission. "Katrina really exposed our lack of coordination and working together," Hazelwood explained. "With Haiti (2010 earthquake), we really were able, for the first time, to be very intentional about that coordinated effort between VIM and UMCOR."
Both early response training and the coordination of volunteers were important factors as United Methodists assisted with the recovery from flooding caused by the remnants of Hurricane Irene in the Catskills region of New York, said the Rev. Dale Ashby, Catskill Hudson district disaster coordinator for the New York Annual Conference.
Two United Methodist churches, in Prattsville and Lexington, suffered extensive damage from the August 2011 flooding, requiring major reconstruction, while another church was flooded on one level.
Rebuilding of the most severely damaged homes is continuing. "The homes that were not condemned have been, by and large, repaired and the owners moved back in," Ashby reported.
Consider the challenges
As expected, a few lessons were learned along the way. "One of the challenges we had right after Irene was equipping the volunteers with the necessary tools to do the cleanup," he explained. Churches not in the flood areas were able to donate equipment, but another challenge was getting it to the right spot.
The long-term solution: his district has put together an emergency response trailer filled with equipment "that can be moved to wherever the need is."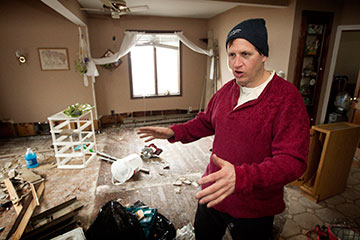 At both district and congregational levels, Ashby is emphasizing the importance of the early response training provided by UMCOR. For congregations, he noted, such training is "always a big help because then they're ready to hit the ground running."
Early response teams from outside the disaster area are self-sufficient for housing, food and equipment, Ashby pointed out, "so we don't impose further burden upon the community that was impacted."
Finding housing for later long-term recovery teams from other parts of conference took more effort. "We were fortunate to have a facility up near Prattsville that had dormitories and a kitchen," he said.
Other ways congregations can prepare for disasters:
Have a few basic supplies, such as cleaning buckets, shovels and bleach, on hand for the initial cleanup
Keep a list of contact information for church and community members who need to be checked on and designated people to make those checks
Make sure flood insurance is adequate if the building is near a river or stream
In Lexington, the congregation learned after Irene that its flood insurance covered only part of the building. "Be sure to know what it covers and what it doesn't cover," Ashby advised.
*Bloom is a United Methodist News Service multimedia reporter based in New York. Follow her at http://twitter.com/umcscribe.
News media contact: Linda Bloom, New York, (646) 369-3759 or [email protected].
---
Like what you're reading? Support the ministry of UM News! Your support ensures the latest denominational news, dynamic stories and informative articles will continue to connect our global community. Make a tax-deductible donation at ResourceUMC.org/GiveUMCom.