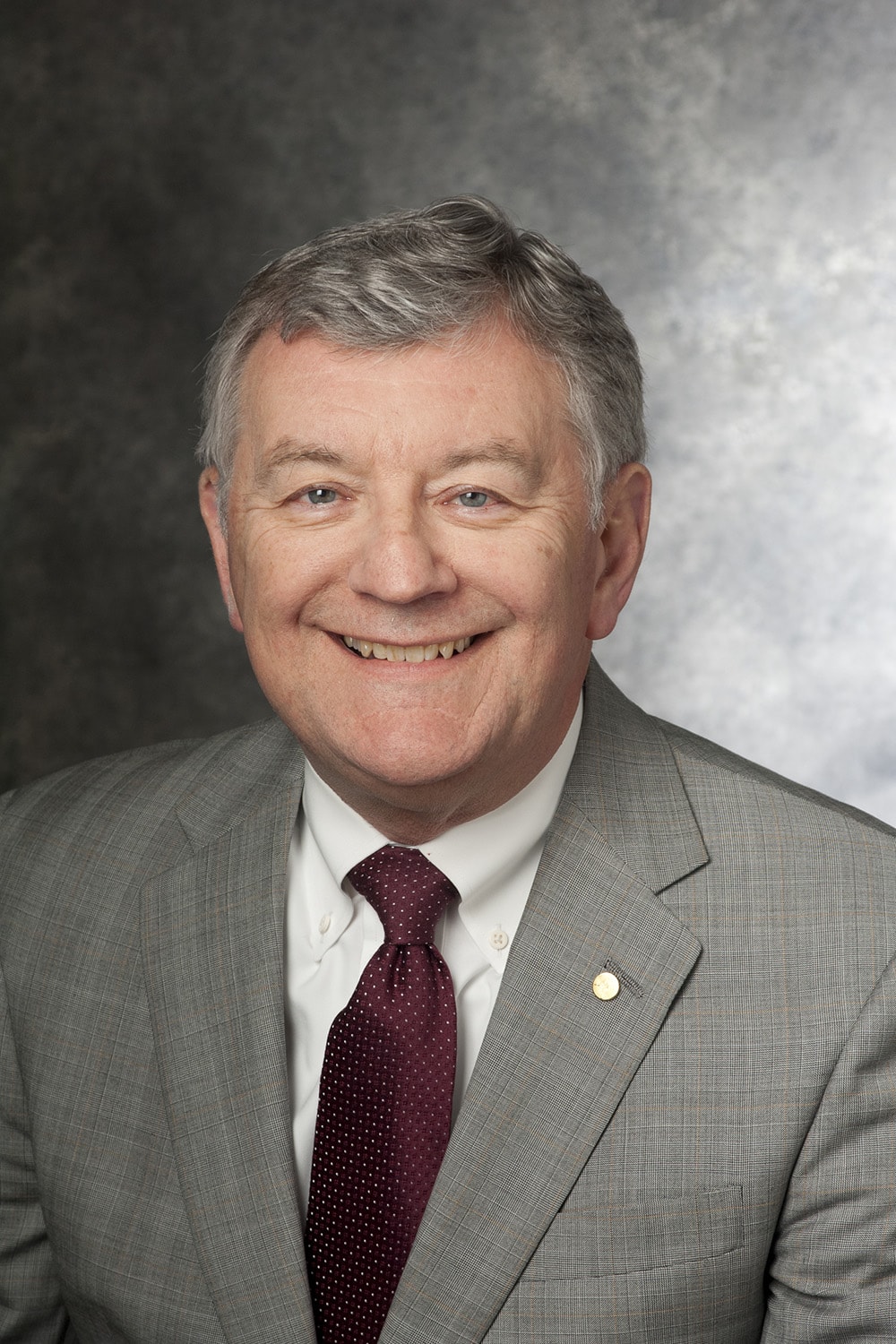 The Rev. William B. Lawrence
Photo by H. Jackson/Southern Methodist University.
According to published reports, when Jacob Anthony Chansley (aka Jake Angeli, aka the man wearing fur and horns) occupied the presider's desk in the U.S. Senate chamber during the insurrection at the United States Capitol on the Feast of the Epiphany, he and three others offered a prayer. In the name of Jesus Christ, they thanked God that they could "be where we are today."
For at least one church member, that provoked questions. Jesus said in Matthew 18:20, "where two or three are gathered in my name, I'm there with them." (Common English Bible). Did that mean Jesus was there, with the rioters and insurrectionists, as they trashed the Capitol and left six people dead? Was their invocation of Jesus' name enough to ensure that he was on their side? Did their flags that bore the name of Jesus make the insurrectionists his disciples?
One of the choices we make when we read a passage of Scripture is whether we will take notice of the context. Matthew 18:20 is an excellent example. In its context, Jesus addresses a question about dealing with someone who "sins against you," as Matthew 18:15 states. The passage outlines steps to be used in dealing with an offender who is a church member.
•
First, speak privately with the offender and have a conversation just between the two of you. "If they listen to you, then you've won over your brother or sister," Jesus said.
•
Second, if that fails, take one or two others with you to talk with the perceived offender, so that the others can function as witnesses to the conversation and "so that every word may be established by the mouth of two or three witnesses."
•
Third, if that step also fails, tell the church about the offense committed by the offender. In effect, this step involves going public within the faith community and asking the community to assess the offense. If the community agrees that an offense has occurred, and if the offender does not listen to the church, then the member should be treated as one now outside of the community of faith, who can no longer speak in Jesus' name.
Commentaries
UM News publishes various commentaries about issues in the denomination. The opinion pieces reflect a variety of viewpoints and are the opinions of the writers, not the UM News staff.
In summary, Jesus' words about "two or three" who assemble in his name applied to a process of discernment and judgment, leading to reconciliation or rejection, with regard to an offense that has been committed (or is believed to have been committed) against the community of faith.
It is not a reference to some sort of magical blessing just because any two or three people claim to gather in Jesus' name. It does not mean that a few individuals can just utter Jesus' name and thereby claim his authority for what they say or do. It actually is about the authority of the church, or of two or three representatives of the church, to reach a judgment about an offense that has been committed against the faith of God's people.
There is something further to be noted regarding the insurrectionists' claim. When they said that their actions at the Senate presider's desk had Scriptural authority — based on the fact that they were praying in Jesus' name — they were inviting Jesus' condemnation of them.
Jesus says in Matthew 7:21, "Not everybody who says to me, 'Lord, Lord' will get into the kingdom of heaven. Only those who do the will of my Father who is in heaven will enter." The context warns that, on judgment day, there will be plenty of people who insist that they prophesied in the Lord's name, cast out demons in the Lord's name, and performed powerful actions in the Lord's name.
But such self-aggrandizement and self-adulation will not impress the Lord. In fact, Jesus will tell them, "Get away from me, you people who do wrong."
Subscribe to our
e-newsletter
Like what you're reading and want to see more? Sign up for our free daily and weekly digests of important news and events in the life of The United Methodist Church.
It is always best to read a text of Scripture in its context. Jesus' words about two or three gathered in his name become clearly understandable in their Biblical setting. Those people at the Senate presider's desk cannot claim they had the Lord's blessing. That is not their judgment to make. The only authority on earth to make such a judgment is the church. And the church might determine that Mr. Chansley, et. al., were engaged in evil that warranted Jesus' rejection.
Whatever happens to the insurrectionists when they are indicted, tried and (if convicted) punished for their violations of law, I think we have an authoritative basis in Scripture for the church to denounce their misuse of Jesus' name and his words. They may have committed an offense against the community of believers.
We could try following the steps in Matthew 18. Someone from the church could visit privately with Jacob Anthony Chansley (aka Jake Angeli, aka the man wearing fur and horns) to discuss his offense. If he chooses not to listen, a few other individuals could visit him and transcribe the conversation they have with him. If he does not agree that he has offended the community of faith and the church of the Lord, we can have a discussion of the offense within the community of faith. And we should be prepared to issue a public denunciation of his taking the name of the Lord in vain.
But we should not, and we cannot, let Mr. Chansley's false teaching remain without a challenge. In matters of Christian discipleship, the word of the Lord is not what we want the Lord to say. It may be his harsh word of judgment.
Lawrence is an ordained elder of The United Methodist Church, former dean of Perkins School of Theology at Southern Methodist University and former president of the Judicial Council.

News media contact: Tim Tanton or Joey Butler at (615) 742-5470 or

[email protected]

. To read more United Methodist news, subscribe to the free Daily or Weekly Digests.
---
Like what you're reading? Support the ministry of UM News! Your support ensures the latest denominational news, dynamic stories and informative articles will continue to connect our global community. Make a tax-deductible donation at ResourceUMC.org/GiveUMCom.