From California to Texas to Russia, people are clamoring — and paying — to spend a week or two in Slidell, Louisiana, where they can get really hot, tired and dirty while making dreams come true for complete strangers.
Since Hurricane Katrina smashed into Louisiana in 2005, the Epworth Project at Northshore Disaster Recovery Inc. has assisted 7,631 clients and hosted more than 56,000 volunteers who have repaired 2,447 homes.
Dale Kimball, a member of Aldersgate United Methodist Church, was asked by then Louisiana Bishop William Hutchinson to take over the recovery station housed on the grounds of his church.
A retired Navy man, Kimball shut down his construction business to take over. He hasn't stopped since.
Kimball said it is no mystery at all why people want to come and help.
"I'm telling you I have discovered in my 10 years of doing this, that there are volunteers everywhere that want to respond. They just need to know how to do it, and when to do it, and where they can go," he said.
The same volunteers keep coming back, he said.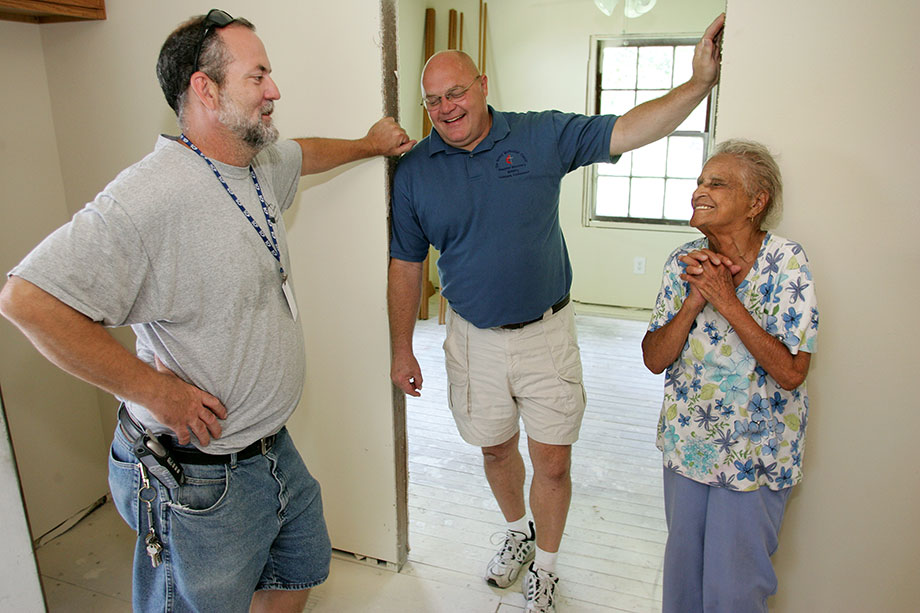 Ginghamsburg Church in Tipp City, Ohio, has brought volunteers 85 times.
Brandon Osenko, a Ginghamsburg member, has been six times — including a trip earlier this summer.
"I have many reasons that I feel called to consistently go back to serve in New Orleans, Louisiana," Osenko said. "All of these reasons are people. There are amazing people that are still hurting in the region."
"Mr. (Robert) Ford," a Katrina survivor, was 83-years old and living with his wife and daughter in their garage when Osenko met them in 2008. Kimball said "Mr. Ford" died a few months ago.
"They had been living in their garage for the last seven years. During Katrina, Mr. Ford used his small fishing boat to rescue and ferry his family and many of his neighbors to a nearby elevated bridge. Sadly, he was unable to save all his neighbors … he should be recognized as a hero," Osenko said.
"We always go hoping that we are going to be able to pour hope into someone — but we are always far out blessed by the people we are trying to help."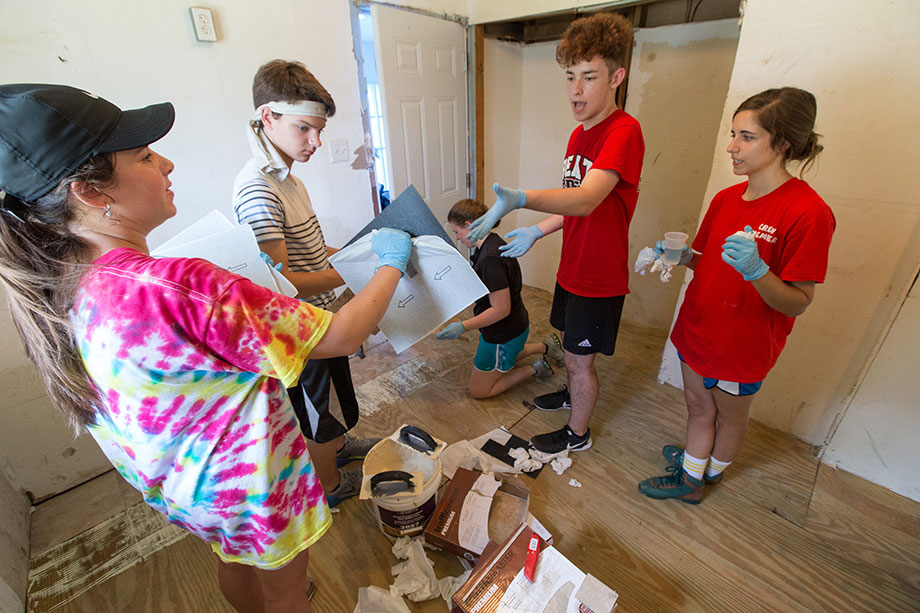 More work to do
Epworth Project started in 2008 when the United Methodist Committee on Relief began shutting down their recovery stations. Kimball convinced the church to let him continue the work. The conference donated the building to the project, which gets support from Aldersgate but also generates its own funds.
Kimball recruits 1,400 volunteers a year. He invites himself to churches of all denominations and speaks to colleges, clubs or organizations. "Whoever is willing to listen."
That's all it takes, he said.
Funds to run Epworth Project come from the volunteers who work there. Kimball said it is not uncommon for volunteers to pay fees to do the work.
Dale Kimball, director of the Epworth Project in Slidell, Louisiana, recruits more than 1,000 volunteers a year to come to Louisiana and fix Katrina-wrecked houses.
"I'm finding our fee is less than most other sites," he said. The fee is sufficient to house and feed volunteers, provide recreation, Bible studies and worship services. It also pays for the upkeep and operate all the project's equipment and tools.
"Ninety-nine percent of our clients don't have any money and they don't have any family that is going to come and do the work for them. It's the generosity of strangers and the relationships they build with them that really get the project completed," Kimball said.
They come and know they make a difference, he said.
"This week we have groups from California, Texas and Indiana — they are culturally different. Yeah, they are all teenagers but that group from California — they are from Beverly Hills. To watch them work together and grow relationships together, that's amazing."
Volunteers of all ages come from all parts of the world.
"My heart is always touched by the volunteers who come in here and have every excuse in the world not to. A few months ago we had a lady here, she was 94. That's a lot of reason not to be on a mission trip. But she was with a team, she was in the house, she worked every day."
Dave Knapp, another member of Ginghamsburg, has been back to Louisiana 11 times on mission trips. He always makes sure the mission team he is on goes by to visit Harris and Consuela Irvin who live in New Orleans' ninth ward.
The Irvins invited Knapp and his team into their home and told them their story.
"Stories will change your heart," Knapp said. "And that's how we change the world. We have to change our own hearts first."
Gilbert is a United Methodist News Service multimedia reporter in Nashville. Contact her at [email protected] or 615-742-5470.
---
Like what you're reading? Support the ministry of UM News! Your support ensures the latest denominational news, dynamic stories and informative articles will continue to connect our global community. Make a tax-deductible donation at ResourceUMC.org/GiveUMCom.