Leona Cousins, 99, has completely lost her sight, but she has no problems recognizing the voices of angels.
One of her angels is Dale Kimball, director of the United Methodist Slidell (La.) Recovery Station, who saw to it that Cousins' home was rebuilt after Hurricane Katrina sent a tidal wave over her home in 2005.
In the past five years, volunteers organized through The United Methodist Church have flooded Louisiana and Mississippi and helped thousands of people like Cousins put their homes and lives back together again.
More than 160,000 volunteers have mucked, hammered, wired, installed and painted their way across Mississippi and nearly 90,000 have braved the mosquitoes, heat and humidity in Louisiana to do the same.
Mississippi has supported the repair of 12,320 homes and built 132 from the ground up. Louisiana has closed the files on 67,741 cases from homeowners needing help.
Divine intervention
The homeowners say all the volunteers are God-sent.
"I never thought I would meet so many nice people this late in my life," said Cousins, a petite woman with a heavy Cajun accent and toasted brown skin.
Her modest white frame house was built for her by her father in the 1950s. A sheriff's deputy found her crying in the rubble of her home after Katrina because she had no money and no one to help her rebuild.

One call to Kimball fixed that.
Kimball stays in touch with many of the people his team has helped in the past five years.
"The last time I saw her (Cousins) she was doing fine, loving her home but has completely lost her sight. She still recognizes our voices, or as she says, the voices of angels."
Friends for life
The thousands who have come to the Gulf Coast offering help have left with lifelong friendships.
The Rev. Marilyn Roeder has brought mission teams from First United Methodist Church, Victoria, Texas, to New Orleans 11 times. She has driven from Victoria to New Orleans every six weeks since 2005 to work on homes and bring in supplies.
While in New Orleans, her second home is with Elvina and Vince DiBartolo. In 2008 she spent her three-and-a-half-month sabbatical at their home.
The DiBartolo family, devout Catholics, evacuated to the small Texas town to escape the storm and met the effervescent United Methodist pastor at a Red Cross shelter.
"Connections and relationships have continued way beyond anything Katrina did," Roeder said. "We always say it is not about the project, it is not about the work, it is about the relationship."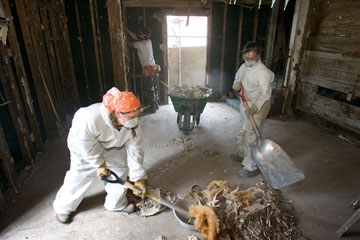 Baptized by a storm
Many historic United Methodist churches and institutions were wiped out by the hurricane. Some have been rebuilt, some have closed and some have been born again in new ministries.
After the water receded in New Orleans, 90 churches in three Louisiana parishes were damaged and 80 pastors were displaced. In 2007, five United Methodist churches - Gentilly, Napoleon Avenue, John Wesley, Felicity and St. Philip - in the New Orleans district were discontinued and abandoned. Jefferson United Methodist closed in 2008.
Ten churches have merged. First Grace, which combined an historically white church with an historically black church, has experienced steady growth since the merger.
Luke's House, a free medical clinic, operates out of damaged Mount Zion United Methodist Church serving a poor inner-city New Orleans neighborhood.
The hurricane that drowned Louisiana smashed and flattened Mississippi. More than 70,000 homes were destroyed. Five years later, 300 families are still on the waiting list at the Mississippi Katrina Recovery Center. Teams have signed up to come through 2012, said Robert Sharp, center director.
All the damaged churches in Mississippi have been repaired or rebuilt except for Leggett Memorial at the Seashore Mission, a homeless ministry, he said. Leggett was struggling before the storm and has opened a chapel in one of the undamaged buildings.
Three permanent recovery centers have been built to house volunteers and to store supplies for rebuilding.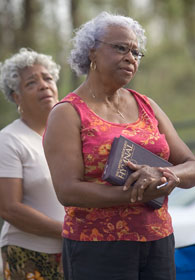 Historic Gulfside Assembly in Waveland, Miss., was washed away. Gulfside was opened in 1923 as a retreat and recreation center for African Americans who were not permitted to use most resorts in the segregated South.
Mollie Stewart, president, said the center is moving in a new direction and soon ground will be broken for an active older adult community that will include independent and assisted-living villas.
"We did a lot of praying and soul searching and came up with this idea because the community needs this type of facility," Stewart said.
An ecumenical healing service will be held on the grounds of the center Sept. 17. United Methodist Bishop Hope Morgan Ward, Mississippi, and retired Bishop Felton May will be joined by religious leaders from other denominations to pray for the Gulf Coast from Louisiana to Alabama, she said.
Love offerings
United Methodists donated more than $64.5 million to the United Methodist Committee on Relief's hurricane recovery efforts. The final disbursement of funds was released by UMCOR in March. UMCOR also managed another $66 million contributed from foreign governments in a project called Katrina Aid Today.
Because UMCOR funds are restricted to helping people rebuild their homes, the United Methodist Council of Bishops established the Katrina Recovery Appeal to help rebuild churches and assist with other ministry needs. That appeal raised nearly $5 million.
But those are just the official numbers, said the Rev. Chris Cumbest, pastor of St. Paul United Methodist Church, Ocean Springs, Miss.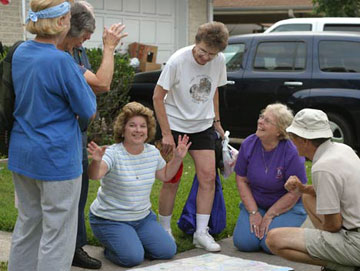 "People brought materials, Home Depot cards, gave money to the local churches they were staying in. &;ellipsis; What you see on paper is just a small bit of what the response has been over the past five years," he said.
"Volunteers from England to Costa Rica to the Philippines and all of the United Methodist annual conferences have been to Mississippi," said Sharp. "The United Methodist connection is fabulous."
People like Leona Cousins will tell you it was the church that was there to care for their physical and spiritual needs.
"While we are most grateful for our local, state and federal systems, we have been reminded time and again that people need spiritual nurture and personal relationships along with the physical recovery," said the Rev. Don Cottrill, provost for the Louisiana Annual (regional) Conference.
"There is a need that only the faith community can feed."
*Gilbert is a multimedia reporter of 18-34 content at United Methodist Communications, Nashville, Tenn.
News media contact: Kathy L. Gilbert, Nashville, Tenn., (615) 742-5470 or [email protected].
Multimedia
Resources
---
Like what you're reading? Support the ministry of UM News! Your support ensures the latest denominational news, dynamic stories and informative articles will continue to connect our global community. Make a tax-deductible donation at ResourceUMC.org/GiveUMCom.