The Rev. Tom Vencuss was in a good mood as he stood on the porch of the Methodist Guest House in Port-au-Prince the afternoon of Jan. 12.
He and his wife, the Rev. Wendy Vencuss, had just returned from a meeting of United Methodist mission partners and representatives of the Methodist Church of Haiti. "The general feeling was just so upbeat at four o'clock on that Tuesday," he recalled. "We were to sign a covenant agreement the next day&ellipsis;to pledge ourselves to work together."
Shortly afterward, a massive earthquake struck Haiti. Vencuss, who is also a medic, spent the rest of the day attending to the wounded and rounding up people to take shelter at the guest house.
Now, nearly six months later, Vencuss is fulfilling the earlier pledge. He has taken a leave of absence from his duties at Wethersfield (Conn.) United Methodist Church-where he and his wife are co-pastors-and is leading teams to work cooperatively with Haitians on earthquake recovery.
The guest house is still sheltering those afraid to return to their homes-the large outdoor basketball court is filled with tents. But it also has become a staging ground for teams being dispersed to different parts of Haiti.
Volunteer-in-Mission teams are part of The United Methodist Church's multi-faceted approach to assist Haitians in earthquake recovery. A three-person volunteer staff-the Rev. Mike Willis of Vestal, N.Y., and Doug Nagel of Baton Rouge, La., in Haiti, and Susan J. Meister of Galesburg, Ill.-is coordinating their involvement.
Leading the way
The United Methodist Committee on Relief, in partnership with Haitian Methodists, has been leading the denomination's efforts. By June 30, United Methodists had raised more than $40 million for Haiti.
Priorities for the Haiti Response Plan were refined during a three-day June workshop involving more than 25 leaders of the Methodist Church of Haiti and representatives from UMCOR, the United Methodist Board of Global Ministries, United Church of Canada and Methodist Church of Great Britain.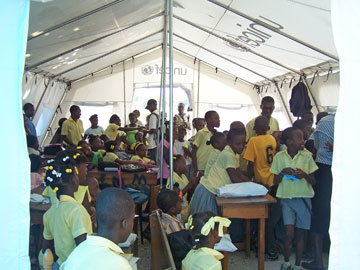 United Methodist congregations have been sending work teams to Haiti for more than two decades. What makes the earthquake recovery project unusual, said Gregory Forrester, mission coordinator for the denomination's Northeastern Jurisdiction, is that teams will be rotated through project sites designated by the Methodist Church of Haiti and many Haitians are being hired to support the work teams.
When Forrester, who has visited Haiti annually over the past 15 years, and two other jurisdictional coordinators returned in February, they found that supplies were available, "but no one could buy them."
To address the lack of a functioning economy in Haiti, the proposal for volunteer teams-adopted by UMCOR directors in April-recommended, at minimum, a two-to-one ratio of hired Haitians to team members for a work site.
When Forrester brought a team for a May 10-17 work experience, he said, 40 people were on the payroll.
"We bought all our food local," he said. "We hired for laundry. We had people providing security for us. We actually fed all the laborers who were on the job site with us and hired cooks as well."
Near the epicenter
His team went to Mellier, a village three miles from the earthquake's epicenter, where the rebuilding effort will include a school, church and homes. Haitian church members had distributed food rations from UMCOR in the village a couple of weeks after the earthquake.
"Everybody in that community was affected," Forrester said. "Every single house damaged. There were no jobs; there was no infrastructure left."
Sandy Binotto, a member of First Romney (W. Va.) United Methodist Church, was a member of Forrester's team.
"If we all join together to lift one block of fallen concrete or cut one piece of twisted rebar, then yes, in time, it will get done. We must not give up. New structures will rise from rubble."Sandy Binotto
"You stop and wonder if you are really making a difference when the task is so large," she wrote afterward. "In your heart you say, 'Yes' because one kind smile, handshake or song makes it all worthwhile.
"If we all join together to lift one block of fallen concrete or cut one piece of twisted rebar, then yes, in time, it will get done. We must not give up. New structures will rise from rubble."
Clearing rubble is one of the current tasks for volunteer teams, said Melissa Crutchfield, the UMCOR executive in charge of international disasters.
Temporary structures are being built for churches and schools. "Right now, the only thing you can use is a tent or temporary structure, which should last a couple of years. They are pretty solid structures," she explained. "But the government is trying to be very deliberate about building codes moving forward. They don't want permanent structures built until they can develop earthquake proof, hurricane proof, top-of-line engineering feats."
Commitment to Haiti
Tom and Wendy Vencuss began working in Haiti eight years ago and helped re-establish the New York Annual Conference task force on Haiti, now called Mountains of Hope for Haiti. The program's focus is in Furcy, where a medical clinic was built and partnerships established with the local church and school.
When Tom Vencuss returned there in March, he found minor earthquake damage, except for one building, but learned that many survivors had come to the clinic for medical attention.
He and a team left July 1 for a nine-day mission to make repairs in Furcy and hold two clinic days with doctors organized by the Methodist Church of Haiti. New York area teams also will work in other parts of Haiti, based on where the need is, over the coming months.
"The New York Conference has committed to one team a month," he said. "The middle of July, we've got another group going down. I'll be going down with teams in August and September."
And despite the underlying sadness and pain that has followed the earthquake, Vencuss is upbeat once again. "The Haitian people are just incredibly resilient and resourceful," he said.
Volunteers interested in scheduling a trip to Haiti can contact Meister by e-mail at [email protected].
Donations to support the work in Haiti can be made online at www.umcorhaiti.org or by checks payable to UMCOR and mailed to UMCOR, P.O. Box 9068, New York, NY 10087. Please indicate Haiti Emergency, UMCOR Advance #418325, on the memo line.
*Bloom is a United Methodist News Service news writer based in New York. Heather Hahn of UMNS contributed to this report.
News media contact: Linda Bloom, New York, (646) 369-3759 or [email protected].
Video
Related Video
Related Articles
L'Eglise Methodiste d'Haiti Plans for the Future
Haiti still needs donations, help
Haitian church members distribute UMCOR food
Earthquake in Haiti: the church responds
Resources
---
Like what you're reading? Support the ministry of UM News! Your support ensures the latest denominational news, dynamic stories and informative articles will continue to connect our global community. Make a tax-deductible donation at ResourceUMC.org/GiveUMCom.