United Methodists across the U.S. are joining in prayer and offering whatever help they can to their African Methodist Episcopal brothers and sisters after June 17's deadly church shooting in Charleston, South Carolina.
"As a people of faith committed to social justice and opposed to gun violence and racism, we grieve the lives lost and destroyed by this horrendous act of violence," said South Carolina's United Methodist Bishop L. Jonathan Holston in a request for prayer. "The reality is that no one is unaffected. We are all impacted by the horror that occurred in this place of worship."
Bishop Warner Brown Jr., president of the Council of Bishops, sent a letter to African Methodist Episcopal bishops offering United Methodist support and calling on United Methodists to work toward a more peaceful future.
"We call on United Methodists and all people of good will to support the victims of this and all acts of violence, to work to end racism and hatred, to seek peace with justice, and to live the prayer that our Lord gave us, that God's 'kingdom come, (and) will be done, on earth as it is in heaven,'" Brown's letter said.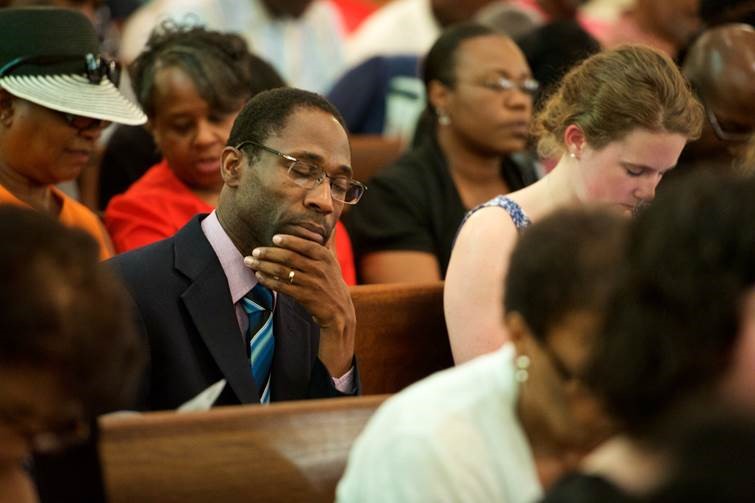 A gunman opened fire at Emanuel African Methodist Episcopal Church during Wednesday night prayer and Bible study, killing nine people. The historic downtown church is widely reported to be the oldest AME congregation south of Baltimore.
Among the dead was the pastor, the Rev. Clementa Pinckney, who also was a state senator. Pinckney was also a doctoral candidate at United Methodist Wesley Theological Seminary in Washington.
Law enforcement officers have arrested a suspect, Dylann Storm Roof, 21, and they are investigating the massacre as a possible hate crime.
"Before we do anything, we ought to start by solidifying that which we affirm most, which is our faith," said the Rev. Ken Nelson, the South Carolina Conference secretary and director of clergy services. Nelson counted Pinckney as a friend and colleague.
"It's important to stand with this congregation and with people of faith."
He was among the United Methodists planning to attend a noon prayer service at Bethel AME Church in Columbia, South Carolina.
Other AME churches across the United States also held noon prayer services, and United Methodists joined in bowing their heads.
Some South Carolina United Methodist churches also are opening their doors to anyone who needs a quiet time of meditation.
Christians ResPond to Tragedy
A number of Christian bodies and leaders have called for prayer and condemned violence. They include:
Find resources about how the church responds to violence at www.umc.org/violence.
Strengthening ties
The shooting comes as United Methodists and AME members have been strengthening their ties.
In 2012, the United Methodist General Conference — the denomination's top lawmaking assembly — approved full communion with five other Pan-Methodist denominations, including the African Methodist Episcopal Church. Full communion means the churches acknowledge each other as partners in the Christian faith and commit to work together in ministry. Such an agreement also means they can share clergy.
Just a few weeks ago, South Carolina United Methodists and AME members held a joint prayer vigil following the death of Walter Scott. A police officer has been charged with murder in Scott's death.
The Rev. Amiri Hooker, chair of the South Carolina Conference's Racial Reconciliation Design Team, said he talked with Pinckney on Friday about a Pan-Methodist gathering planned for the coming weeks.
"A number of pastors I've spoken with this morning say this is a time for prayer and supporting the (affected) families but also to make sure that as a community we don't succumb to fear," said Hooker, who was on his way to attend the prayer service in Charleston. 
"We won't let this tragedy claim our purpose of being a church that's open to all God's children."
Still, he joined with other church leaders in urging congregations to be vigilant and revisit their response plans for when danger strikes. He pointed out that many South Carolina United Methodist churches are holding vacation Bible schools this week.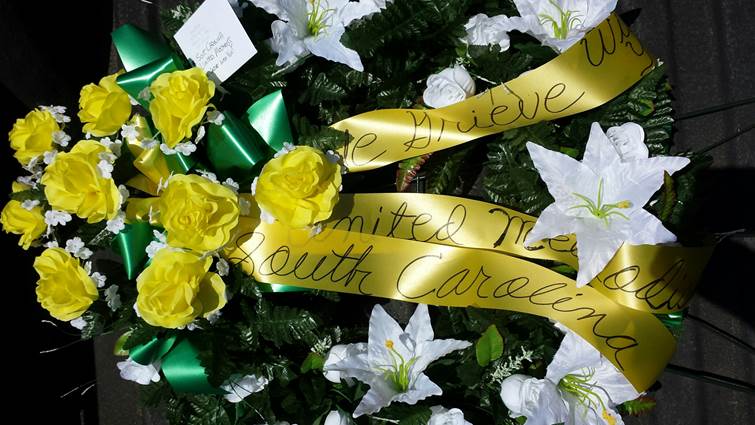 Confronting evil
Historically, African-American congregations have had good reason to be vigilant, said Valerie Cooper, associate professor of black church studies at United Methodist Duke Divinity School.
"There is a long, sad history of anti-black violence, bombings, and arson aimed at black churches, which function as the beating theological, social, political, and even economic heart of many black communities," she said. "Particularly during the 20th century, burning black churches was a way to try to intimidate blacks seeking increased political or economic power since the churches so often functioned as the hub of civil rights organizing."
She pointed to the 1963 bombing of 16th Street Baptist Church in Birmingham, Alabama, which resulted in the deaths of four little girls who were there for Sunday school.
That event "shocked the nation with the violent lengths to which racists would go to disrupt and destroy black churches, and by extension, black communities," she said.
Nelson said he hopes churches don't act as though it's open season for church shootings. "What we don't do is hunker down and hide," he said. "What we do is embrace the faith that we proclaim."
South Carolina Gov. Nikki Haley, a United Methodist, said in a statement late June 17: "We'll never understand what motivates anyone to enter one of our places of worship and take the life of another."
The Rev. Cedrick D. Bridgeforth, chair of Black Methodists for Church Renewal, challenged United Methodists to use this time "amidst the various tragedies that keep trying to get our attention, to root out the sin of racism, classism and bigotry of every kind that is prevalent among us."
One question that often follows tragedy is why God allowed such brutality. Emanuel, after all, means "God with us."
"Evil is real, and our world is still impacted by that. At this point, we have to stand firm to say there is another force in the world," Nelson said. "The church needs to be a witness as strongly as we know how that God's love is still prevalent and working in the world."
Hahn is a multimedia news reporter for United Methodist News Service. Brodie is the director of communications for the South Carolina Conference. Contact her at (615) 742-5470 or [email protected]
---
Like what you're reading? Support the ministry of UM News! Your support ensures the latest denominational news, dynamic stories and informative articles will continue to connect our global community. Make a tax-deductible donation at ResourceUMC.org/GiveUMCom.