Zimbabwe is facing acute food shortages caused by persistent droughts, last year's devastating Cyclone Idai and economic turmoil.
The United Nations' World Food Program estimates that nearly 8 million people — half the population — are facing food insecurity.
The hunger crisis is taking its toll on United Methodists in both rural and urban communities, with the elderly, children under age 5 and the infirm hit especially hard.
The Rev. Alan Masimba Gurupira, Zimbabwe Episcopal Area administrative assistant to Bishop Eben K. Nhiwatiwa, said Zimbabwe is an agrarian economy, so the scarcity of rain is a sign of more problems to come.
"Water means life and aids all possibilities for prosperity," he said.
"The situation has adversely affected all our institutions since the source of wealth that propels them is negatively affected. Within such a situation of water scarcity, challenges of food availability become apparent, posing acute strain on our already battered economy."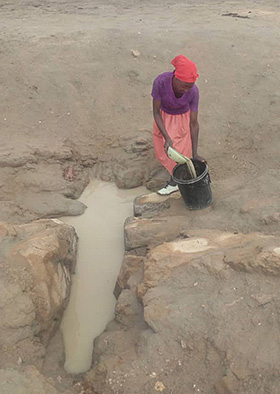 Gogo Felistas Washaya fetches water at the drying Nyamacheni Dam in Gokwe, Zimbabwe. Humans and livestock are using the same source of water in this area plagued by persistent drought. Photo by Kudzai Chingwe, UM News.
Nyamacheni United Methodist Mission in Gokwe and its communities suffer perpetual poverty due to persistent drought.
"It is very difficult to minister to a hungry congregation. The common conversation is about the calamity befalling each other daily. Sorrowful faces always greet you," said the mission pastor-in-charge, the Rev. Stewart Mawoko.
"Surprisingly, the attendance has not been affected, like what has happened to remittances. Instead, people have become more prayerful. They know that only God is our salvation," he said.
"Most of the school-going children who normally travel long distances are no longer coming to Nyamacheni Secondary School due to hunger," Mawoko said.
The government's Department of Social Welfare has distributed food to the elderly, disabled and other vulnerable people in Gokwe.
The drought and late rains also have affected The United Methodist Church's Nyadire Mission.
Esnath Arichara, Nyadire farm manager, said the early maize (corn) crop was badly affected by lack of rain.
"The maize wilted due to excessive heat," she said. "However, we have received some significant rain since mid-February and we are hoping it will enable our smaller fields to thrive."
Nyadire farm production also has been hurt by the lack of funds to buy seed and fertilizers.
The farm is located in the church's Mutoko Mudzi District where the United Nations' World Food Program distributed food aid in February.
Pastor Prudence Mukwindidza of Ruwangwe United Methodist Church in Eastern Zimbabwe near the Mozambican border said the food situation is bad.
"We have not received much rain and people are even struggling to get safe drinking water," she said.
To prevent malnutrition and stunted growth in primary school children, the government has implemented a supplementary feeding program, providing maize to all junior schools in the country.
The Rev. Munyaradzi Timire, Zimbabwe East Conference education secretary, said all church primary schools are benefitting from the government aid.
"All primary schools get maize from the government, and the school development committees source other foodstuffs to ensure the children have one balanced meal," he said.
The Rev. Pauline Nyamudzura, Marange District superintendent, said parents volunteer to cook the maize, which is served with vegetables from the community.
The Rev. Diana Matikiti, Makoni Buhera District superintendent, said the government realized some children "were going to school on empty stomachs."
Urban communities have not been spared, as most rely on the maize grown by rural communities. Cornmeal, which is used to cook the staple sadza, is scarce in supermarkets, while those who have extra grain are selling at prices too high for the average Zimbabwean.
The situation has spurred United Methodists to care for vulnerable groups.
In Chitungwiza, about 18 miles from Harare, Michael and Joyce Dengwani, members of Seke South United Methodist Church, donated 136 bags of corn and 136 bottles of vegetable oil to vulnerable church members identified by Seke's church and society committee.
Solomon Nyamundaya, the church connectional ministries chairperson, said maize and vegetable oil, now scarce and expensive, form a major part of the local diet.
"The Dengwani family is just answering to the call of ministry of charity. They are planning to give 200 families in our church 20 kilograms of corn anytime soon," Nyamundaya said.
Another member, Gladys Chirimuuta, donated 750 kilograms of corn meal to the elderly and the needy in the church.
Members of Southlea Park United Methodist Church in the Harare East District have rallied to respond to the needs of Rachael Ziki, who has opened her home to shelter 19 children ages 2 to 17 who suffer from cerebral palsy. The children were dumped or abandoned by their parents due to their disabilities.
Ziki, 43, is not a United Methodist, but her situation touched the hearts of church members who decided to regularly visit and help the children.
"When I send a distress call, the United Methodists respond," Ziki said.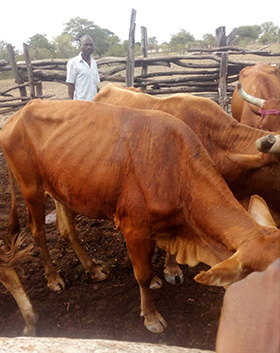 United Methodist farmer Marshy Zvenyika stands next to his cattle in Takaendesa Village in the Nyamacheni area of Gokwe, Zimbabwe. The country is facing a hunger crisis brought on by persistent droughts and a crumbling economy. Photo by Kudzai Chingwe, UM News.
While food is a big challenge, she also needs diapers for nine children and additional wheelchairs. Ziki said she is grateful to the church for providing wheelchairs for five children, but needs five more.
The Rev. Farai Kamusono of Southlea Park United Methodist Church said his church provides groceries and clothing for the children. He said Ziki often comes to church to thank members for their assistance.
In the drought-prone Masvingo District, an $8,000 United Methodist Women grant is helping women and girls generate income through a new farming project.
Tendai Rebecca Gurupira, area coordinator for the Ministry of Women, Youth and Children, said the drought has affected most of the farm produce in the region.
She said the program empowered girls and women as well as bringing "hope to the 78 beneficiaries and their families."
Jane Mary Mutepaire, 62, a widow from Chiredzi Circuit, is grateful for the 20 chicks, feed and medicine she received as part of the project.
"Our hope for a bumper harvest was shattered by the effects of drought, but God is always faithful," Mutepaire said. "I know that when I manage this project well, I can buy basic needs for my grandchildren."
The Rev. Modesta Sekai Pfupa, Masvingo District connectional ministries director, said the chick initiative will go a long way in helping those who have been suffering.
"Sometimes, the little we do to our members move mountains unknowingly," Pfupa said.
She noted the case of 21-year-old Rachel Shito, an unemployed young adult in the program.
"When we arrived in Masvingo town, she hugged me and thanked the church for assisting her. Tears of joy rolled down her cheeks as she held me, whispering,'Thank you, thank you.'
"Not only that," Pfupa said, but "her mother visited my office just to (show her appreciation). The father, who is not coming to church, called to just say thank you and is now continuously sending Scripture messages."
Rachel Shito said she is beyond grateful for the support.
"This seed will give me a strong foundation to start my life. In return, I will uplift other youths to do the same."
Chikwanah and Chingwe are communicators for the Zimbabwe East Conference.
News media contact: Vicki Brown at (615) 742-5470 or [email protected]. To read more United Methodist news, subscribe to the free Daily or Weekly Digests.
---
Like what you're reading? Support the ministry of UM News! Your support ensures the latest denominational news, dynamic stories and informative articles will continue to connect our global community. Make a tax-deductible donation at ResourceUMC.org/GiveUMCom.