Susan Shangreaux, a resident on the Pine Ridge Indian Reservation, said she is terrified of the spring rain.
After surviving two of the most devastating winter-weather events the region has seen, her mobile home is in disrepair, with a collapsing roof and other damage inside and out.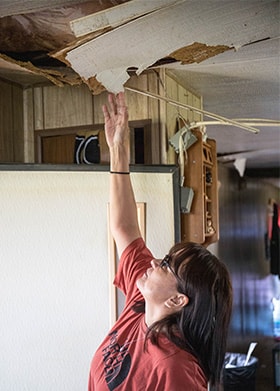 Susan Shangreaux, a resident on the Pine Ridge Indian Reservation, points to a spot on her ceiling that caved in from heavy snow after severe winter storms. Photo by Ginny Underwood, UM News.
Winter storm Ulmer peaked on March 13 with 90-mile-per-hour winds and blizzard-like conditions. In mid-April, winter storm Wesley dumped an additional 20 inches of snow across the northern plains.
"The last storm really did it for us," said Shangreaux. "Water started coming in and we heard the winds. It took off part of the roof and the snow started pushing in the ceiling."
She described the faulty electrical issues she is having to Federal Emergency Management Agency staff, South Dakota state assessors and representatives from the Oklahoma Indian Missionary Conference who visited her home on May 14.
While touring the house, a child's coughing could be heard from the back bedroom. A FEMA inspector pointed out black mold — a toxic infestation that causes respiratory problems — growing a few feet from the child's bedroom.
"I had no idea," Shangreaux responded.
Both of her sons have been struggling with a cough for weeks.
Following the storms, the heavy snow melted quickly causing severe flooding across the reservation, affecting many of the 30,000 people living within the Oglala Sioux Tribal boundaries.
Thousands of miles of roads remain impassable, and more than 1,200 people have reported damaged homes.
In the worst cases, tribal members who need dialysis and cancer treatment have been air lifted from their homes to hospitals. School buses cannot reach rural roads and many children are missing school because they are unable to get to the paved roads.
The reservation's Emergency Management System has four full-time employees working around the clock, and tribal leaders said that isn't nearly enough.
"We would not be able to begin to address our peoples' need if it weren't for the United Methodist community, the United Methodist Committee on Relief, specifically, who sent help in our greatest hour of need," said Chase Iron Eyes, public relations liaison for the Oglala Sioux Tribe.
How to help
The Oklahoma Indian Missionary Conference is continuing to take donations for the Oglala Sioux Tribe. Donations can be made online at
www.umc-oimc.org/give-online
or sent to the conference office at 602 SW 35
th
St., Oklahoma City, Oklahoma 73109.
Lorrie King, United Methodist Committee on Relief project manager, met with Iron Eyes in January following the Indigenous Peoples March in Washington to discuss community development needs at Pine Ridge. UMCOR extended a youth engagement grant focusing on advocacy earlier in the year.
Immediately after the winter storms, King and the Rev. David Wilson from the Oklahoma Indian Missionary Conference visited the reservation to deliver a $5,000 donation from the conference's churches and to launch a campaign to raise awareness of the crisis on the reservation.
Members of the conference returned in May to deliver a truckload of baby wipes, diapers and formula donated by churches, and to bring a $10,000 check that will go to the Emergency Management team providing direct response to tribal members. The check included a $5,000 contribution from the Cheyenne and Arapaho Tribes of Oklahoma.
"The people here have faced disaster after disaster and yet they find the will to move on," said Wilson. "They are resilient and strong people and it is an honor to help them start a process to get back on their feet as a tribal nation."
In addition, UMCOR has awarded the first of two grants to help the tribe obtain water/sanitation infrastructure assessments that tribal leaders hope will help substantiate the need for federal assistance. The first grant was for $79,350, with $80,652 to follow for the second half of the assessments in July.
Just like states, tribal governments must provide a thorough assessment of the affected area to determine the extent of the disaster, its impact on individuals and public facilities, and the types of federal assistance that may be needed.
"The state of South Dakota has not yet declared Pine Ridge a disaster area. Therefore, the tribe has to prove on its own that there is at least $250,000 worth of damages before FEMA will provide assistance to rebuild," said King.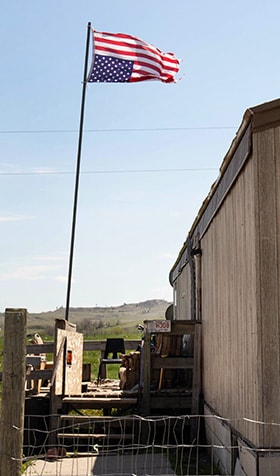 A resident of the Pine Ridge Indian Reservation displays an American flag upside down, a signal of distress, after devastating winter snowstorms. Photo by Ginny Underwood, UM News.
The U.S. government recognizes 600 Indian tribes and those tribes are eligible for funding and services from the Bureau of Indian Affairs directly or through contract, grants or other agreements. The support stems from historic treaties signed between tribal nations and the United States.
"What we are seeing on Pine Ridge are human rights violations and broken treaties that promised to extend support, solidarity and the right of self-determination to indigenous communities," King said.
"UMCOR, OIMC and United Methodists are in a unique position to respond. I intend to be in it for the long haul."
Iron Eyes said the community is grateful for the help.
"The United Methodist support to carry out our assessments will help us achieve our No. 1 goal, which is to be declared a disaster area, so we can rebuild our infrastructure that has suffered greatly," he said.
The Pine Ridge reservation is the third-largest reservation in terms of population, behind the Navajo Nation and the Cherokee Nation of Oklahoma; it has the second largest land base.
Leaders say even before the recent disasters there was a housing shortage, with a reportedly 2,500 families looking for places to live. It is not uncommon for a three-bedroom house to be occupied by three families.
The tribe relies on federal funding, which is extremely inadequate, said Delbert Brewer, Emergency Management specialist for the tribe. The unemployment rate on the reservation has been as high as 80% of the population.
Regardless of the statistics, the Oglala Sioux language, philosophy and traditional practices are still alive.
"We don't have a choice but to stand in our spiritual dignity (and) pick up the pieces. All we have ever wanted was to live in peace and for our children to prosper," said Iron Eyes. "We would not be able to do what we are doing but for the assistance of the Methodist community and we appreciate that."
The FEMA and state damage assessments should be complete in June.
When Shangreaux asked how to get rid of black mold in her home, she was advised to look it up online and wait for public service announcements at the end of the summer about the status of the disaster declaration.
Wilson said this is why United Methodists need to get involved.
"Our Native brothers and sisters need help now," Wilson said. "It is infuriating to see them living in such horrible conditions."
Ginny Underwood is a communication consultant with ties to the Oklahoma Indian Missionary Conference. She is a member of the Comanche Nation of Oklahoma.
News media contact: Vicki Brown at 615-742-5470 or [email protected]. To read more United Methodist news, subscribe to the free Daily or Weekly Digests.
---
Like what you're reading? Support the ministry of UM News! Your support ensures the latest denominational news, dynamic stories and informative articles will continue to connect our global community. Make a tax-deductible donation at ResourceUMC.org/GiveUMCom.