Key Points:
The United Methodist Church in Zimbabwe is helping raise awareness about the harms of drug and substance abuse and the importance of rehabilitation.
Local churches are focused on community awareness and outreach programs such as clean-up campaigns, capacity-building workshops, social activities for youth and prayer retreats.
United Methodist schools in Zimbabwe also have been affected by the growing problem and are offering counseling and other programs.
---
The scourge of drug and substance abuse is a reality worldwide, and The United Methodist Church in Zimbabwe is taking the situation seriously.
In this south African country, children and adults are indulging in drugs and substances at an alarming rate. As a result, families struggle with poor health, crime, truancy, violence and suicide.
"Drug and substance abuse is no longer an individual problem, but a national concern that needs collective intervention from church, law enforcement, parents, children and teachers," said Anesu Mupfumbati, a Form 4 student at The United Methodist Church's Murewa High School.
The Rev. John Makaniko, Chisipiti United Methodist Church pastor-in-charge, agreed that the church has a role to play in the fight against drug and substance abuse.
"It has caused many challenges among families, churches and society. It has caused a lot of social ills and related crimes as well as serious threats to our children's health, and their better future is now at stake."
He said Church and Society committees will focus on community awareness and outreach programs such as clean-up campaigns, capacity-building workshops, social activities for youth and prayer retreats.
"Above everything else," Makaniko said, "as a church, we (will) continue to teach, preach and pray about stamping out drug and substance abuse in our communities."
He said the church organized a mountain prayer retreat at Pagejo RaRumbi recently, and substance abuse was among the major prayer points.
The church "is anchored on vivid prayers," he said, adding that the church, as the light and salt of the earth, should be at the forefront at advocating for change. "The issue of drug and substance abuse is a spiritual battle."
United Methodist schools in Zimbabwe also have been affected by the growing problem.
Murewa High School received a wakeup call after discovering that a high number of learners were involved in drugs and substance abuse, said the Rev. Nyaradzai Matonga, chaplain.
Ten boarders, "identified as being ringleaders," she said, were expelled in 2022 but problems continued. "The situation was pathetic and deplorable."
The school ramped up efforts to raise awareness about drug and substance abuse.
Mupfumbati, a student at the school, applauded the efforts.
"We learned that drugs affect health. Hallucination and forgetfulness are very common," Mupfumbati said. "Posters remind us of the dangers. Clubs are advocating against drug and substance abuse. Child safeguarding policies are being implemented."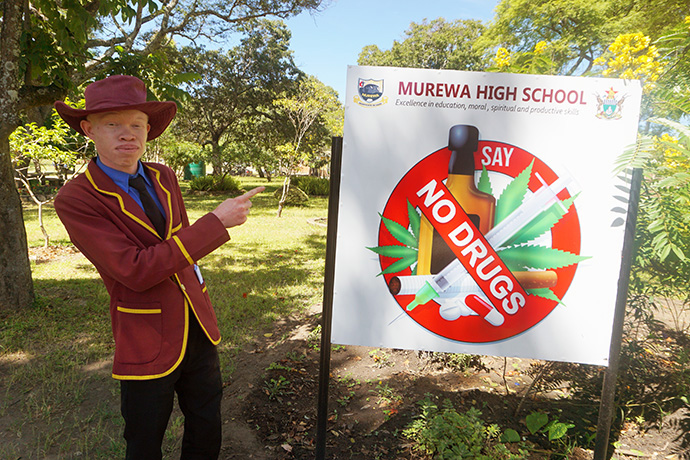 Shamiso Mbwizhu, headmistress of the United Methodist-related Muziti Secondary School, said she caught a group of students taking drugs outside the school on their lunch break.
"It was heart-wrenching and shocking … My sixth sense told me to calm down because God had revealed the truth, and it was now my duty to seek a remedy.
"My learners might be intellectually incapacitated," she said, "but I have a very strong attachment to them, and their success will give me peace."
Through group counseling and chapel programs that also include parents, police officers are conducting awareness campaigns and peer education.
"Steadily," Mbwizhu said, "we seem to be managing the problem."
Subscribe to our
e-newsletter
Like what you're reading and want to see more? Sign up for our free daily and weekly digests of important news and events in the life of The United Methodist Church.
Sergeant Kudakwashe Zhira, a crime relations liaison police officer, declared drug and substance abuse "a pandemic issue."
"Different dangerous drugs and substances are being used," he noted, "ranging from crystal methamphetamine (to) marijuana and hashish, cough syrup, chalk and many others.
"The signs and symptoms vary, depending on the nature of the drugs being consumed — poor performance in school or work, absenteeism, lack of discipline and a very arrogant attitude." Other indicators include deteriorating physical health, weight loss and neglected appearance.
Fedelis Tutsirayi Dukwende, acting headmaster at Chapanduka Secondary School, said that in his area, drug and substance abuse seems most rampant among boys.
"It is now very common to witness learners smoking marijuana as well as drinking illicit brews at my school. Some consume alcohol, even at a very tender age. The alcohol is usually sold at the local shops, obviously by some unlicensed people," Dukwende said.
"We provide those that are caught outside the law with counseling, involve the police and parents, and encourage (students) to select good friends," he said. "Remember, they are still part of us."
Chief Inspector Anna Mataruse of Highlands Police Station said, "The church has a big role to play as the epitome of society, and the church starts at home. Parents should never leave their children at home when going to church. Know their friends and where they spend their time and with whom. Spend more time with your children; teach them Christian morals and values and about the dangers of drugs.
"Gone are the times," she continued, "when we trusted the friends of our children. The world has changed."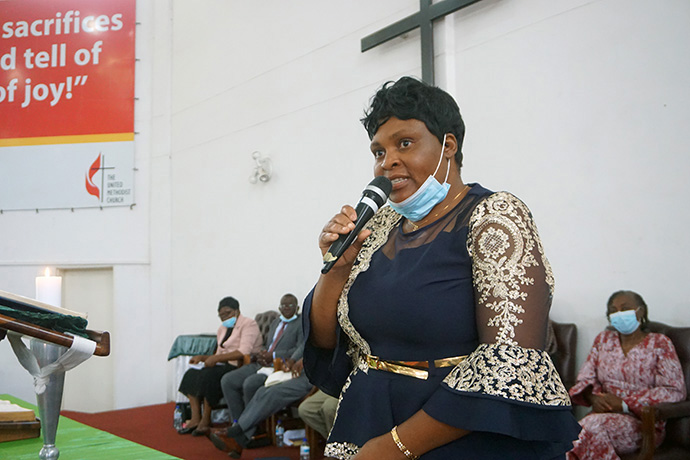 Honest Jongwe, Dindi Secondary School headmaster, shared the experience of a girl who was using alcohol.
"Her performance in both sports and class deteriorated," he said.
The school intervened, providing counseling and social support. "Today," Jongwe said, "she is a role model — an ambassador — denouncing drug and substance abuse.
"We need to continue to give support and another chance. It is never too late."
Chingwe is a communicator for the Zimbabwe East Conference.
News media contact: Julie Dwyer at [email protected]. To read more United Methodist news, subscribe to the free Daily or Weekly Digests.
---
Like what you're reading? Support the ministry of UM News! Your support ensures the latest denominational news, dynamic stories and informative articles will continue to connect our global community. Make a tax-deductible donation at ResourceUMC.org/GiveUMCom.