Filipino United Methodists are picking up the pieces after three strong typhoons pummeled the Philippines in less than three weeks.
The latest, Typhoon Vamco (Ulysses), rolled through Nov. 12,
leaving millions without power and many stranded on the northern island of Luzon
. Major flooding affected Metro Manila and its suburbs.
The Rev. Fely Dela Cruz, district superintendent from the Metro District of the Rizal Philippines East Conference, said San Mateo United Methodist Church has 200 evacuees, and she is continuing to seek updates from leaders and laity from other churches within the Marikina area, noting that many of the roads are impassable.
"United Methodists are still on the roof waiting for rescue," she said.
The Rev. Michelle Dela Cruz, district superintendent of Aurora in the Middle Philippines, said her area has been devastated.
"So many houses were damaged. The towns of Baler, Dipaculao and San Luis were severely damaged," Dela Cruz said.
She said she helped rescue children whose houses are by the river. "The kids are now in the district parsonage," she said, adding that there are six children, with the youngest only 11 months old.
Some church workers also have been evacuated and the roofs of their houses were blown off, she added.
The new typhoon struck as many were still cleaning up from Super Typhoon Goni, known as Rolly in the Philippines, which made landfall on Nov. 1.
The Rev. Fely Dela Cruz said 50 families were affected in Lobo, in the province of Batangas, and at least 20 houses were destroyed or partially destroyed.
"Our small mission chapel totally collapsed and there is no possibility (for it) to be used as a worshipping place every Sunday," she said, noting that the mission is part of The United Methodist Church Upon the Rock in Mandaluyong City.
Typhoon Rolly, the strongest storm so far this year, killed at least 17 and affected more than 2 million people. A week before Rolly, Typhoon Quinta devastated parts of the country.
"(The typhoons) caused severe damages, destroying fishing boats, causing a problem on (people's) jobs and livelihood, like selling fish and agriculture … (on) tourism and small business," said Dela Cruz.
She said that the United Methodist mission in Lobo needs assistance including food and finances for those affected and money to repair Lobo Mission's damaged chapel and to replace some of the mission's property, including chairs and kitchenware.
"May our UMC as a whole unite and pray together for our brethren who are greatly affected and are still in the evacuation centers hoping and praying for our help. May the God of justice and mercy prevail," she said.
The Rev. Richie Grace C. Verganio, administrative pastor of The Living Stone United Methodist Church in Tabaco City, said that six church families were affected by Rolly, with three of those left homeless.
She said she visited the families the day after the typhoon.
"What they need most are materials to rebuild and food to sustain them," she said.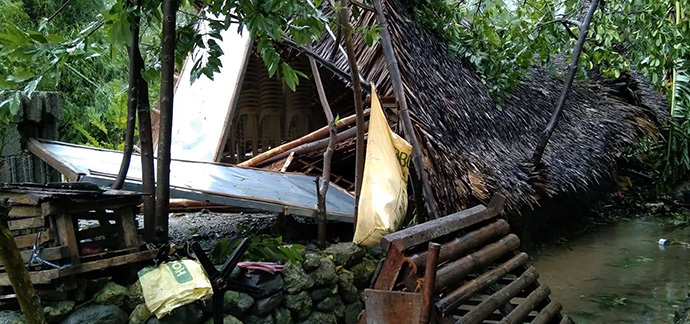 Verganio said that the entire town has no electricity or network signal.
"I hope our members who were hard-hit receive assistance in any form. … May the spirit of helping each other abide with us and grant us courage."
The Rev. Nonelio P. Talisic, district superintendent of East and West Bicol of the Bicol Philippines Provisional Conference, said the most affected area is the coastal part of Bicol and Sabang in the Camarines Sur province, where 52 households were severely devastated.
He said that in the East Bicol District, the homes of 10 families from Full Blessing United Methodist Church were damaged.
Bishop Rodolfo A. Juan of the Davao Area said his heart goes out to those severely affected in the Bicol region.
"When I visited last week, I can't help but silently cry for those families left homeless. We will continue to pray for them. And, in addition, we will extend financial support. I will go there this weekend to bring cash for food and house repairs," he said.
Josephine M. Cedillo, Manila Area disaster management coordinator, told UM News that the double whammy of disasters and the coronavirus has created a predicament.
There have been more than 400,000 confirmed COVID-19 cases in the Philippines and more than 7,700 deaths,
according to Johns Hopkins University data
.
Subscribe to our
e-newsletter
Like what you're reading and want to see more? Sign up for our free daily and weekly digests of important news and events in the life of The United Methodist Church.
"It has been hard to pool local resources now, along with the serious circumstance brought by the pandemic crisis. (There) is the need to rise up from the devastation, but we are doing our best," Cedillo said.
She said a solar panel installed at Barangay Inasakan — a small barangay on the island of Iling that can be reached only by boat — was blown away by the super typhoon. The panel, donated by the United Methodist Committee on Relief, was recovered and repaired.
"The solar panel is part of life-saving equipment given to partner barangays to enhance their condition in terms of information and communication," she said, adding that the panel has been of great help in providing power to charge phones and hand radios in the barangay.
Manila Area Bishop Ciriaco Q. Francisco said that they are preparing to extend assistance to Mindoro and Bicol, where there are United Methodist churches.
"In the midst of the pandemic and various disasters brought by typhoons, let us continue helping one another, extending our support by prayers and finances to uplift the suffering of our fellow Filipinos, particularly in the most affected communities."
The day before the super typhoon made landfall, seven United Methodist local churches from Mindoro served as sanctuaries for evacuees.
The Rev. Glofie Baluntong, superintendent of the Oriental Mindoro-Romblon-Marinduque District, said local churches accommodated 50 families — about 250 individuals.
"Each local church sustained them with food and gave each family 3 kilos of rice as they went back home. We will continue to make our local churches as safe sanctuaries to people," Baluntong said.
She said that the typhoons damaged rice fields and banana plants, which will affect the livelihood of people in this region.
Still, Cedillo is urging people to be hopeful.
"This year may be a series of disasters for us, but let us not lose hope. We are still blessed in many ways and can even be a blessing to many in need. Let us continue to be one in prayer, hearts and hands to help those severely impacted by these calamities."
Mangiduyos is a communicator from the Philippines. News media contact: Vicki Brown, news editor,

[email protected]

or 615-742-5470. To read more United Methodist news, subscribe to the free Daily or Weekly Digests.